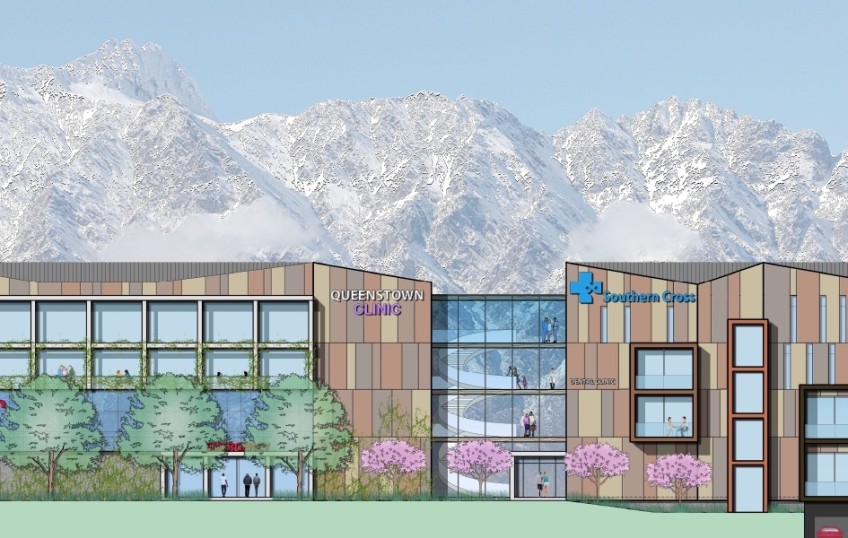 $100 million local hospital project stalled in spite of being funded
---
The first story published by Crux, and our most widely read, highlighted two months ago what even our own Health Board calls the "woefully inadequate" Lakes District Hospital. Our Mayor calls it "a joke".
The tiny wooden building, linked to a not much larger Dunstan hospital in Clyde, fails to provide most of the mainstream health services needed by a booming community – let alone the three million tourists who visit each year.
Crux Editor Peter Newport has been talking to the two men who have spent the last 10 years to come up with a novel and necessary solution. They are on the verge of success – they have the cash, the land and the partners - but it is likely to take strong public opinion and a nudge from Government to secure a final commitment from the various players.

All the elements are in place for an ambitious new public/private hospital to service the Queenstown and Wanaka district, including vital surgical and maternity services.
Property developer Alastair Porter says he has the land and the funding in place, and there's broad agreement that the hospital is necessary from three key partners – Southern Cross, the Southern DHB and a group of local specialist doctors lead by Dr Hans Raetz.
Dr Raetz has been fighting this crusade with Mr Porter, using their own funds, for over a decade.
Now Crux can reveal what they believe is the winning formula.
Alastair Porter has the land and the funding to build a full service hospital, along with a new retirement facility, on his Remarkables Park development near Queenstown airport.
Southern Cross, the not for profit company that operates numerous private hospitals throughout New Zealand, believes there is a business case for leasing much of the new hospital building on a permanent basis.
Dr Raetz has assembled a group of medical specialists who have committed to operate new practices from the new hospital facility, including an obstetrician to manage a maternity facility. Currently expectant mothers throughout rural Otago and Southland have to play Russian Roulette with the timing of their births, deciding when to travel over three hours to either Dunedin or Invercargill. There is no operating theatre or surgeons currently based in the District.
The Southern DHB has told Crux that it is ready to lease public health space in a private hospital facility in Queenstown in recognition of the Southern Lakes exploding growth and importance as our primary tourist destination.
As with any deal of this size there is always one final hurdle.
In this case it is persuading Southern Cross to do something it has not done before. That is to operate the hospital as a 24 hour day facility that has an emergency department and other "non-private" services that would make it into a full service public/private hospital.
Those talks are well advanced but Southern Cross is hedging its bets. Speaking to Crux, the Chief Executive of Southern Cross Hospitals, Terry Moore confirmed that Southern Cross was studying the opportunity. When asked further questions about the project Mr Moore said he would call back, but failed to do so.
The other players in this project are also being non-committal. Health Minister Dr David Clark told Crux that he would not comment and it was a matter for the Southern DHB. Crux contacted the Southern DHB and was promised a response but then heard nothing.
The risk is that if Southern Cross does not get some support from Government or the Southern DHB in providing the public aspects of the new hospital project, they may decide to revert to their more standard business model and build a private retirement home hospital at the Queenstown Country Club on the other side of the Shotover River, or at another site near Arrowtown.
That, say Porter and Raetz, would be enough to potentially derail their project. They also point out that, from a civil defence point of view, having a hospital that could be isolated by earthquake collapsed road bridges makes no sense. That argument applies to the Queenstown Country Club, Arrowtown and Jacks Point as potential hospital sites.
Alastair Porter also highlights the fact that the new Wakatipu High School would be an important part of any response to a major earthquake, such as the overdue, magnitude 8 Alpine Fault rupture. He says the land he has available, immediately south of the new High School, is already zoned for a hospital and building work can start without delay.
Alastair Porter says the new hospital could be finished in two years, with relatively modest up front lease commitments from Southern Cross and the Southern DHB.
Project plans released to Crux show an advanced hospital with virtually every community health aspect covered. Many of the facilities such as operating theatres and a maternity unit are not available at the current Lakes District Hospital that sits directly under the flight path of Queenstown Airport.
The ageing, cottage style hospital is getting a $6.5 million upgrade that will only add 3 new beds and not provide any surgical or maternity services. This comes at the same time as the Southern DHB is building a new $1.4 billion hospital in Dunedin and the West Coast District Health Board is close to completing a new $78 million hospital in Greymouth.
Crux has previously reported on serious civil defence issues centred on the tiny current hospital. The boss of Emergency Management Otago, Chris Hawker, said he had not been consulted on the $6.5 million plan for the current hospital and said it was "ridiculous" to expect that level of investment over the next five to seven years to provide civil defence support in the Southern Lakes District.
Crux has also reported that the Southern DHB is enthusiastic about the idea of leasing space in a future Southern Lakes private hospital, but at the same time is anxious to secure a good commercial rate for that space.
Hans Raetz and Alastair Porter are clearly running out of time to keep all of these diverse partners on the same page, with Porter claiming that the SDHB investment in the current hospital will "just keep the doors open."
He goes on to express concerns about local planning in general.
"We don't have to make the classic mistake that's often made in New Zealand and that we're particularly good at it in Queenstown. It's coming up with an ad hoc solution. It's important we have an integrated facility and we need to have it in the right place. And the one thing I can say is that the right place is most definitely not the existing hospital. It hasn't got good access. It's in a location that would never be approved if it was a private facility because of the noise from the airport. It's not reasonable to put patients there. And I can say as a property developer that fixing up any old building, let alone a hospital, will generally cost you more than trying to build a new one".
Dr Raetz is calling on Government and ACC to help get the hospital partners across the line.
"It will require some willingness by Government to disclose where money is being spent. Certainly on the ACC side because there's a great deal of confusion about that. I think the SDHB as a general rule has been underfunded. Everybody agrees that under funding is happening in the regions. There is enough funding probably going into Dunedin itself. It's the regions that don't receive the funding."
Read: Editorial - We need to fight for a new hospital.
Sign: Our petition pushing for Government support for the hospital project.

---