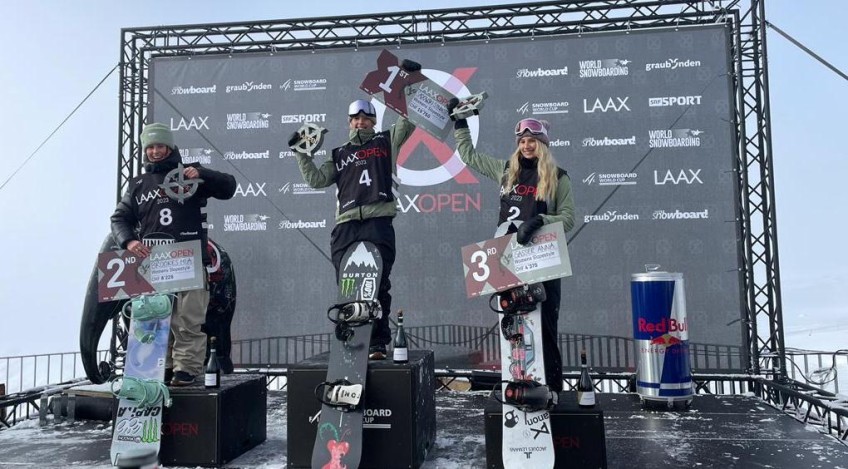 Zoi Sadowski-Synnott takes career first win at LAAX Open Slopestyle World Cup
Jan 23, 2023
---
Wānaka's snowboarding powerhouse Zoi Sadowski-Synnott has won the LAAX Open Slopestyle World Cup in Switzerland overnight for the first time in her career.
Immediately after her win Sadowski-Synnott explained; "I am so stoked; I have been dreaming of winning the LAAX Open since I started competing. The weather has been pretty nuts, practice was pretty crazy, so to have the sun come out for finals is super sick."
After a postponement yesterday due to snow and low visibility, the LAAX Open snowboard slopestyle World Cup finals went down overnight (NZ time). The course was running slow due to fresh snow and the riders were searching for every ounce of speed they could find.
Sadowski-Synnott laced together a solid first of two runs, including a front 450 out of the second rail, which impressed the judges, and they scored her accordingly. She showed her class and experience, making trick decisions mid run to manage the speed, opting for a backside 720 instead of her planned 1080 on the third jump.
Dropping into run two Sadowski-Synnott aimed to tidy up her run, but a couple of small mistakes resulted in a slightly lower score than her first run. Regardless, her first run score of 81.30 held up as the top score of the day and she secured the win at the LAAX Open, a first for her decorated career.
After her second run Sadowski-Synnott had a nerve wracking wait at the bottom of the course as snowboarding great Anna Gasser of Austria and talented up and comer Mia Brookes of Great Britain still had their final runs to go.
Sadowski-Synnott said; "Sitting down here was nerve wracking as Mia's run was so good and even watching Anna go down, it could have gone either way. I am so glad I put down that first run."
Mia Brookes, 16-year-old snowboarder from Great Britain, claimed second place at the first slopestyle World Cup of her career, with Austrian snowboarder Anna Gasser rounding out the podium in third.
Tiarn Collins (Queenstown, 23) competed in the men's slopestyle finals tonight, a wobble in run one meant he didn't complete his first run. He put together his second run, but just a couple of small mistakes in such a highly stacked field cost him dearly, finishing in 10th place.
Sadowski-Synnott will next be in action this coming weekend at the prestigious, invite only Aspen X Games, where she will be defending her Big Air and Slopestyle gold medals.
Results:
Women: https://medias1.fis-ski.com/pdf/2023/SB/6279/2023SB6279RLF.pdf
Men: https://medias3.fis-ski.com/pdf/2023/SB/6278/2023SB6278RLF.pdf
Image (Snow Sports NZ): Women's Snowboard Slopestyle podium [L-R] Mia Brookes (GBR) in 2nd, Zoi Sadowski-Synnott (NZL) in 1st and Anna Gasser (AUT) in 3rd.


---