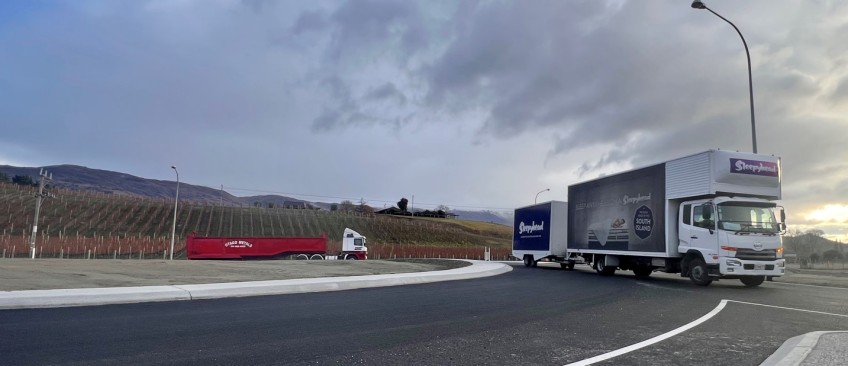 Detours return as work continues on Cromwell roundabouts, underpass
---
Traffic heading in and out of Cromwell is set to be detoured again as work resumes on two new roundabouts in the town.
Winter conditions forced road crews to press pause on work at the roundabouts at the intersection of State Highway 6 and State Highway 8B and the intersection of State Highway 8B and Barry Ave in June.
Since then traffic has been able to travel through the roundabouts.
But Waka Kotahi NZ Transport Agency had indicated detours that were in place earlier in the year would return with the warmer weather.
They'll be back from Monday, with some additional detours to those that were in place in autumn.
A stretch of State Highway 6 between Queenstown and Wānaka will drop to one lane only – traffic heading from Queenstown to Wānaka will travel as usual, while traffic heading from Wānaka to Queenstown will be diverted off the main highway and through Cromwell before re-joining the highway from McNulty Road.
Through traffic from Wānaka will leave State Highway 6 at Shortcut Road, and then will be directed down Barry Ave and onto McNulty Road, before turning left back onto State Highway 6 at the NPD corner.
Traffic on the highway will be slowed to 50km/hr while this detour is in place, which is expected to be until late November.
From mid-September, a road closure will also be in place on State Highway 8B between Sargood Road and the Wooing Tree roundabout (Barry Ave and State Highway 8B intersection) while work on a new underpass takes place.
Brendon French, the principal project manager for Waka Kotahi, says most drivers have appreciated the chance to give the town's newest roundabout a "test drive" over winter before they officially open in December.
"We could only do this because winter temperatures were too cold to successfully apply a permanent topcoat seal to both roundabouts. In the meantime, crews have been preparing the area for landscaping and building footpaths."
Work to complete the two roundabouts includes landscaping, permanent sealing, roadworks linking the two and building the cycle and pedestrian underpass near the Barry Ave and State Highway 8B intersection roundabout, he says.
The underpass and the roundabout at the entrance to the Wooing Tree subdivision are being funded by the developer.
The Nichol's corner roundabout (State Highways 6 and 8B intersection), which has cost approximately $5 million to design and build, is funded through the Government's NZ Upgrade safety programme.
Between 2010 and 2019 there have been 23 crashes at this intersection, with one crash resulting in two fatalities.

---