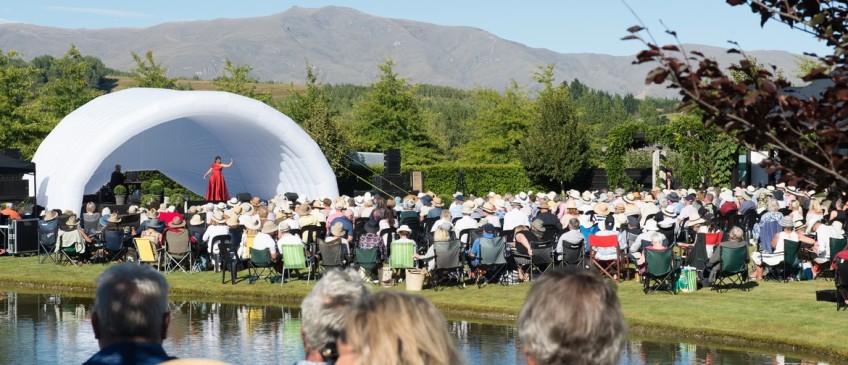 Twilight Opera returns with a spectacular new venue
Feb 01, 2023
---
The Twilight Opera returns this month to a new venue with a view.
The opera will be performed with a panoramic backdrop of the Remarkables making this one of the world's most stunning stages for an outdoor opera concert.
Presented by the Auckland Opera Studio and Arrowtown Creative Arts Society, Twilight opera will be performed in Springpointer Garden, 70 Lower Shotover Road, Arrowtown.
Five of the country's finest opera stars will perform a lively selection of popular operatic and theatre music, and they include two sopranos – Maltese born Carla Camilleri, who is also a name in jazz and musical theatre; and the memorable Amelia Berry, one of the stars of the 2021 production.
Mezzo-Soprano Tayla Alexander performs both Opera and Classical crossover – her appearances as SOLE3MIO's solo-guest have sealed her burgeoning reputation.
The two tenors are Oliver Sewell and Shiddarth (Sid) Chand. Mr Sewell's rich, burnished voice has featured at legendary venues like Carnegie Hall and the Lincoln Centre, and he was another of 2021's stand-outs. Shiddarth, a Kiwi-born Fijian-Indian, is one of the new talents snapped up by the Studio.
The lavish Samoan baritone voice of Samson Setu completes the grouping, which will be supported by South Korean born pianist, Somi Kim.
Guests are advised to arrive at 4.30pm for a 5pm start and bring their own refreshments and picnic hampers, or pre-order a hamper from Taste and Savour: info@tasteandsavour.co.nz.
The event will go ahead regardless of the weather and children under 16 are free.
Main image (Arrowtown Creative Arts Society)

---