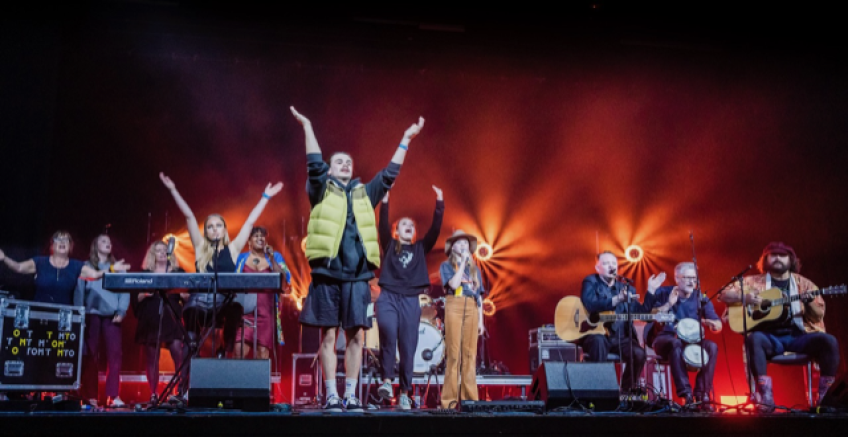 Top talent to appear at Lake Wānaka Centre
Apr 13, 2023
---
To kick off New Zealand Music Month, the Lake Wānaka Centre will become a hub of musical creativity, connection and inspiration on May 6 and 7 as talent from around the country descends upon the town to be part of the Yami weekend.
Participants of all ages are mentored in the arts of songwriting, recording, mixing, mastering, film-making and DJing, among other topics, through a series of workshops, seminars and showcases.
Two evening concerts for the public round out the weekend, where tutors and registrants share their passion for music through live performance.
The Saturday evening line-up offers an unforgettable night with tutors Anthonie Tonnon, Finn Andrews (The Veils) and The Beths' Liz and Jon (plus guests) taking to the stage.
A choir led by Lisa Tomlins supports these outstanding musicians. Finn confirms he is delighted to tutor at his first Yami, and is especially keen to perform with a choir for the very first time. He adds "I'm hoping this will provide the launchpad for my own Agnostic Gospel genre which, I'm sure you will agree, is long overdue."
The Sunday May 7 showcase champions Kiwi legend Anika Moa. The evening concert open to the public acts as a culmination of the weekend, where registrants get the opportunity to showcase their talents to friends, family, visitors and locals. Singers perform as a backing choir to Anika, bands perform their incredible original material, and aspiring DJs and producers get the crowd on their feet.
This showcase has a reputation for providing some of the most magical experiences of the musical year, when tutors and participants combine to create what is possibly one of the most unforgettable nights in Wānaka's musical calendar.
With grants confirmed from Central Lakes Trust, Lion Foundation, APRA/AMCOS, NZ On Air, NZ Music Commission and Recorded Music NZ, Yami Sounz Summit's director Lynne Christie says the crew feel "extremely grateful" to be able to secure some of New Zealand's top music professionals to perform at Lake Wānaka Centre in early May.
Although only a handful of full summit places are still available, day passes can be purchased, and the general public can be a part of YAMI by attending the evening showcases.
Main image (Supplied/Ray Tiddy): Troy Kingi, Delaney Davidson, tutors and participants at Yami 2021.

---