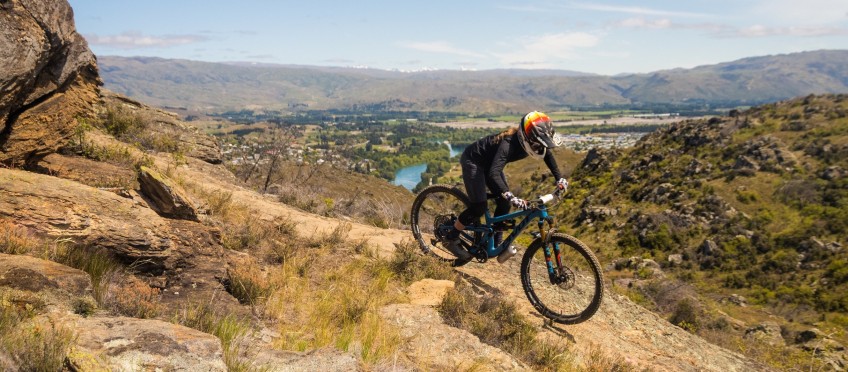 The 'Super Bowl' of the mountain biking world back this summer
Nov 15, 2022
---
Central Otago, Queenstown and Wānaka will once again play host to 12 days of world class mountain bike racing early next year as part of the Crankworx Summer Series 2023.
The series will begin with an Enduro race at Matangi Station MTB, in Central Otago, over two days from 28 February to 1 March.
Described as the ultimate mountain biking road trip, the events will give local and up-and-coming riders a chance to race with national and international heroes.
In 2023, spectators will be welcomed at all series events, and the Crankworx event management team have committed to programming the mid-week racing into the evening to give locals the chance to come out and be part of the action after work hours.
Local mountain biking legend Phil Oliver is once again providing his expert knowledge to assist with the operational requirements of the event at Matangi Station MTB. Tourism Central Otago will also work with the organisers to develop opportunities for the community and schools to connect with athletes when they are in town.
Work had continued behind the scenes since November 2021, to build on the success of the first year's events, Tourism Central Otago's Antz Longman says.
"Our team has been working closely with members of the community and Crankworx event organisers to retain and ensure the legacy value of this event is fully realised for Central Otago. We aim to inspire the next generation of mountain bikers, and with the natural advantages those living in the region have to get out on their bikes, we should see even more world-class athletes emerging in a few short years.
"In 2021, we saw local Alexandra riders such as Bradley Harris, Matt Scoles, Robin Peiper, Eddie Adams and Hayley Harris hold their own against some of the top New Zealand riders. Having international riders on their home turf really highlighted just how good this place is as a proving ground."
The Crankworx Summer Series secured a second round of funding from the Southern Lakes Regional Events fund. Tourism Central Otago, neighbouring regional tourism organisations in Queenstown and Wānaka and other event partners have provided further support to ensure there is the opportunity to build on the success of the first event. Crankworx has confirmed it has been approved New Zealand Major Event funding for 2024 through to 2027, which will go a long way to securing the ongoing hosting of the event beyond 2023.
The global Crankworx distribution channels and the invited athletes' own channels will see the destination and event experience shared far and wide. It is this level of reach that will ensure that the legacy of the event continues into the future, and will help inspire others to get involved.
"Crankworx choosing to return to Alexandra and the Matangi Station MTB park proves once again we are blessed with a natural playground, and so fortunate to have a passionate mountain bike community that have made these trails truly world class," Mr Longman says.
"We can't wait. Taking the learnings from 2021, adding in crowds and building on the hype of Crankworx, it is going to be epic. Mark it in your calendar now."
Events and locations:
ENDURO - Alexandra: 28 February – 1 March
DUAL SLALOM – Wānaka: 4 March – 5 March
DOWNHILL - Cardrona: 7 March – 9 March
PUMP TRACK – Queenstown: 11 March – 12 March
Categories: Pro, open and CWNEXT
Crankworx is the world's biggest and most influential mountain bike festival, dubbed by Bike Magazine as "the Super Bowl of the mountain biking world."
The Crankworx Summer Series is a multi-stop mountain bike festival that brings a taste of the Crankworx action to new riding destinations outside the Crankworx World Tour. 
It's Crankworx-calibre racing, with a grassroots vibe, staged in new, epic locations on world-class tracks. It sees locals, up-and-coming youngsters, and some of the best in the world mixing, mingling, and dropping in.
Image (Supplied/Tourism Central Otago/Will Nelson): Crankworx Summer Series, Matangi Station.


---