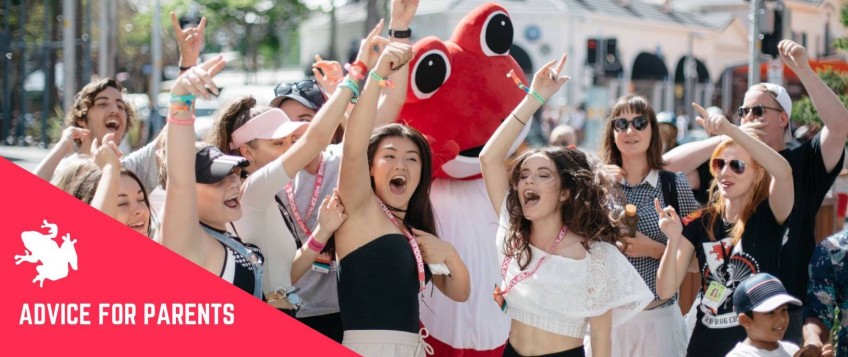 Red Frogs top 10 tips for New Years in Central
Dec 16, 2022
---
Red Frogs volunteers are assembling, prepped and ready to safeguard New Years' revellers in the Queenstown Lakes District.
For the past seven years Red Frogs has been present in Queenstown and Wānaka during the New Year's celebrations, ensuring party-goers have a fun but safe time.
They've cooked thousands of pancakes, handed out hundreds of litres of water and their namesake, Allen's Red Frog lollies, all while looking out for young people – they're the friendly people willing to hold your mates hair back when they vomit!
They've put together some tips to help ensure you have a great time and keep safe this New Year's period.
Red Frogs top 10 tips for New Year's:
Never leave a mate behind! Always stay in groups of two or more and stay in well-lit areas.
Respect accommodation providers and their rules.
Never leave your drink unattended and never accept drinks from others.
Ask 'R U Okay' every day. While New Year's represents the excitement of new beginnings, it can be an emotional and stressful time, so make sure you are checking in with your friends every day.
Charge your phone. If you get separated from your friends head to the Red Frogs Chillout Zone in the centre of Queenstown and Wānaka.
Drink plenty of water and eat healthy meals.
Check-in with your parents throughout the week.
Be careful what you post on social media. Once a photo is out there, it's out there forever.
Know your boundaries and stick to them.
Save key numbers and addresses in your phone – your accommodation, local taxi service, your friend's parents - but call 111 in an emergency.
For young people planning to head to New Year's celebrations in Queenstown and Wānaka, the Red Frogs can found at the Red Frogs chill-out zone situated at the Village Green in Queenstown from December 29 to 31 and the Wānaka Skate Park from December 29 to 30, moving to the Wanaka lake front on December 31.
There you will find a safe space and volunteers handing out free pancakes, Red Frog lollies, water and quality banter.
For more information on Red Frogs visit www.redfrogs.co.nz
For information for parents see a parents Facebook group – Red Frogs New Year's advice for parents


---