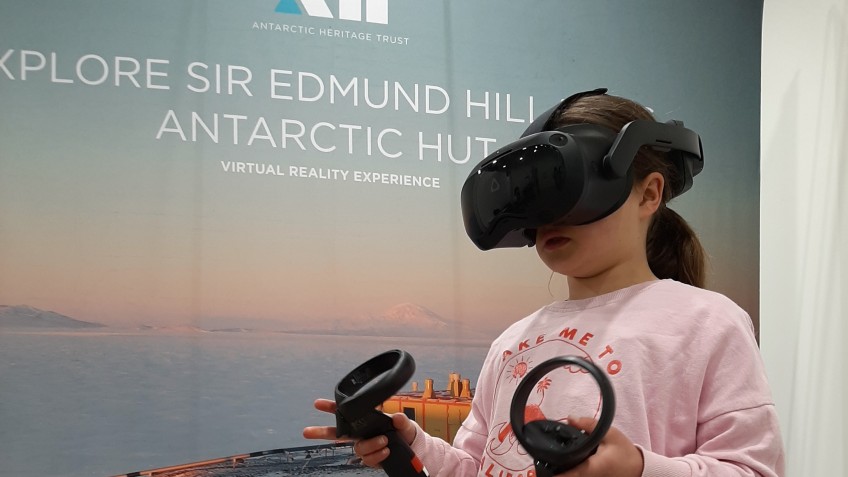 Queenstown pupils to virtually explore Sir Ed's Antarctic hut
Sep 13, 2023
---
The oldest building at Scott Base, a hut built by a Sir Edmund Hillary-led team, is visiting St Joseph's School in Queenstown in virtual reality form.
Senior school pupils will have the chance to don virtual reality headsets at the Antarctic Heritage Trust's roadshow coming to town on Friday.
Developed in partnership with Auckland University of Technology and Staples VR, the virtual reality experience allows users to explore Sir Edmund Hillary's hut in Antarctica.
The experience provides insight into how the 23 men in Sir Ed's team lived and worked in the world's most extreme environment more than 60 years ago.
The trust has already shared the experience with thousands of people around New Zealand and has recently created a new version that allows for even more exploring of the hut with additional interactive features, including archival audio of Sir Ed and other members of his team, thanks to the RNZ collection at Ngā Taonga Sound and Vision.
The experience also includes photo galleries showing historic images of the experiences, science, landscapes and wildlife, and contemporary images of the conserved building and its artefacts today.
Trust executive director Francesca Eathorne, who oversaw the project development, hopes the VR experience inspires people to learn more about Antarctica and one of the nation's most famous sons.
"Sir Ed's hut is part of the rich history of Antarctic exploration and we are excited to bring this experience to as many people around New Zealand as we can.
"Most people will never get the chance to visit Antarctica so virtual reality is a fantastic way to give people a glimpse of what it would be like to visit this special place. Hopefully, the fascinating stories of what Sir Ed and his team achieved furthering science and exploration will inspire the next generation of explorers."
Hillary's hut was Scott Base's first building and was built by a team led by Sir Ed to support the Commonwealth Trans-Antarctic Expedition and the International Geophysical Year.
The trust cares for this hut and four other historic expedition bases in Antarctica. The trust conserved Hillary's Hut in time for Scott Base's 60th anniversary in 2017.
Users can tour the five rooms of the building, viewing hundreds of artefacts from the early years of New Zealand's Antarctic programme, while learning more about New Zealand's first presence in Antarctica.
The trust has been touring the VR experience around New Zealand schools and community venues since late 2020 thanks to New Zealand tour sponsor Dulux New Zealand.
Dulux New Zealand national trade sales and marketing manager Shontelle Crosswell says, "Dulux's connection with Sir Edmund Hillary's hut is a fascinating one. When the trust was undertaking the conservation of Hillary's Hut, Dulux worked with the trust to recreate the original paint colours so the building could be returned to its original colour scheme. This project was internationally recognised, winning the International Category of the Dulux Colour Awards in 2017. Dulux paint has been protecting New Zealand's southernmost building in the world's harshest environment for years."


---