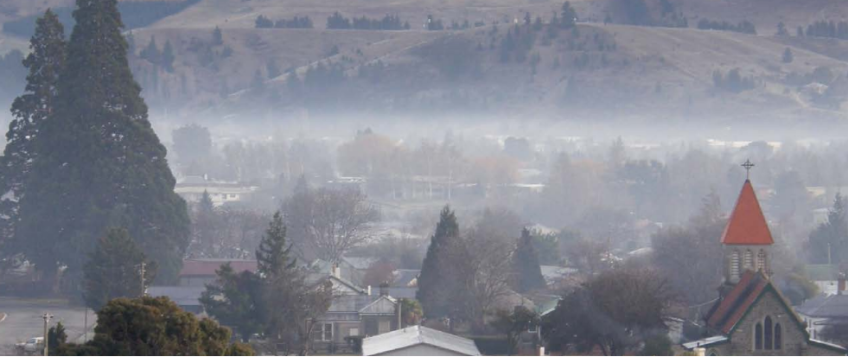 Number of poor air quality instances in 2022 almost halves
by Otago Regional Council media release - Apr 27, 2023
---
Home heating emissions around parts of Otago continue to briefly exceed national standards in some places, according to the Otago Regional Council's annual air quality report for calendar 2022.
There were 17 exceedances of air standards across Otago in calendar year 2022, almost half of the 31 last year.
Monitoring in Alexandra, Arrowtown and Mosgiel in total showed 17 exceedances of Particulate Matter 10 (PM10) during the winter months last year.
ORC's Team Leader - Land, Ben Mackey, says Otago has several towns where air quality is considered degraded during winter, namely Alexandra, Arrowtown, Clyde, Cromwell and Milton.
"Around Otago the main source of particulate matter is home heating emissions in winter," he says.
There were 17 instances last year where the national PM10 standard was exceeded in Alexandra (4), Arrowtown (12), Mosgiel (1), with none in Dunedin Central. In 2021 there were 31 exceedances in the four areas.

From 2017 to 2021, the number of exceedances has steadily fallen from 57 to 31- the average for those five years being 37.8 exceedances.
"Recent research provides evidence that air pollution is dangerous at lower concentrations than previously thought, and supports the lowering of existing guidelines," Mr Mackey says.
PM10 and PM 2.5 refer to particles of respectively less than 10 micrometres and fine particles of less than 2.5 micrometres. New standards are expected to be adopted soon.
The limit for PM10 is an average of 50 micrograms per cubic metre over 24 hours, with the maximum in Alexandra being one day at 89, Arrowtown, 63 and Mosgiel at 83.
Around Otago the main source of particulate matter; is from the combustion of wood and coal and subsequent emissions from home heating.
The ORC will shortly again be running its Burn Dry Breath Easy programme this coming winter.
"While we monitor in particular areas, where air quality is degraded, everyone should be aware of what they are burning as it can have an impact," Mr Mackey says.
Long term exposure to particulate matter can contribute to the risks of developing cardiovascular and respiratory conditions or exacerbating those conditions.
Mr Mackey says ORC had implemented work programmes as part of its Air Quality Strategy 2018 to improve quality in targeted towns, which had led to the long-term reduction in PM10 concentrations in Alexandra, Arrowtown, Cromwell, Clyde and Milton.
Real-life burner emissions testing
Ultra-low emission burners [ULEB] are now effectively the only type of new wood burner allowed in Alexandra, Arrowtown, Clyde and Cromwell. To be accredited, ULEB's must pass emission tests under laboratory conditions requiring an emission rate of less than 0.7 g/kg and efficiency of more than 65%. However, there are questions about how these fires perform under 'real life' or day to day use in the home.
During winter 2022, ORC contracted a week-long testing and analysis of real-life emissions, using the burners of seven homes in Arrowtown. Participants were encouraged to burn their normal firewood and use the fire as they usually would. Testing involved installing a sensor in the flue, while participants documented the wood weight, type, restock timing, and fire control settings.
ULEB efficiency varied between the houses, but had an average efficiency of 2.05 g/kg which is comparable to similar studies undertaken in other South Island towns. The results will go toward informing the future emissions inventory studies of Otago airsheds.
Main image: Supplied / ORC

---