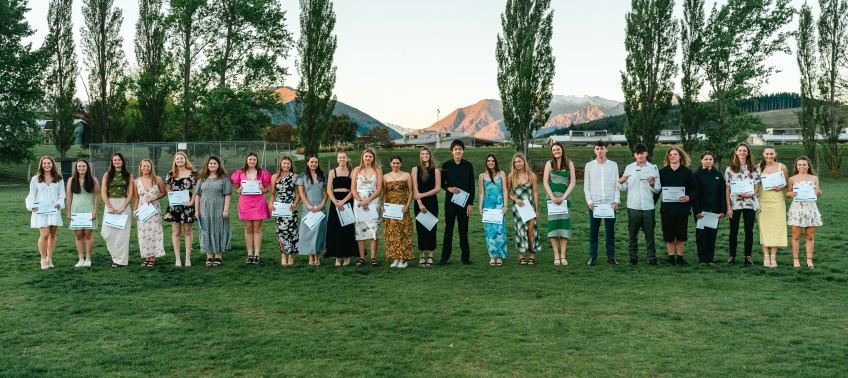 MAC celebrates students committed to Arts, Service and te ao Māori
Oct 20, 2023
---
Te Kura o Tititea Mount Aspiring College celebrated the commitment and achievement of its students in the arts, service and te ao Māori, with Principal Nicola Jacobsen saying the awards reflected the breadth of opportunities available to students at the college.
"In addition to our strong focus on academic excellence, we encourage our students to make the most of all aspects of college life so they can grow and be proud of who they are," Principal Jacobsen says.
The awards for Arts, Service and te ao Māori were presented to students last night, Thursday 19 October, Principal Jacobsen reflected on the importance of offering these subjects, and awards to students.
"The arts offer our students an invaluable window into the human experience, allowing them to develop the skills they need to tell their own stories and explore different perceptions of the world and their place in it through music, drama, dance and visual art.
"Developing a deeper understanding of te ao Māori within our learning community is one of our strategic priorities so we are thrilled to see students recognised for nurturing te ao Māoril at our school.
"Our recognition of service reflects how important we believe it is for students to give their time and skills in the service of others in our local community and beyond."
Arts Service Blues were awarded to students who have made a significant contribution to, or shown leadership in, the Arts for two or more years; Arts Achievement Blues were awarded to students who have achieved significant success in the arts; and Arts Commendation Certificates were awarded to students who have shown commitment, leadership or achievement within the arts during the year.
Students awarded Service Blues were recognised for their high standard of achievement and commitment to voluntary service at the school or in the local community. Such service includes participation in the college's student-led environmental group Team Green, anti-bullying group 'Sticks 'n Stones', Kahu Youth, St Johns, the local Fire Service, the Relay for Life, and the 40 Hour Challenge.
Te Ao Māori Blues were awarded to students for their contribution to te ao Māori and leadership and achievement in this area, including regular participation in Te Mākahi o Tititea (kapa haka) practices and performances, whānau hui leadership, cultural committee membership, and involvement in kura reo and other language wānanaga.
Selected students were awarded MAC Values Awards in recognition of the way their behaviour reflects our school values, and special awards were also given to students who have demonstrated outstanding commitment and achievement in the arts and culture.
MAC is immensely grateful to the staff and community members and organisations who generously dedicate their time to support and provide opportunities for its students to pursue their passions.
The college will also hold a Sports Awards evening next week on Wednesday 25 October.
Main image (supplied): Recipients of MAC's Arts Service Blue Awards.


---