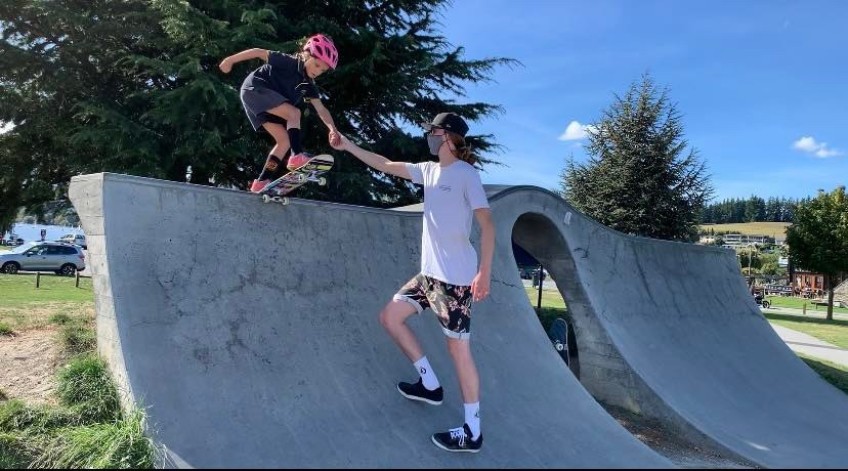 Give skateboarding a go at free drop-in sessions
---
Update, Friday, March 25: Drop-in-session dates have changed for Arrowtown, Queenstown and Northlake. They'll be at the Arrowtown Skatepark from 10am to 1pm and the Queenstown Skatepark 2pm to 5pm on Saturday, April 9, and at the Northlake Park from 10am to 3pm on Sunday, April 10.
Keen would-be skateboarders have the chance for learn some tricks at a series of free drop-in sessions to be held across Central Otago and the Southern Lakes over the next two weekends.
Thanks to a partnership with Sports Otago, Rad NZ Skate School will be turning up at parks in Clyde, Cromwell, Lawrence, Queenstown, Arrowtown, and Wānaka providing the community with drop-in skate coaching sessions.
Everything needed to give it a go – skateboards, helmets, and pads – will be provided, and there'll be coaches on hand who will be teaching the basics.
Rad NZ Skate School director Anna Burgess says skateboarding is cool because it's something you can do solo, but it provides you with a fun, supportive community too.
"We have traveled around the world, turning up to skateparks and instantly making friends."
It's something you have to stick at to improve, and that's satisfying, for young and old, she says.
"You try and try and try all day to get a trick and nothing feels better than landing it.
"It's a challenge against yourself and your own ability and mental endurance.
"The feeling of accomplishment is the same, regardless of age."
Her top tip for anyone feeling nervous about just dropping in:
"We get it, the skate park can be a scary place. But if you can get beyond that, most skaters will be stoked to see others learning.
"Maybe find a flat, smooth concrete area, sweep away any stones and learn to push, tic tac and kick turn - then hit the park with a little more confidence."
In addition to the free drop-in sessions, Rad Skate School offers private and group lessons, she says.
"Our goal is to make learning as fun and safe as possible."


---