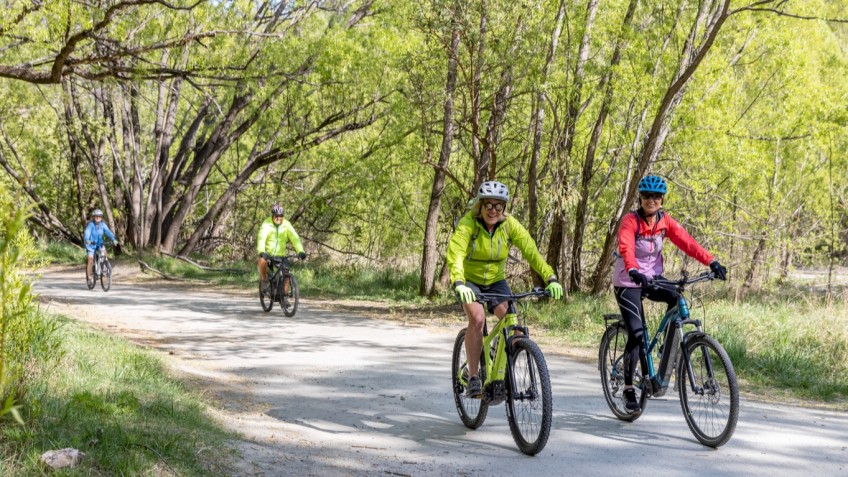 E-bike festival Cyclorama to roll into Arrowtown for second year
---

New Zealand's first e-bike festival Cyclorama is ready to roll back into Arrowtown for a second year on Labour Weekend.
It's the brainchild of local resident Dave Gibson, who says the two-day event is aimed at fanatics as well as potential converts curious about giving assisted pedal power a spin.
Fresh rides have been added to this year's programme, but the self-guided 'Tour de Gourmet' – a progressive degustation experience on two wheels – returns.
Mr Gibson says it was a hit with last year's participants for its chilled out pace and tasty treats served up along the 36-kilometre route.
"You take your own time, you meander along, so you can go as fast or slow as you like from place to place."
Caterers have been given the freedom to design their own menu item, with a general nod to local produce, and there's a drink to match each small plate.
But Mr Gibson, quick to point out the two-wheeled transport, says non-alcoholic beverages will be included in the mix alongside a glass of Central Otago's best.
He reckons he has a knack for ferreting out fresh locations and interesting local characters, and plenty of the destinations included in the weekend's programme reflect this.
"So, if you're from out of town, it's pretty cool, and if you're local, I'd be reasonably sure, in most cases, we're taking people somewhere they haven't been at least once, if not twice, on the ride."
New this year is 'Night Ride', which sees cyclists out on the Gibbston river trail from dusk.
They'll be hosted by retired astrophysicist Brian Boyle, who was part of the team that discovered the acceleration of the universe.
He now brews beer from home-grown hops and star gazes in the valley, from his own roll-off roof observatory in the middle of a vineyard.
Images of the night skies captured through the lenses of powerful telescopes and cameras are delivered back to a big screen for easy, comfortable viewing.
All rides will start and finish at Butler's Green, where once again a festival village hub will pop up, this year with its own mini 'The Fork and Tap' - a local Arrowtown watering hole - onsite.
Mr Gibson says the village green is a big part of the festival. Entry is free and there'll be live music in the afternoon, plus e-bikes and accessories for people to nosey at.
He's expecting to have plenty of people stopping by and "hanging around talking about bikes" or trying them out.
There with a marquee will be ChargeAbout Queenstown, which imports and sells e-bikes wholesale and retail from a store in town.
Sales manager Paul Vlietstra reckons e-bikes are a hit because they allow riders to "go further, go faster and see more, without being as tired".
In this neck of the woods, with a population base already focused on recreational pursuits in the great outdoors, and with investment in a growing trails network, e-bikes are an easy sell.
"There is definitely a rise in the uptake of e-bikes and it has been rapid over the last couple of years."
Mr Vlietsra himself joined the revolution a few years back, after a nasty bike crash up Coronet Peak left him with long-term injuries ruling out traditional pedal power.
"I was pretty rough so I thought an e-bike would be a good way to go as it would give me more assistance and I've never looked back."
More information on the festival, set for Saturday, October 21 and Sunday, October 22 can be found on the Cyclorama website.
Main image (Supplied): Participants in a ride during the inaugural Cyclorama festival, held in Arrowtown in 2022.


---