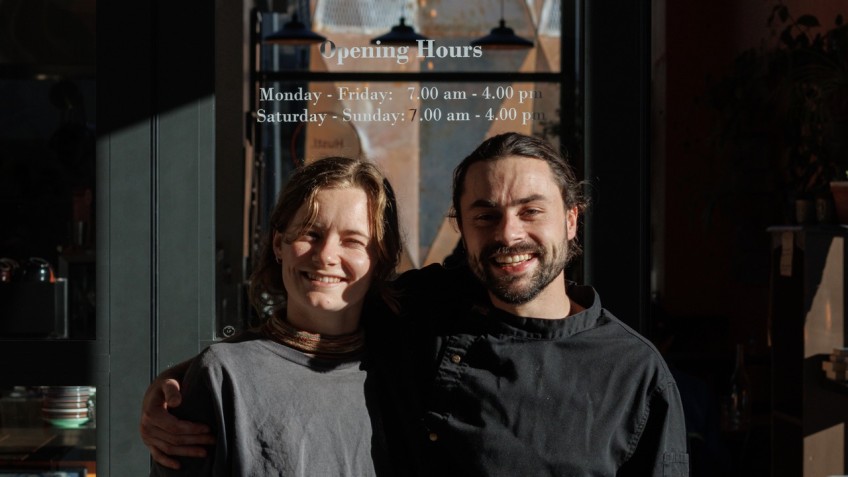 Debbie visits: Hustl
---
Crux sales manager Debbie Knowles is regularly out and about visiting businesses big and small for work - she meets people with passion who help make our district special. Got a suggestion for a sweet spot for Debbie to stop? Get in touch and let her know!
It's Hustl time, and what a pleasure I had catching up with sibling owners Leah and Mati Gourlay. There aren't many independently owned venues in the Queenstown hospo scene anymore so it's exciting to shine a spotlight on one that is.
While Leah runs front of house, Mati's in the kitchen and their hospo roots run deep, with parents Claire and Bruce Gourlay owning historic Halo for 15 years where Mati and Leah gave many a helping hand. While many businesses closed over lockdown due to staffing problems, Halo stayed open through thick and thin and Mati and Leah have followed suit, bringing the best bits from Halo to Hustl to open come rain or shine and put the hard graft in – even opening seven days after they got the keys!
Mati joked the reason that Halo did so well was the initial free parking around Camp Street, Earl Street and Beach Street and Hustl also offers the rare gift of free parking. For many Queenstown locals who are sick of the traffic, roadworks and daylight robbery of the parking in town (that's if you can even find one), Five Mile is now the go-to. Leah's advised that a number of customers say they struggled to find the place, so we've kindly inserted a map to show its location compared to Kmart – no excuse to get lost now!
Leah and Mati have implemented as many sustainability practices as possible, echoing the song by Jack Johnson – 'Reduce, Reuse, Recycle'. Mati says, "It's simple really – we need to use less shit" and their ethos is to do as much as they can. Locally sourced ingredients are on the menu, including European Bakery bread – which was the bread supplier to Halo for its 15 years of operation.
They also compost their coffee grinds and fruit peels, and their Boring oat milk is the only oat milk that's produced in New Zealand using New Zealand oats. Leah's pet peeve is disposable cups – instead Hustl provides a loan mug or you can also purchase a Chunky Cup to look cool as.
Their mentality towards the food served is good food for anyone regardless of their diet. You know you're going to get a healthy, balanced meal at Hustl. Every dish on the menu looks to well and truly hit the spot!
Leah and Mati are passionate about providing a good working environment for their employees, and as long as their hands are moving, they want them to have fun. This stems from their dad, Bruce, who worked for Angela and Nathan Imlach at the original Queenstown Wholesale Market and loved the family, fun atmosphere that the Imlachs provided. Having experienced the same warmth and camaraderie while working for Angela and Nathan at Raeward Fresh for over three years, I know this vibe is alive and well at Hustl and it's amazing to relive it again. Great service is not just a testament to Leah and Mati but also to their dedicated team.
In a nutshell, if you're looking for good food, good drink, good service, good music and a bloody good vibe, Hustl is the place for it!
Did I mention free parking?! Avoid the hustle and bustle of Queenstown and get yourself to Hustl. Oh, they also have water sourced from Arthur's Point – the luxury!


---