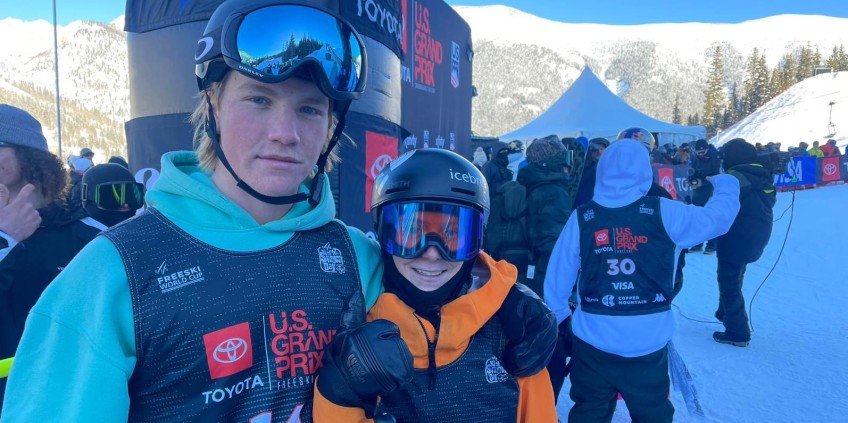 Career best results for Wānaka teens at Halfpipe World Cup
Dec 19, 2022
---
Wānaka teenagers Finley Melville Ives (16) and Gustav Legnavsky (17) have both had career best finishes on Sunday morning (NZ time) at the FIS Freeski Halfpipe World Cup in Colorado, placing 6th and 7th respectively.
This was the first halfpipe World Cup of Mr Ives' career, competing against athletes almost double his age. He showed absolute poise under pressure, dropping into his first run carrying plenty of speed, wowing the crowd with his amplitude on the first hit.
With a near perfect run on his first run, Mr Ives decided to up the ante on his second run and went for a very technical right double cork 1620. Unfortunately he didn't land it so it was back to the top for run three. Mr Ives went for the right 1620 again in his third and final run and this time stomped it, upping his score to a 87.00 and finishing in 6th place overall.
Mr Ives says "It's so amazing to land the run you've wanted to do at your first world cup, it was such a crazy atmosphere and so cool to be a part of it. My highlight of the day was landing that right 1620, as I have only landed it once prior to this and never before in competition."
Mr Legnavsky came out swinging on his first run, but an unfortunate backslap on his final hit resulted in a throw away score. Knowing he needed to stay on his feet, Mr Legnavsky landed a solid second run but it was his third run where he really showed what he was made of.
Mr Legnavsky dropped into his third and final run, going absolutely huge and stomping an impressive alley oop double cork 900 on his final hit, to the delight of the Kiwi support crew at the bottom of the halfpipe.
Mr Legnavsky says "I am super happy I landed that run, it is a personal best run for me. I definitely have more to give but I am so happy with how it went and it was awesome to have my teammate Fin there with me too."
Both Mr Ives and Mr Legnavsky were blown away by the Kiwi support at the bottom of the pipe, with Mr Ives explaining it felt just like home with the Kiwis there at the bottom to cheer them on.
A hugely successful day for snow sports and an incredible start to the Freeski Halfpipe World Cup season.
View the full results here.
Main image (Snowsports NZ): (Left to right) Gustav Legnavsky and Fin Melville Ives immediately after World Cup finals over the weekend.


---