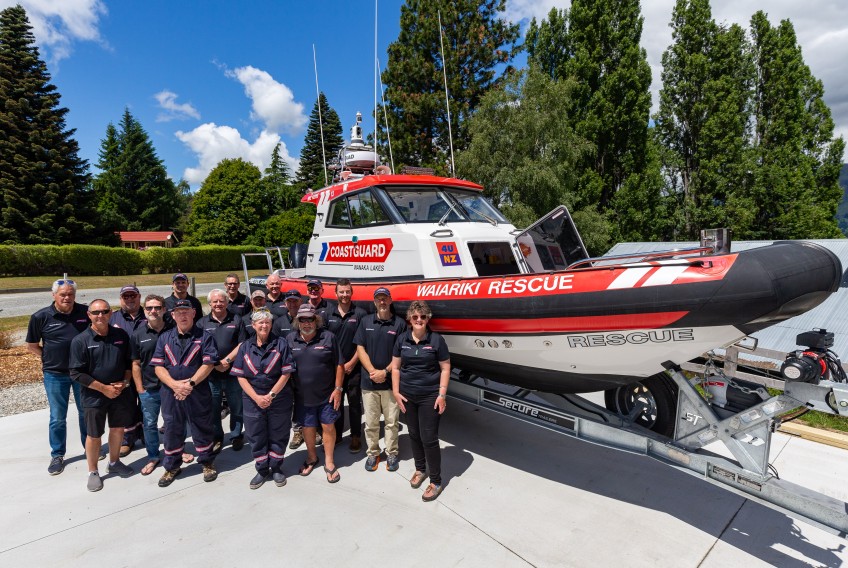 America's cup chaser turns rescue vessel for Wānaka
---
Wānaka's new high-tech rescue vessel was blessed on Sunday ready to be put to service this summer keeping lake users safe.
She's been named 'Waiariki' (the original name for Stevensons Arm) and she's been funded by a partnership between Coastguard, Lotto NZ and Emirates Team NZ.
The nine-metre-long, twin-engine boat has had a re-invention of sorts - she was used as a chase boat at last year's America's Cup competition.
There's 25 more like her ready to be floated by Coastguard groups around the country thanks to a $9.8-million lottery grant.
Waiariki's been rescinded and refitted for her new role, and she comes to the district with a custom-built truck and trailer system that's four-wheel-drive.
"Together, the new equipment massively enhances the unit's mobility, enabling them to support search and rescue operations in challenging environments around the Central Otago region," Coastguard New Zealand says in a written statement.
Sunday's ceremony was also a farewell for Wānaka's outgoing service vessel, which has served the local community well over many years and was used as recently as Friday, during the retrieval of a swimmer missing in the lake.
'Tohorā', which has been in Coastguard service locally for nine years, has been sold to an Albert Town family, who'll use her for private trips out on the lake.
Coastguard Wānaka Lakes president Jonathan Walmisley says the new boat has a number of advantages over its older Naiad rescue craft.
"As well as providing quicker response times, Waiariki Rescue will enable volunteers to be out on the water for longer periods of time and the ability to operate in the sometimes rough and changeable conditions they face out on the region's lakes," he says.
The new set-up "will allow the unit to go from strength to strength in the future", he says.
Coastguard New Zealand chief executive Callum Gillespie says Coastguard Wānaka Lakes is active across the southern region, often travelling between lakes to support different operations, like they did at the Lake Ohau fire in 2020.
Having a more mobile unit will enable "them to respond quickly and effectively wherever needed", he says.
Coastguard receives 30 percent of its funding from central government, but around the country, and in this neck of the woods, it relies on volunteer crew on rescue vessel to make a difference.
Across 2021 to 2022, Coastguard Wānaka Lakes volunteers contributed 2,680 total hours – responding to 15 incidents and assisting 30 people home safely.
The refitting of the boats from America's Cup supporters to Coastguard vessels has been taken care of by the original manufacturer, Rayglass, with the support of Coastguard New Zealand, individual units and various community providers.
The boats may have now lost their America's Cup branding, but Emirates Team New Zealand chief executive Grant Dalton says its involvement in this unique partnership remains a source of pride for the whole team.
"Coastguard are the unsung heroes of our waters around the country and so it's great to see the fleet of vessels that supported us freshly refitted and taking to the water again to help them save lives."
Sunday also allowed Wānaka's Coastguard community - volunteers and those who have experienced the service first-hand - to come together to celebrate the opening of the new Marine Rescue Centre at Eely Point.
The 220-square-metre building includes a shed for the new rescue boat, trailer and vehicle, plus facilities to help support the work of Coastguard locally.
It's been years in the making.
In 2016, the charity identified the need for a dedicated hub from which operations could be effectively managed - to ensure critical search and rescue services could be deployed quickly when needed.
The number of boats and lake users on Lakes Wānaka and Hawea is increasing every year, yet rescue missions have, until now, relied on command central being run from a volunteer's kitchen table.
Mr Walmisley has said he reckons the purpose-built facility will reduce call out times by at least 10 minutes - everything that's needed for a rescue will be in that one place, ready to go.
Coastguard Wānaka Lakes began as a group of boaties, who became involved with the local LandSAR group, to help out with search and rescue missions on Lakes Wānaka and Hawea, in 2010.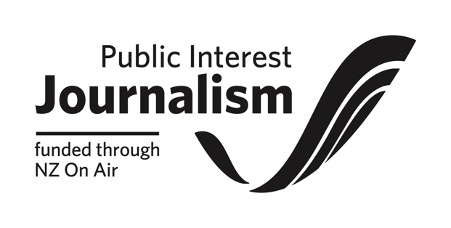 ---