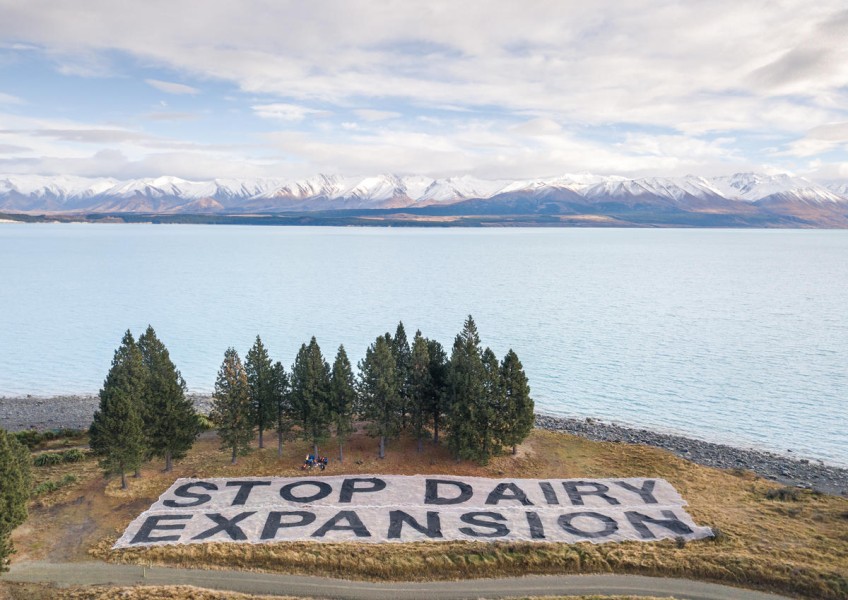 Major dairy project sidesteps resource consent
---
This story is published as part of the Crux partnership with the National Business Review.
In a remarkable decision the body responsible for protecting one of NZ's most sensitive environments has agreed to a resource consent variation that allows a controversial $100 million intensive farming project to move forwards with a large-scale irrigation scheme.
Environment Canterbury (ECan) has agreed to a variation, without consultation, that will allow irrigation to start on the Simons Pass station. This is a complete change of direction to ECan's previous position that irrigation on the property could not start until all resource consent conditions had been met. However, it's a change that ECan says it had no choice in making due to the fact that they were subsequently advised that an appeal against them would have been successful.
The project is controversial because it involves a lot of water and intensive farming in the shadow of Aoraki Mount Cook. The Simons Pass station plans to have 15,000 dairy cows on the property and take irrigation water from the canal running between Lakes Tekapo and Pukaki through a new 8 kilometre pipeline that traverses some of the most scenic, and protected, landscapes in the country.
NBR understands that water from the pipe is now being used for irrigation at Simons Pass, even though not all of the consent requirements have been met. In July this year ECan's Chief Operating Office, Nadeine Dommisse, was reported as saying irrigation would not start until all resource consent requirements has been met.
The variation involved allows the owners of Simon Pass station to delay reporting dates for what's known as a baseline survey, the mechanism used to track potential environmental damage.
The irony of the situation is that under current environmental rules, Simon's Pass would not be allowed to operate. But the consents were granted as part of a long-winded process that eventually saw consent granted in 2012 by independent commissioners.
The development has environmental group Greenpeace more than upset. Gen Toop is one of Greenpeace's specialist campaigners on intensive farming and water resources.
"It's a very dangerous precedent to see the regional council (ECan) themselves put out a press release proudly and publicly stating that for rich listers and dairy corporates the rules don't apply, and they don't need to meet the conditions of their resource consent. This is one of the most ecologically fragile regions of New Zealand. It's a beautiful and iconic landscape and home to native and endangered wildlife. For example, the world's rarest wading bird, the Black Stilt, is on this mega dairy project's land."
"Essentially they took the Resource Management Act and threw it out of the window."
The man on the receiving end of these attacks is Dunedin accountant Murray Valentine.
He's behind the $100 million Simons Pass venture and he does not agree with the Greenpeace view that New Zealand has already reached saturation point in terms of dairy farming.
He says that the Resource Management Act provides plenty of protection for those opposing his massive dairy farm at Simons Pass.
"People are entitled to go through the process that we have whether they want to build something or whether they want to stop something being built. That's how the Resource Management Act works."
Does he think that we have reached a limit for dairy farming?
"I don't think my scheme will have any impact on New Zealand's overall dairy farming capacity. It is frustrating to be accused by protesters of not complying with consent conditions that don't apply to us. Currently we have consent to start irrigating but that does not mean we have met the consent conditions to finish the project."
What Mr Valentine is referring to is that fact that he needs consent from both ECan and the Mackenzie District Council for all aspects of the massive dairy farm. He's still waiting for all of the Mackenzie consents to come through. So he can start – but not finish.
All of which goes to show how complex the RMA can be. However the buck currently stops with ECan who now are juggling not only their own duty to protect the environment but relationships with multiple other agencies as well, including the Mackenzie District Council. In spite of the ECan decision to bypass the remaining consent that is not being complied with, the Mckenzie District Council is understood to be asking the Environment Court to provide further guidance on what should, and should not, be allowed at Simons Pass.
All of which has been challenging for ECan's Chief Operating Officer, Nadeine Dommisse. She admits that the most difficult aspect is that these RMA consents currently being used are historic and can't be overturned. "The community can be assured that this situation would not happen again. The law and the rules have changed so much in the past five years that this project would not get approval."
So does has the Resource Management Act become so complex that ECan can't perform it's primary purpose of protecting the environment, especially in a multi-agency world where multiple authorities all have a say?
Dommisse says that the complexity is a danger but has been addressed by ECan. "That's why we've put our Five Agency arrangement in place so that we all work well together. We are all on the same page."
All of which does not change the Greenpeace perspective on things. Campaigner Gen Toop is not impressed.
"We are calling on the government to now put in place direct, unambiguous legislation that stops all new dairy farms being created, and any further intensification of livestock farming, because there are already too many cows in New Zealand. That is evident in the state of our rivers. It's evident in the fact that the dairy industry is the single biggest polluter in New Zealand. We need fewer cows not more, and we need regulatory bodies like ECan to do their job, which is to protect the environment from inappropriate development rather than continue to serve the interests of the irrigation and dairy industries."


---