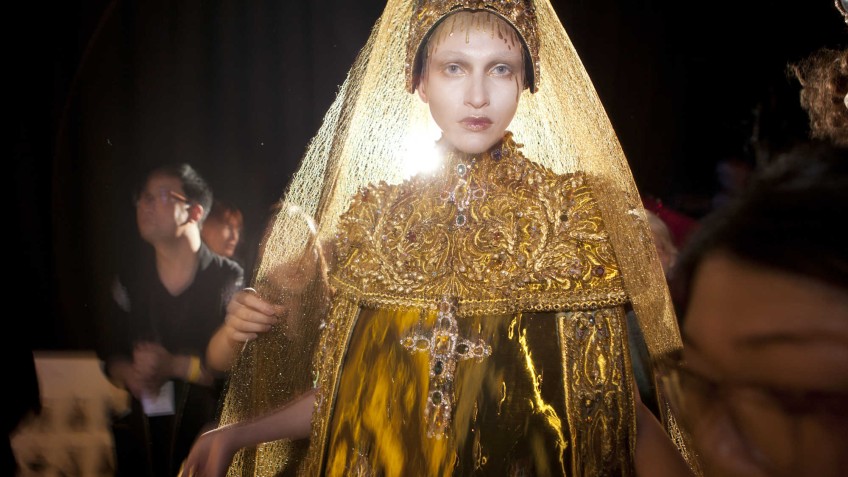 Yellow is the new black
by SM Hahn - Nov 16, 2018
---
Can someone hand Kiwi director Pietra Brettkelly a blank cheque to make more of her brilliant documentaries, please? In her latest, "Yellow is Forbidden," Brettkelly pulls back the curtain on reclusive Chinese fashion designer Guo Pei, who had quietly been dressing China's elite for almost two decades when pop star Rihanna wore her yellow gown to the 2015 Met Gala and caused an international frenzy.
"Yellow" is both a chronicle of Pei's determination to impress the haute couturiers of Paris as well as a portrait of a complex woman who is not only an exacting artist, but a businesswoman with 500 employees and the wife of a man devoted to her career. Pei's elaborate dresses are spectacles in every way: jaw-dropping, head-scratching, and astronomically priced, with $10,000 the going rate for the cheapest. Only deep-pocketed fashionistas such as Victoria Beckham and Wendi Deng Murdoch--who both make cameos—can patronize this kind of art. But even those for whom high fashion exists only in magazines can appreciate how Pei sketches her ideas onto paper and marvel at the hand-stitched embroidery that her creations are known for. Pei's runway gowns take, on average, 300 workers two years to make and cost their collectors more than a hundred thousand dollars.
This kind of excess, so typical of high fashion, understandably turns many people off. But any student of history sensitive to the political moment would do well to pay close attention to what kind of clothes wanna-be emperors are wearing. Fashion and politics have long been in bed together: Imelda Marco's shoes and Melania Trump's "I Don't Care" jacket come readily to mind, while Coco Chanel, an anti-Semite, was a Nazi spy.
A youthful sprite in her 50s, Pei came of age in the aftermath of the Cultural Revolution, when everyone wore drab gray Mao suits. As a child she listed to her maternal grandmother whisper forbidden stories about the imperial court, a reminiscence that BrettKelly beautifully illuminates with shadow puppets. Once upon a time, yellow and gold could only be worn by the royal family—hence the loaded title of the documentary, which also serves as comment on the inner sanctums of haute couture, long dominated and controlled by white European males
Pei is all too aware of what it means to be a designer from China, the land of knock-offs and sweat-shops. At one point, she muses, "People say the future belongs to China"—a sentiment that Pei knows many Westerners have mixed feelings about. She somehow manages to defuse the statement by adding, with a grin, "I feel very lucky to have been born during this time." And, yes, timing is everything. In 2017, two years after Rihanna's triumph at the Met Gala, Pei stages her first fashion show in Paris at La Conciergerie—the place where history's best-known fashion victim Marie Antoinette spent her last days awaiting the guillotine and whose blood-stained dress is still on display. Let them eat cake, indeed.
"Yellow is Forbidden" sheds light on its subject but isn't blinded by it, allowing the viewer to draw her own conclusions. This deft touch owes much to Brettkelly's frequent collaborator, cinematographer Jacob Bryant, whose intimate camera always seems to be in the right place at the right time. Brettkelly has a welcome knack for letting stories tell themselves. Her two previous documentaries "Maori Boy Genius" (2012) and "A Flickering Truth" (2015) feature subjects who exist in completely different universes from Pei: a precocious 16-year-old who grew up immersed in Te Reo Maori and studies at Yale and an exiled Afghani filmmaker who tries to preserve the ruins of his country's now-banned cinematic heritage (Watch them here). What unites these three films is their central subject's yearning for a world that is bigger, better, and brighter—a desire that is clearly shared by the generous-hearted director herself.
Brettkelly has relied on crowdfunding and her own money to fund her projects. Maybe this is why she approaches her subjects in such a scrappy, open-minded, and adventurous fashion. This is quintessentially a New Zealand perspective, one that all the 600-pound gorillas on the world stage can never have. What could Brettkelly do with a budget as expansive as her vision? I'd love to watch the results someday, as Brettkelly's documentaries are a cinematic treasure any country, no matter the size, would be honored to call their own. ("Yellow is Forbidden" will be screening in Arrowtown as long as it continues to sell tickets. See Dorothy Brown's for times.)


---