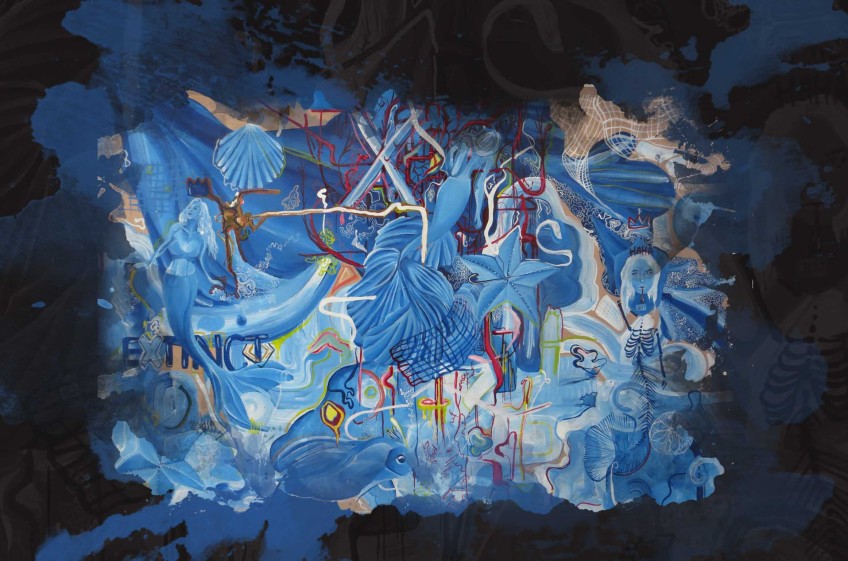 Wakatipu High School art goes public
by Nina Smith - May 29, 2018
---
Crux will start to publish stories written by local students over the next few weeks. Here's a preview, written by Year 12 student Nina Smith, of a big Wakatipu High School art exhibition in Arrowtown that kicks off tomorrow evening (May 30th) and runs through to June 24th - full details.
For art students at Wakatipu High School, months of inspiration-seeking, conceptualising, sketching, revising and modelling boils down into one graded 'folio', a collection of work in Painting, Design and/or Photography which is assessed for NCEA credits.
It's the kind of schoolwork that shouldn't end up scrunched in the bottom of a school bag — as is the fate of many a Maths test or History essay. Rich with colour, ideas and incredible technical skill, this creative work deserves an audience. The annual Showing Off exhibition is an opportunity to reach the public and show off the creativity, hard work, dedication and perseverance required to achieve a top grade in Art.
Showing Off opens on Wednesday 30 May at Arrowtown's Lakes District Museum. Visitors will see excerpts from 2017's highest achieving folios, with included from Painting, Design and Photography. Leslie Koehn, artist and teacher of painting and art at Wakatipu High School, describes how important it is for this work to be presented.
"For the amount of effort, passion, planning and time they put into their work, I think the public acknowledgement is a really empowering thing. It puts an edge on doing art, it adds a bit more seriousness to it knowing your work's going to be displayed."
The competitive element also helps to spur on these young creatives. Last years overall winner was Angela Santos, a Painting and Design student. Santos's excerpts from her Painting and Design panels won her a $150 voucher for Bound that she spent on art supplies for painting.
"I feel like it's good to hold this kind of exhibition. We work so hard on these pieces in class and in our own time that they should be displayed. They're really inspiring to see and I always learn a lot from seeing other peoples' work," Santos affirms.
She's excited to see what will be presented this year and has some bold predictions too. "Mika Turnbull will win the painting. Her execution and skill is amazing. Hers is the kind of painting that makes you feel something." This year the overall winner will receive a $300 framing voucher from The Framing Gallery and an unframed etching by Deidre Copeland worth $500.
The top painting, design and photographic works will each receive a $100 cash voucher from Trinity Management Group which can be put toward art supplies or coffee for painting through those late nights. Students also get the opportunity to meet a group of successful industry experts who form the judging panel.
This year the winners will be decided by Paul Green (Photography), Che McPherson (Graphic Design) and Deidre Copeland (Painting). They are really looking for the 'X-Factor'; artworks conveying an original idea and technical proficiency of the medium.
Showing Off Art Exhibition - The Opening and Awards Ceremony is on Wednesday the 30th of May beginning at 6.30pm. Lakes District Museum, Arrowtown. Drinks and nibbles will be served from 6.30pm.
Main Image: Lakes District Museum/Wakatipu High School.


---