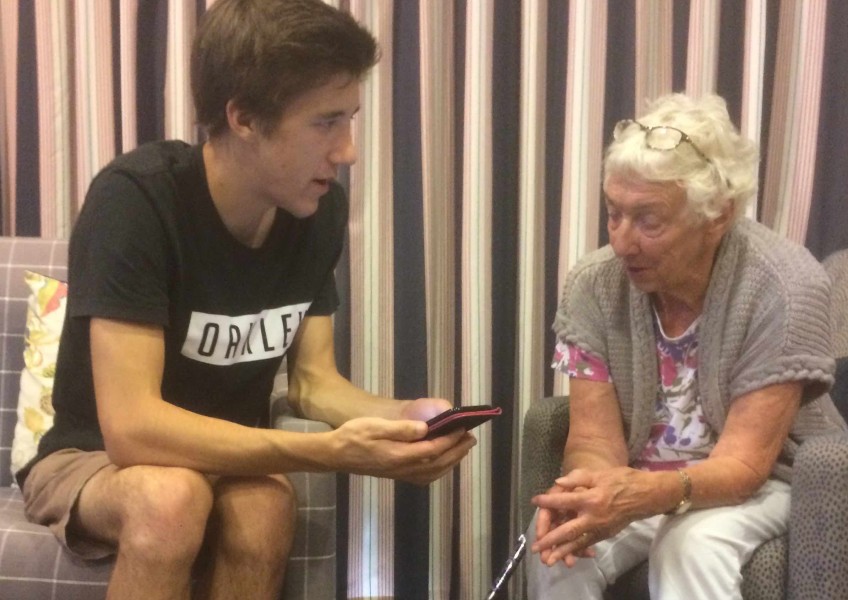 Mount Aspiring College leads the way with community engagement
by Denise McNabb - May 02, 2018
---
School projects come and go, but Wanaka's Mt Aspiring College "students in the community" volunteering programme could be a record-setter, not only for its longevity, but its impact on the community.
In the 23 years since it has been part of the Year 13 curriculum, the students have clocked up more than 52,000 hours of voluntary service across all spectrums of the community in the Upper Clutha area.
And the programme's co-ordinator, Liz Breslin, would love nothing more than other high schools to follow suit, breaking Mt Aspiring College's exclusivity with the venture.
She has spoken to people from a few schools that are interested, but nothing has come to fruition yet. She wonders why other schools don't embrace it, given the track record of its success in Wanaka.
The Lottery Grants Board also funds her role, so it's not a cost imposed on the school.
Every Year 13 student must do at least 25 hours of voluntary service a year. If they do 50 hours or more, they are rewarded with distinction certificates at the school's annual prize giving.
"It is pretty awesome that this school recognises the volunteering at prize-giving," says Breslin.
"It's a prestigious thing, with service right up there with academic and sporting achievements."
She calls it "mandatory volunteering" but, by all accounts, there is little resistance.
The school has 145 Year 13 students this year. They each choose the community in which they want to volunteer, ranging from working with tots to the elderly, to the environment. They must also decide what difference they want to make, with the only stipulation being that the service is in the Upper Clutha area.
Students not only get autonomy over their choice of paying it forward, but when they donate their hours, and whether they want to do more hours than the minimum.
The idea for "students in the community" originated from a study trip by the school's former principal, Mike Allison, to the United States, to look at best practice education. He saw the success of school volunteering in action and decided to introduce it in Wanaka.
"He realised that the community wins and the students win, because they get great skills through their volunteer hours," says Breslin.
"The school also wins because it is offering students other opportunities, and is visible in the community as being a helper and giving back.
"It's pretty forward-thinking to make a school have a relationship with the community, as well as teach students about their responsibility in the world," she says.
Breslin says volunteering not only makes it easier for the students to prepare for the outside world, but it's distinctly different to work experience.
"They get those intangible skills that don't fit anywhere else in the school curriculum.
"It also strengthens their intergenerational understanding."
And, as one student on the school video says: "It looks good on the CV."
Students do their chosen volunteer project outside classroom hours - during study periods or in school lunch hours.
Breslin says the Upper Clutha has always been receptive to the students, because they are part of a wider network of volunteers, similar to networks in other small New Zealand communities.
"That's how we get things done here and it's good the students are mindful they have to take this sort of work on."
"I think there are a great deal of people who volunteer and don't even realise they are doing so.
"Every year I have students coming to me and saying they are going to coach something like netball, but they don't think that counts towards their hours.
"Why wouldn't it count? They are voluntarily using their time to make the community a better place.
"This programme is pretty much about the stories they tell about volunteering, and they are, on so many levels," says Breslin.
"This year there will be 145 individual stories as each student records their hours and what they have done. It is pretty colourful."
Mt Aspiring College has a website explaining the programme, including a video that illustrates the type of service the students do, be it a club for young girls, teaching elderly at a retirement village how to use their computers and send emails, coaching a sports team, teaching the haka at the Holy Family Catholic School in Wanaka, encouraging special needs children to play music, planting native vegetation, cleaning up public places, helping at public events, or sorting books at the local library.
Principal Wayne Bosley says the programme has gone from strength to strength since its inception. He says it's a "fantastic extra" that allows students to be interactive in the community and for students to be seen in a different light.
"It adds to our bigger picture of producing good people. The holistic attitude or response to learning is really important to us.
"The benefit to the community is that it sees 17-18 year-olds in a much more positive all round light."
Bosley says, for the students, it's about realising it's not all about themselves, about interacting with old and young people, and knowing that they have a place and a responsibility towards their wider community.
"If we can instil that in them, they are going to be a valuable member of any community." #

---