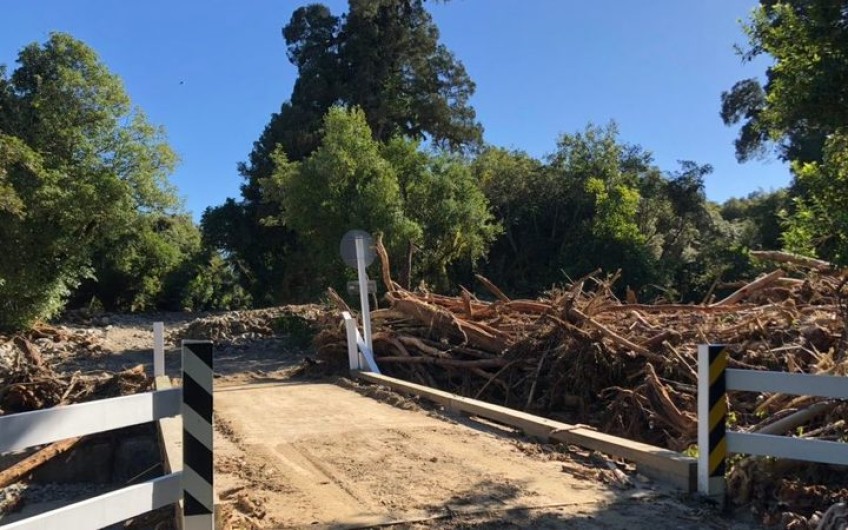 West Coast weather: Haast still without power, rubbish flows through Fox River
Apr 01, 2019
---
Frustration is at boiling point as Haast locals prepare for their sixth day without power, leaving only a few businesses left with a working generator.
Viv Beagle owns the Aspiring Court Motel on Marks Rd in Haast, one of the few businesses left with a working generator.
"There's a generator about 20 minutes down the road from us, that is giving power to some people but in the Haast township we've got nothing, we've got no emergency generator, nothing," she said.
"Half the town's backup generators have blown up because they can't handle the capacity of what's needed to run the place."
Mrs Beagle said no electricity had turned Haast into a ghost town. "There's no traffic on the road ... the place is dead.
"We've got one retail shop, we've got a police station, we've got a supermarket, we've got three accommodation facilities and a restaurant and bar and they've all had to close because their generators aren't coping."
She said if Auckland or another major centre was without power for this long there would be outrage, but because it was Haast, no-one cared.
She said NZ Energy, which supplies the power, had let the community down.
"There's no correspondence. I would have expected a daily update. I've been ringing NZ Energy since last Wednesday and what I got told on Wednesday is still what I got told Sunday morning. So there's no update ... it's not good enough."
In a short statement NZ Energy said it was a massive job and hard manual work to move the gravel blocking the power intake. There was no estimate for when power would be restored.
Mrs Beagle said her motel ran the generator from about 7am to 9pm and anyone without power was welcome to come and use the showers and washing facilities.
Franz Josef residents form action group
Also feeling let down was Richard Molloy, a farmer on the Waiho flats at Franz Josef, whose property was submerged in two and half metres of water in parts after the stopbank was washed out last week.
Officials have yet to commit to building a new stopbank and he said locals felt ignored.
On Saturday he and dozens more formed the "Franz Josef southside preservation group" banding together to make sure they would be heard and get their stopbank.
"There's only one thing to do and that's to fix the stopbank but we're up against the fact that some of the people in the regional council don't believe in stopbanks.
"It is a fast flowing river and it does create problems but the stopbank that was there was there for 37 years so let's build another to last another 37 years."
Mr Molloy along with 60 others were evacuated from their Waiho flat properties yesterday as a precaution because of heavy rain predicted to fall overnight.
He would be back there as soon as he could this morning, to assess any damage.
He said damage from last week's flooding was likely to be in the millions.
Council boss promises a meeting with locals to discuss stopbank
West Coast Regional Council chief executive Mike Meehan said they would be meeting with locals today to discuss rebuilding the stopbank.
He was aware tensions were running high but said significant resources were being poured into south side.
"I'm not in their shoes so I'm not going to pretend to know how they're feeling. All I can say is we've had engineers working with them all week, we've had a bulldozer working for the last three or four days to try and get as much water away from their properties as we can.
"I can't put myself in their shoes but it's a huge event but I know we're taking it really seriously."
Mr Meehan said they would also discuss buying out the residents' flood-prone land, which they are seeking advice on from central government.
Another issue plaguing the region was an overflow of waste from a historical Fox landfill, which was eroded heavily during last week's rain.
Mr Meehan said it was a significant issue. "There's rubbish through the Fox River - downstream it goes for about 20 kilometres - and then we've got rubbish on the beaches now all the way to Okarito."
Both councils and the Department of Conservation were working to fix the problem.


---