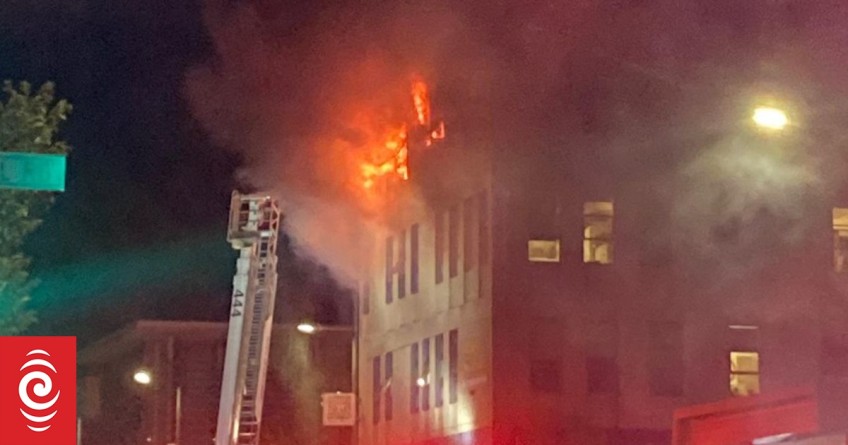 Wellington hostel fire: 'multiple fatalities'
May 16, 2023
---
The huge blaze in a Wellington hostel could be a "multi-fatality situation", Fire and Emergency district manager Nick Pyatt said.
Fire and Emergency was alerted at 12.25am to the fire at Loafers Lodge on Wellington's Adelaide Road.
Fifty-two people were taken out of the building and at least five were rescued from the roof, but others remain unaccounted for.
Five people were taken to hospital, two in a serious condition.
A further 15 people were treated by ambulance staff at the scene, but did not require or did not want hospital treatment.
It was a "worst nightmare" situation, Pyatt said.
Wellington district assistant fire commander Michael Dombroski said the fire quickly spread.
"Several occupants were rescued by firefighters and removed from the building."
Lodge resident Chris Fincham said fire alarms would go off regularly in the building but this time no alarm sounded.
"The only reason I knew it was actually happening was because there was someone running down the passageway saying 'evacuate, evacuate'."
Power has been restored to the immediate vicinity of the building.
According to the Loafers Lodge website, the building has 92 rooms, as well as lounges and kitchens for guests to use, and offers offers short-term and long-term accommodation.
Ambulances remained at the scene at 5am though there were fewer on site than at the peak of the fire. Twenty fire trucks were operating at the site, Fire and Emergency said.
Adelaide Road between John Street and the Basin Reserve was closed.
Wellington City Council said buses and other traffic between the central city and southern suburbs was likely was likely to be diverted for several hours.

---