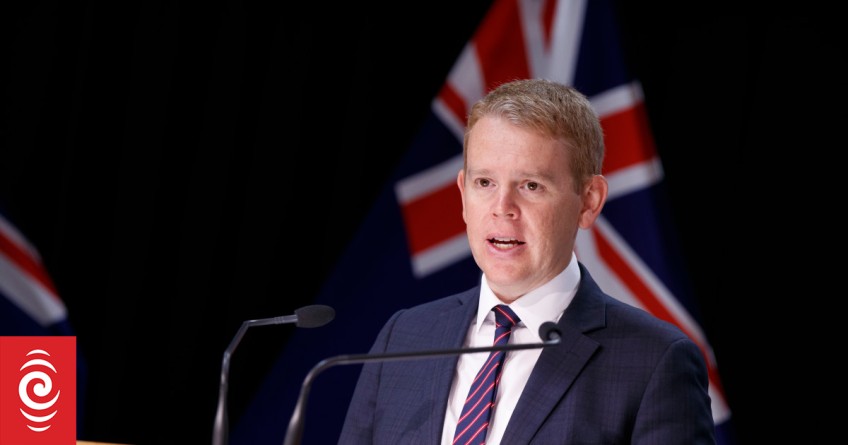 Covid-19 rules to remain, for now: PM
Apr 11, 2023
---
Cabinet has decided to keep the country's few remaining Covid-19 restrictions, for now.
Most pandemic rules have been scrapped, but people still have to self-isolate for seven days if they test positive, and masks must be worn in hospitals in some circumstances.
Prime Minister Chris Hipkins made the announcement at his regular post-Cabinet press conference at the Beehive Theatrette this afternoon.
Hipkins said these rules would remain in place for another two months when they will be be considered again.
He has asked for further advice about testing so people may not need to isolate for the full period before returning to work.
Researchers at Covid-19 Modelling Aotearoa this afternoon had said ending the mandatory isolation period could cause up to a 25 percent increase in hospitalisations and deaths within six months.
But infection numbers settle after that, they added.
Health sector roles added to immigration Green List
The government has also announced 32 new health sector roles are to be added to the Straight to Residence pathway of the Green List to help prepare the health system for the coming winter.
Forty health sector roles are being added to the pathway - eight of those were already on the Green List, but would have had to work for two years to attain residence in New Zealand, while the remaining 32 are newly added.
Speaking post-Cabinet meeting this afternoon, Hipkins said, despite progress in recruiting health workers and in lifting incomes for health workers including through pay equity changes, more work needed to be done to attract workers from overseas.
"It is vital that New Zealand's immigration settings are not seen as an unnecessary barrier to workers wanting to make a life here in New Zealand."
He said the changes announced today reflected the feedback from the health sector.
Hipkins said since the decision in December to put midwives and registered nurses on the straight-to-residence pathway, the goverment had received some 3600 health sector applications including 1400 nurses, 200 doctors and other specialists and 95 GPs.
"In the same period we've seen nearly 3000 health professionals arriving in the country."
"We know that moving countries is one of the biggest decisions anyone can make in their lives and in the lives of their families. With these changers the aim is to provide additional certainty when they're making these decisions that they'll be able to create a permanent home and a great life here in New Zealand."
He said the Green List changes would start to apply from 29 May, about seven weeks away.
Boat skippers and deck hands are also being added to a time-limited residence pathway in the transport sector, adding to international bus and truck drivers.
"Our seaside cities' ferries form an essential part of the public transport system so it's critical that ferry service operators have access to the workers to enhance the availability of these workers," Hipkins said.
He said the market rate for skippers were already above the median wage, and deck hands would need to be paid at least the median wage. This will start from late May.
The Green List was originally announced in May last year, with 85 hard-to-fill high-skill roles that provides a priority pathway to residency.
Added to Green List, straight-to-residence:
Addiction practitioner/alcohol & drug clinician
Audiometrist
Chiropractor
Clinical dental technician
Clinical physiologists (sleep, renal, exercise, respiratory, neurology, and cardiac)
Counsellor
Dental specialists
Dental technician
Dental therapist
Dentist
Dietician
Dispensing optician
Drug and alcohol counsellor
Enrolled nurse
Genetic counsellor
Medical laboratory pre-analytical technician
Medical resonance imaging technologist
Nuclear medicine technologist
Nurse practitioner
Optometrist
Oral health therapist
Orthotic and prosthetic technician
Orthotist/prosthetist
Osteopath
Paramedic/emergency medical technician
Perfusionist (cardiac)
Pharmacist
Physiotherapist
Play therapist (hospital)
Social worker
Speech language therapist
Sterile processing technician
Added to Straight to Residence list (previously Work to Residence):
Anaesthetic
Technician
Audiologist
Medical imaging technologist
Medical laboratory technician
Medical radiation therapist
Occupational therapist
Podiatrist Sonographer

---