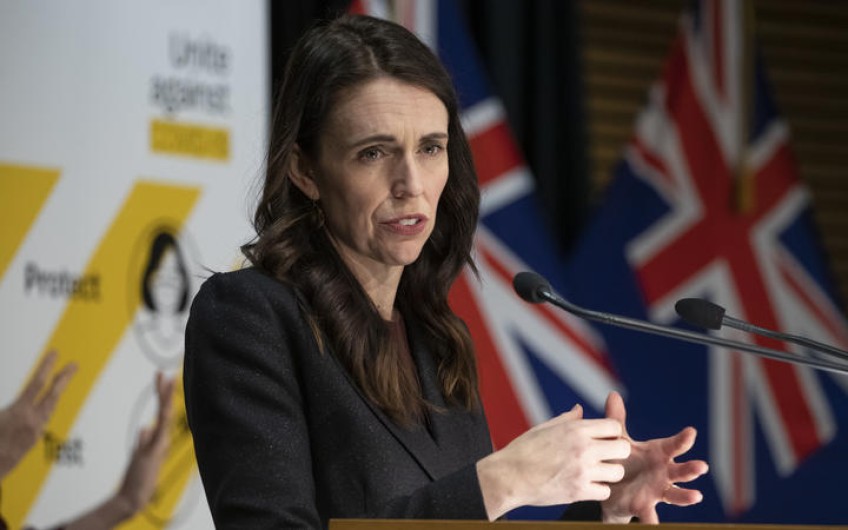 PM announces regions' traffic light settings
Nov 29, 2021
---
Speaking after the Cabinet meeting this afternoon, Prime Minister Jacinda Ardern confirmed that all of Northland would join the Auckland region in red, along with Taupō, Rotorua Lakes, Kawerau, Whakatāne, Ōpōtiki, Gisborne, Wairoa, Rangitīkei, Whanganui and Ruapehu districts.
All other regions would be in orange.
She is joined at the briefing by the Director-General of Health Ashley Bloomfield and Finance Minister Grant Robertson.
Ardern said New Zealand was now in the "strongest position to move forward" to the new system, which would replace the "sudden lockdowns and restrictions of alert levels".
"Other than the existing Auckland boundary, which lifts on January 17, there will be no new restrictions on travel between regions."
Explained: What the traffic light system is and how it works
She said the vaccine passes would allow vaccinated New Zealanders to do many of the things previously treated as high risk, regardless of which colour setting each area was in.
"Like safely going to bars and restaurants, getting a haircut, and going to a concert or the gym. In Auckland, it means seeing friends and family indoors again," she said.
For Auckland, she said: "You can now see family and friends again in their homes, and use the bathroom inside. Luxury. If you are unvaccinated you can gather with others but the gathering limits are lower across each of the levels."
She said life for the unvaccinated would be more restricted. "That is the best way that we can ensure that the unvaccinated are protected too."
Factors considered in determining the regions' settings include vaccination rates, the state of the health system, testing, contact tracing and case management capacity, as well as the rate and effect of Covid-19 transmission, she said.
She said at every colour setting, there were three key things to remember - having your vaccine pass with you, wearing a mask, and scanning in wherever you go.
"At orange, the big change here for parts of the country which will enter into this setting is that for the vaccinated and where vaccine passes are used, there are no gathering limits.
"People can gather again safely. At red, it will feel a lot like level 2. Your vaccine pass lets you go everywhere but number limits of 100 will apply to most activities."
Cabinet will review these settings and provide an update on 13 December.
The next update by ministers will be on 17 January, and will continue on a fortnightly basis.
Omicron variant
The advance of the new Covid-19 variant, Omicron, was also on the agenda with cases spreading to several countries over the weekend, including Australia, Belgium and the UK.
"At this stage we have no cases of the Omicron variant in New Zealand but the developing global situation shows us why our approach of ongoing caution at the border is needed," Ardern said.
On Saturday night, Covid-19 Response Minister Chris Hipkins announced that New Zealand will ban travel from nine southern African countries from the following day in an effort to curb the potential spread of Omicron.
Only New Zealand citizens are allowed to travel here from those countries and they will also be required to stay in managed isolation for a 14-day period and undergo testing.
"Omicron is a reminder of why we need a response that lasts and carries us through the pandemic," Ardern said.
"We already had a strong system in place and the ability to move swiftly to make it stronger still. This is a reminder of the risk that still exists at our border."
She said it was unclear at this stage exactly what risk Omicron posed.
The variant has also not changed the advice on boosters, she said.
From today, booster shots for those who had their second vaccination at least six months ago became available around the country.


---