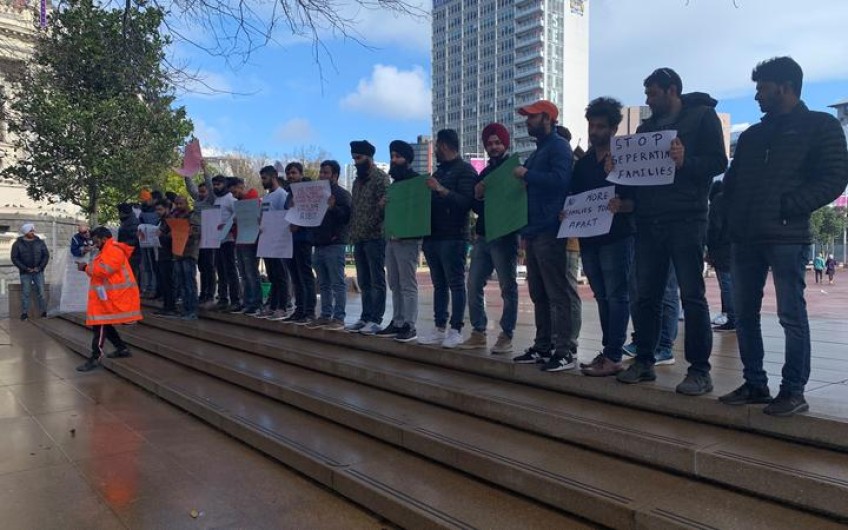 Visa protest rally: My life has been put on hold, husband says
Aug 03, 2019
---
Around 50 people have been protesting in central Auckland against delays in visa processing which they say have kept them estranged from family.
Immigration New Zealand (INZ) has almost 8500 partnership temporary visa applications in its system - almost 3000 of which are from Indian nationals.
Some protesters travelled from Wellington and Christchurch to highlight the delays they said were forcing families apart unjustly.
Harjeet Singh Brar, who was at today's protest, moved to New Zealand to study in 201. He was later granted residency.
Last November he returned to India for his wedding and later applied for a temporary partnership visa for his wife.
Mr Brar said he was told it would take two months to receive the outcome of that application.
"So when I call them after two months I said, 'Look, you said two months and now it's more than two months.' They said, 'We have heaps of files, that's why.' Now it's three months and I said, 'Okay, I'll wait for another month'.
"After four months, five months, six months, still I am getting the same answer."
Mr Brar said there was a growing feeling of frustration in his family and he did not know what to do.
After his wedding in November, Mr Brar and his wife made many plans for the year ahead.
"I had a plan to go and watch the Cricket World Cup in London with my wife.
"My plans, my first year of wedding and it was my wife's birthday last month, 15 July, and she was crying [to me] on the phone."
He said his life had been put on hold.
"I'm just wasting money. I need to send money to my wife because she is not doing a job and even if I am sending money, she's not happy because she doesn't need money, she needs me."
Mr Brar and other protesters were calling on Immigration New Zealand to give them answers.
INZ acknowledges Mumbai backlog
INZ assistant general manager Peter Elms said there was a backlog in dealing with partnership visas at the moment, particularly for those applicants who are from India.
This was due to the fact the Mumbai office was dealing with a significant boost in not only partnership visa applications, but student applications.
India was also the largest growing source of visitors.
Nine out of ten partnership visas were usually approved, Mr Elms said.
"I can understand some of the frustrations from applicants in the Indian market where there is a little bit of a delay.
"We're doing our level-best to bring those volumes down and I think the staff are doing a great job in Mumbai."
He said he had sympathy for those waiting but said INZ could not rush processing applications.
At the start of next month, all new partnership visa applications will be processed in the new hub in Hamilton, which Mr Elms said would help clear the backlog.


---