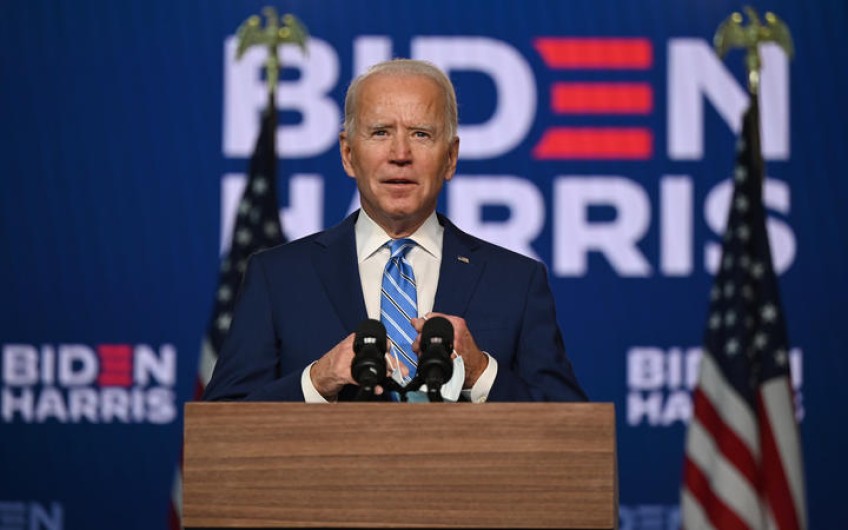 US election win: 'Biden will take charge of a divided country'
Nov 08, 2020
---
Analysis - As Joe Biden surged past 270 electoral votes and towards residence at the White House, a nation waiting on tenterhooks was relieved from a painstakingly drawn out election process, Simon Hampton writes.
Three days of watching votes slowly trickle in, 24 hour network coverage and social media analysis came to an end as Biden claimed the battleground state of Pennsylvania and secured the presidency.
Donald Trump's big early lead on election night saw the odds swing considerably in his favour for a while, but Biden's path to 270 was not a shock.
Election day votes that were counted first favoured the incumbent, whereas Biden did well in mail ballots counted after election day.
It was thrilling to watch as Trump's lead in Pennsylvania, which at one point sat at more than 14 percent, eroded til Biden won it, ultimately ending Trump's time in the White House.
Biden will take charge of a divided country and in the midst of a raging pandemic that is showing little signs of slowing.
Trump did not create either problem but he has thrived off, and incited, the division, while his response to the pandemic has been nothing short of inept.
For the second day, more than 100,000 new cases of coronavirus were recorded in the US.
Biden has called for a national mask mandate in a bid to curb the pandemic in the country.
Masks have become a symbol of political division in the US.
At a Trump rally in Reading, Pennsylvania, days before the election, the majority of the crowd were maskless. Many saw it as an attack on their freedom to be told to wear a mask, many did not think they needed it, and many just did not care.
Most of Biden's first 100 days in office in 2021 will be focused on curbing the pandemic.
Despite the certain opposition and likely legal challenge, enacting a national mask mandate would signal movement towards unifying the country and combating the virus which has already killed 235,000 Americans.
Trump, however, will not leave the White House easily.
He has never come across as someone who concedes easily, let alone graciously.
His shocking, baseless claims of victory, "illegal votes", and accusations of the election being stolen from him in a farcical press conference are an indication of what's to come - and a fitting way for his term to end, given shocking, baseless claims were the story of his presidency.
Network fact checkers gave up, after a flood of lies from the Commander in Chief.
Despite the lies and accusations, Trump's sway over a significant chunk of the American population will not be confined to his term in the Oval Office.
To his supporters, he is a rockstar. They trust him, they adore him and they will not stop following him.
On more than one occasion over the past few weeks, I was told by a Trump supporter that he was "sent from God to save America".
One teared up when asked what Trump meant to them.
Another refused to even consider the possibility he would leave office, and hoped he would abolish term limits.
There is a cult-like level of devotion.
Trump is unlikely to walk away from that. Through his tweets, possible continued rallies and the rumoured Trump TV, he could well remain highly influential in America through messaging to his supporters, who seemingly believe anything he says.
So as Joe Biden is sworn in as the 46th President in January and takes his seat at the Resolute Desk in the Oval Office, America will usher in a new era, but the shadow of the previous tenant will loom large for quite some time.
- Simon Hampton is a freelance reporter based in the United States


---