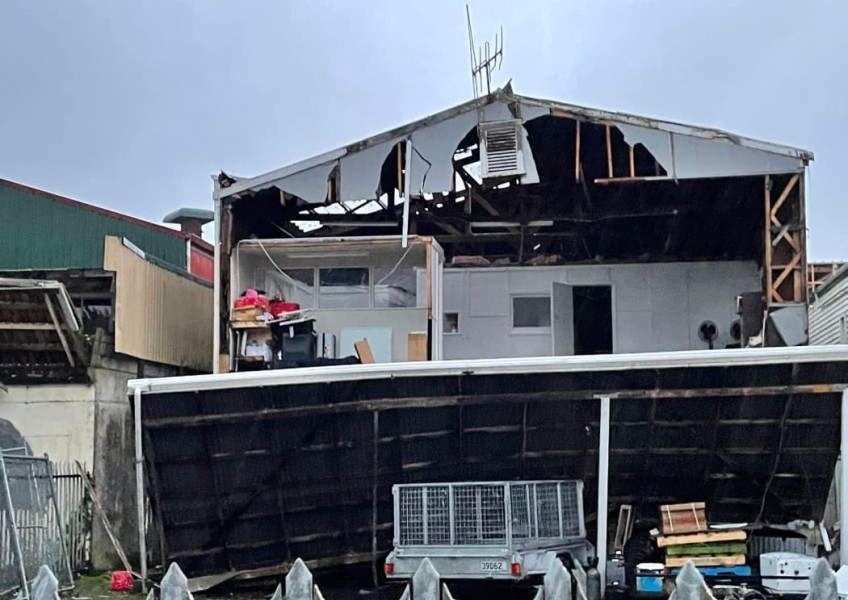 Trail of damage as tornado rips through Levin
May 20, 2022
---
A tornado has ripped through Levin, damaging buildings, bringing down trees and power lines, wrecking vegetable crops and causing minor injuries to some.
Fire and Emergency said it had had many reports of roofs lifted and Horowhenua District Council advised that some minor injuries had been reported due as a result of breaking glass.
Kelly Fox, who runs the Traffic Updates Horowhenua Kapiti Wellington Facebook page, said streets were closed due to downed power lines and debris.
Power lines had fallen on a car in Mako Mako Rd and some roofing iron ended up on the tracks in Levin, she said.
In addition, the district council said power lines were either down or damaged on Parker Avenue, Victoria Street, Tawa Street, George Street, Adkin Avenue, Skye Street and Cambridge Place.
A school in Levin ended up with a neighbour's garage on its property after the tornado struck. St Joseph's Catholic School principal Maria Lyne said the playground was "obliterated", a large piece of iron was wrapped around the rugby goal post and the school's trampoline was destroyed.
MetService said there were at least 4297 lightning strikes around New Zealand and the Tasman Sea in the eight hours since midnight.
Civil Defence has been called in to help emergency services throughout Levin, and it urged people to stay home unless travel was critical.
Oxford Street, Cambridge Street (from Liverpool to Bath Street), Tawa Street, Wilton Street, Gladstone Road, Winchester Street, Tararua Road, Parker Street and Sterling Street were closed, the district council said.
Police said State Highway 1 was closed between Durham Street and Supercheap Auto due to a "major weather event" and SH57 was also closed between Tararua Road and Queen Street due to a fallen tree.
The district council advised that traffic management had been put in place for north - and south-bound State Highway 1 (SH1) traffic. North-bound traffic is being diverted via Mako Mako Road - Tiro Tiro Road - Kawiu Road, while southbound was being diverted to York Street - Weraroa Road - Mako Mako Road. Contractors are working to clear SH1 of tree debris.
Fire and Emergency have activated an urban search and rescue team, which will work alongside the district council's building team to prioritise assessment along all the roads and streets that have received damage or are closed.
The Palmerston North City Council Rescue Emergency Support team has been deployed to assist and Rangitikei District Council has offered assistance to capture drone footage, to understand the extent of the damage.
Several schools were closed while damaged was being assessed; St Joseph's School, Learning Adventures, Levin School, Levin Intermediate School, Horowhenua College and Ōhau School.
The hailstorm ruined crops near Ōhau, where grower Jay Clarke said the damage at his Woodhaven Gardens was "catastrophic".
"I think we're looking at the worst hail damage that we've seen in 44 years of growing in the district."
Main image (Facebook/Terisa Ngobi - MP for Ōtaki): A building hit by the tornado in Levin.


---