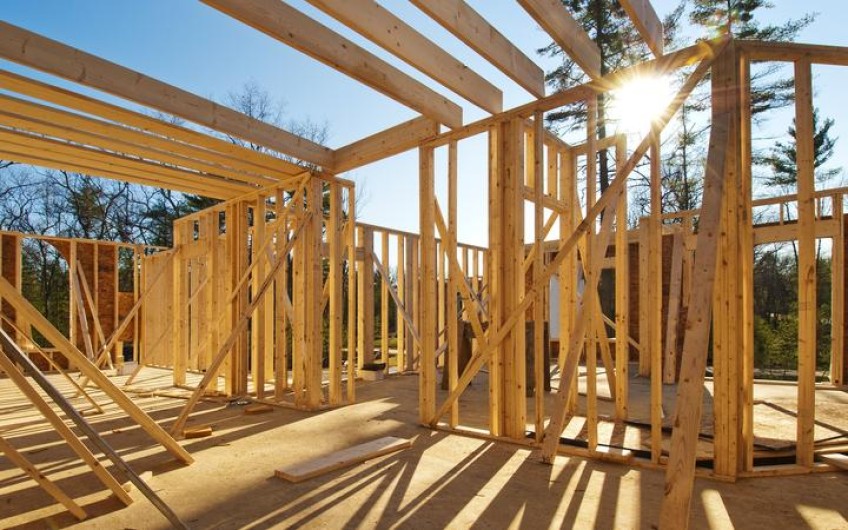 Timber supply problem to hit smaller building companies hardest - industry
Mar 30, 2021
---
A shortage in supply of timber for building projects is being labelled "a comedy of errors" that's going to cause stress and hardship for small-time builders.
Supply constraints means Carter Holt Harvey - one of New Zealand's biggest timber manufacturers - has stopped selling structural timber to Bunnings, ITM and Mitre 10, prompting fears of increased costs and delays to construction.
Namloc Build Limited director Jamee Colman said the renovation-focused Wellington building company's staff of six regularly relied on Bunnings for their wood supply but by chance began using Placemakers recently.
"Yes, it will have an effect but I'm not hugely worried about it just because I'm the kind of person who rolls with the punches and problem solves, rather than worrying about it."
He has been ordering supplies months in advance to ensure they arrive on time for a build.
While Colman was not much concerned for himself, some would be, he said.
"Anyone that isn't that organised or can't be that organised will suffer because they can't get things tomorrow, like they're used to."
Builderscrack spokesperson Jeremy Gray said member builders of the online platform - which pairs customers up with tradies - were frequently dealing with supply shortages and delays in the wake of Covid-19 and could usually find creative ways around it - but a structural timber shortage was a different problem.
"That changes the situation from there being less choice, to there being no choice because the material isn't available and the job cannot proceed."
Smaller operators will need to take on more work to keep their pipe-line of jobs running, he said, and that can cause stress for all involved.
"Anything that causes tension between builders and clients is difficult, because ultimately it's not the builders' fault that supplies aren't available."
It could lead to higher costs down the line, he said, and it was also very difficult to plan projects when overseas shipping delays could leave builders waiting on supplies for six months or more, he said.
AUT professor of construction management John Tookey said the situation was a comedy - or, rather, tragedy - of errors exacerbated by high consenting demand and the closure of timber mills in the past few years.
He was hopeful the industry would eventually right itself.
"Nature abhors a vacuum. If there is a deficit for whatever reason, then there will be a lot of commercial entities that will strive mightily to fill the vacuum because there's an opportunity to make a coin out of it."
He said that was great for bigger players, but not for the little guy.
Red Stag is one of Carter Holt Harvey's biggest competitors and its chief executive Marty Verry said it would have been hard to predict just how disruptive the pandemic would be.
The best thing the government could do to help builders would be to use cross-laminated wood, which is different to structural timber, in its public housing builds, he said.
"The biggest user of that product is Kainga Ora, so if the government was going to think strategically, it could focus Kainga Ora attention on cross-laminated timber and utilising as much of that as possible, which would free up framing timber for the rest of the industry to use."
Verry told Checkpoint the shortage would affect some ITM and Mitre 10 branches and independent merchants that relied on Carter Holt Harvey sawmills.
"It is a really really shockingly short lead time to tell people that they're not going to get supply next week ... a lot of those as merchants have had, you know 20 to 25 year supply arrangements in place with those sawmills and suddenly to be cut off, that's the surprising part about what's happened."
The Commerce Commission will look into Carter Holt Harvey's decision to supply to some retailers and not others.
It said it had been monitoring supply issues but the company had not told it of the intention to stop supplying some retailers.
In a statement, Carter Holt Harvery said there had been short-term industry-wide supply issues.
The company said it was continuing to meet contractual obligations and the curtailment of supply related to about 10 percent of the company's structural timber volume.
"Without doubt the building industry is going through a boom. There have been some short-term industry-wide supply issues," it said.
"Since 2018, CHH has been investing significant capital in capacity expansion ... this has resulted in a 40 percent lift in the supply of structural timber compared to 2019. Further capacity expansion is also well under way."
It said there was no issue related to log supply, and it was not exporting structural timber.
Minister for Building and Construction Poto Williams refused to be interviewed for RNZ's Checkpoint, but in a statement said Carter Holt Harvey was but one of a number of suppliers of structural timber, and after a discussion with the NZ Building Industry she was committed to working with them and industry partners to advise the government on the supply chain issues.
"I expect this advice to outline whether there is a supply chain issue as well as what the industry would like to see as options to address them," the statement said.
"Partnering with industry through the Construction Sector Accord enables us to work together to first understand the issues and then work collaboratively to address the challenges for the collective good of the system. The Accord is a genuine partnership between industry and government and the government is committed to our role in the system to ensuring a construction sector that supports the wellbeing of New Zealanders. Issues such as these are exactly what the Accord was designed for."


---