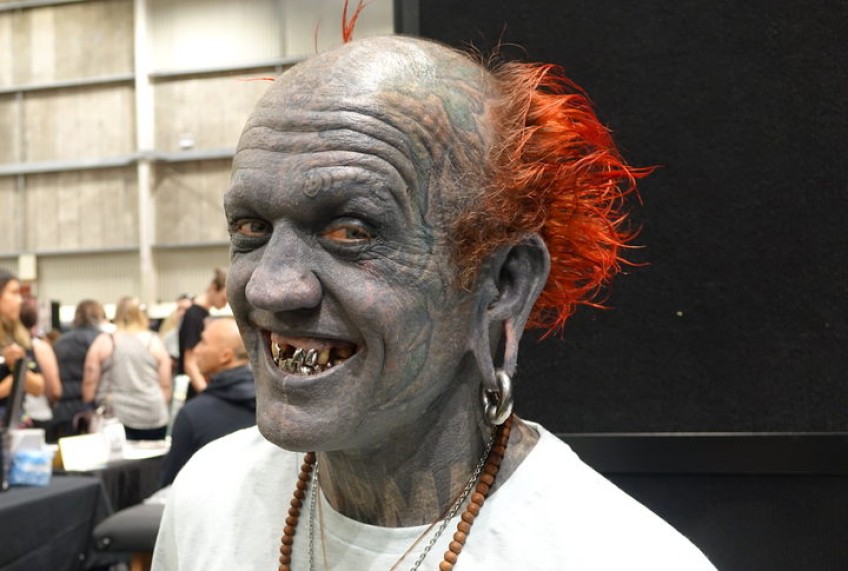 Tales behind every tattoo at body ink festival
Nov 26, 2018
---
The most tattooed person in the world was among the star attractions at the New Zealand Tattoo and Arts Festival in New Plymouth over the weekend.
Auckland-born but Australian raised Lucky Diamond Rich is tattooed from head to foot and then some.
The sword-swallowing, chainsaw juggling, unicycle-riding phenomenon that is Lucky Diamond Rich has been the Guinness World Record holder for the most tattooed person since 2006.
And it's not hard to accept the claim he is 100 percent tattooed.
His skin is a mass of bluey-green, including his head and face which is set off by two tufts of flame-red hair above each ear.
The 47-year-old has been a circus performer since he was eight years old and got his first tattoo when he was just 16 in Kings Cross, Sydney's infamous red-light district.
And things just took off from there.
"Well it just starts with one tattoo... I'm still trying to finish my first one," he said.
"The question of the commitment wasn't really that great, because I was already committed anyway.
"Being an entertainer and being someone that comes from circus and performance... tattoos and circus have had a connection for hundreds of years."
Lucky is tattooed between the toes, on the eyelids and even on his gums.
And he learned the hard way what it took to reach 100 percent.
"The previous record holder Tom Leppard. Rest his soul. Tom's not with us anymore, but the previous record holder was 99.9 percent and I couldn't believe that he didn't get tattooed 100 percent.
"I didn't understand it you know. Why would you do that?
"And then I got the bits done which he didn't... I realised why he didn't."
Lucky said he had no regrets about his tattoos.
"Regrets are like complaining about the weather.
"I don't regret anything, because anything I've ever done right or wrong I've learned from it. In actual fact I've probably learned more from doing things wrong than doing them right.
"I've always been encouraged to celebrate my differences and I guess the tattoo world has enabled me to do that."
A recovering addict and qualified social worker, he said his look could be a great tool.
"This is a powerful thing, man, being this tattooed.
"I can go into jails, I can go into bike clubs, I can go anywhere I want, man, and actually carry a message which is that you can come out of a dark place and you can live in the light, mate.
"And I'm the living proof of that."
More than 7000 fans were expected to go through the festival gates this weekend to check out 300 tattoo artists from around the world.
The event had its highest number of women tattooists - 50.
Among them was Australian Lauren Winzer whose delicate style has found favour with popstars, such as Miley Cyrus and Game of Thrones actress Sophie Turner.
Ms Winzer admitted tattooing celebrities could be a bit nerve-racking.
"The first time I tattooed Miley, I was nervous because I'd never really met a big celebrity before and I didn't know if we would have anything in common.
"But she kinda made me feel like she was really normal, which was sweet.
"Sometimes I don't even know who the people are that are famous who I'm tattooing, which really helps because then I'm not freaking out about it."
She said her style was accessible to people put off by heavy tattoos.
"I kinda do two different styles, one being traditional looking but with really girlie poppy colours, and then on the opposite side really fine-lined delicate stuff. That's kinda been a new thing that's been popular in tattooing in general as well in the last couple of years.
"And I think that's probably why it's becoming a bit more normal because there are people out there who don't want a big crazy tattoo and now they can get involved as well."
As for the punters ... their choice of tattoo and the reasons behind them remained as diverse as ever.
McKenzie from Hamilton was going for something feline in nature.
"I'm getting a portrait of my cat because she's great so why not."
Feilding's Marie Shepperd was celebrating a milestone of sorts.
"I'm getting an arabesque done on my arm. It's to represent me starting a new life. I've recently separated from my husband."
Another Hamiltonian, Dave Watson, was getting the base of his head, neck and shoulders tattooed by Samoan artist Geoff Thomas.
Mr Watson was paying tribute to his mother.
"I lost my old lady a year ago, so decided to get something for her. She died of spinal cancer so from the head to the back and I've got a cancer ribbon in the back."
Aucklander Dominique Serville was getting work done on his traditional Japanese body suit.
"I've always been interested in Japanese artwork and I've sat on an image that I've loved for two to three years and I've followed Tom McMillan for a long time and love his work and I gave him the artwork and a few ideas and here we are."
Not tattooed and not inclined to get tattooed? Take a word of advice from Lucky Diamond Rich the world most tattooed person.
"Enjoy not being tattooed!"
Main Image: Lucky Diamond Rich holds the world record as the most tattooed person. Photo: Ben D'Ath


---