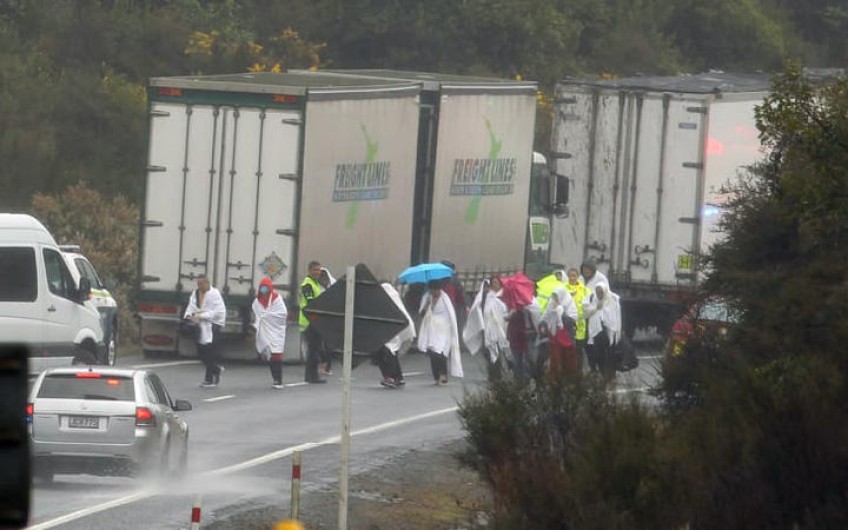 St John dispatches five helicopters after bus rolls near Rotorua
Sep 04, 2019
---
Emergency services are responding to a serious crash on State Highway 5 in Ngātira.
A bus has rolled in Ngātira, west of Rotorua, closing the road.
Five helicopters, three ambulances and a St John manager have been sent to the scene.
St John are assessing patients.
Diversions are in place and police are asking drivers to avoid the area.
The Transport Agency said long detours via Tauranga or Tokoroa will be required.
NZME reports that a police officer said they arrived at the site and found "people everywhere".
A police officer told reporters at the scene: "It is a major crash, we've got people everywhere, you can't come any closer at the moment."
Survivors have emerged from the crash site wrapped in blankets.
A spokeswoman for an Auckland-based international travel company said they had been contacted about a crash near Rotorua this morning.
"We received reports from our driver. At the moment we don't know the extent of things and we are busy trying to sort things out."
A spokeswoman from Kuranui Wilderness Lodge and Trophy Park said the crash was east of its premises and she had seen multiple police and ambulance vehicles going past and two helicopters in the air.
Information on injuries is not yet available.
St John was notified of a serious crash involving a bus on SH 5, Ngatira at 11:19 am. We have dispatched five helicopters, three ambulances and a manager to the scene. We are assessing patients and will update with any further information as it comes to hand.
— St John (@StJohnAlerts) September 3, 2019
A reporter at the scene said traffic was backed up for hundreds of metres and drivers were being asked to turn around.
There had been persistent rain throughout the morning at the site, which is a 20-minute drive from Rotorua and there are patches of light surface flooding on the road.
A worker at Duncan Processors, a processing plant near the crash scene, said the area was remote.
More to come.
- RNZ with NZME


---