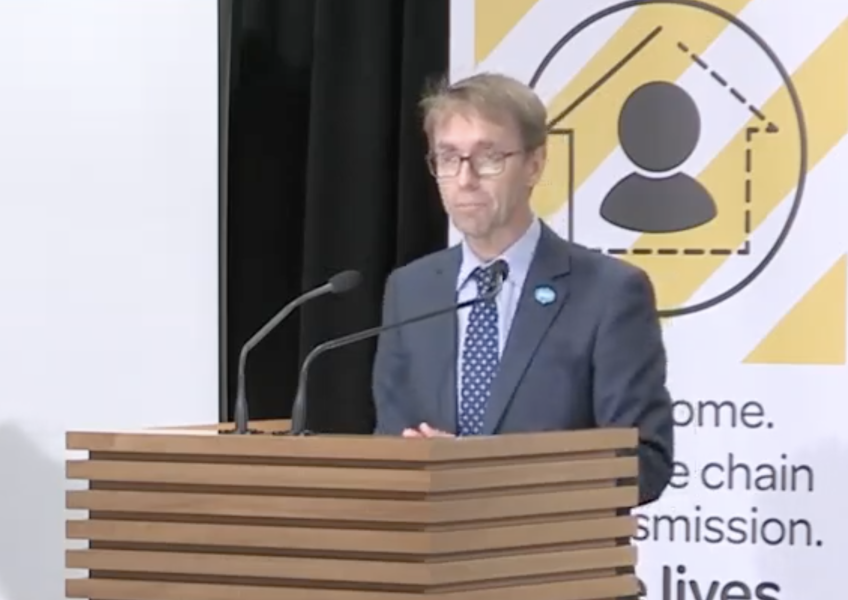 South Island settles in for level 4: 'That's the sacrifice we've got to make':
Aug 18, 2021
---
Most of those spoken to in the South Island by RNZ last night were convinced of the need to lock down, despite the one positive case so far being located in the North Island.
Less than an hour after the announcement, cars were queuing out onto the street at supermarkets and bottlestores all over Christchurch as people stocked up on essentials.
Sylvia Regan was flat out serving customers at a popular fruit and vege shop on Pages Road, one of the stores that was not able to open in level four, along with bakeries and butchers.
"Everyone's being really cool about things and that's the main thing. I mean, I guess they're doing what they think is best to keep us safe. And, yeah, it would be great not to have to come to work tomorrow."
While stocking up, the mother of three said she was preparing herself as best she could for round two of lockdown.
"It's the best thing for everyone, especially with Australia being the way it is. Hopefully it's just three days, because [we've got] three kids at home and they don't really want to be indoors that long. Last time they didn't cope so well so hopefully it's just three days."
Komene Kururangi said he would prefer a hard but short lockdown rather than something more drawn out and was prepared for being at home with his young family.
"All of a sudden when they said level four I was like, I feel like I need to go for a walk now, you know. We've got scooters and bikes and everything ready to go."
Like a lot of people, Jo Farrell's plans over the next few days had been thrown into disarray.
"I just spent $200 because my daughter's going on a ski trip tomorrow - well she was - so I've just spent heaps on stuff that's useless now, but I understand why."
But Matt Radcliffe said the South Island should not have been forced to lock down for a case in the North Island.
"We're like sheep aren't we. Yeah, I think it is over the top. You know, one case, if it is one case in the North Island ... Australians can lock down a state, why can't New Zealand lock down an island, if it's in the north, shut down the North Island."
In central Dunedin, Carolyne Smith said anything less than level four would have risked a New South Wales-type scenario.
"I mean if we go for sharp and hopefully short, we'll knock it on the head, but I think if Jacinda and Ashley had gone for say level three or anything like that, they would have been just wide open to letting it go."
And while he supported the move, Alex Burchell said it would no doubt take a toll on people.
"You don't really miss social interaction until you're told you can't have it, right.
"That's the sacrifice we've got to make but it's undeniable it's going to take a toll on people and when people were dealing with anxiety, depression through the first lockdown, they might be facing similar issues this time as well."
***
This is an official COVID-19 ALERT.
All of New Zealand is now at Covid-19 alert level 4.
The alert level will be reviewed after 3 days for all areas EXCEPT Auckland & Coromandel Peninsula which is likely to remain at level 4 for an initial period of 7 days.
A community case of Covid-19 has been identified.
Stay at home where possible & follow the Alert Level 4 guidelines. This will stop the spread of COVID-19 and SAVE LIVES.
Everyone is asked to:
Wear a mask and keep a 2 metre distance from others whenever you leave your home.
If you are sick, call your doctor or Healthline on 0800 358 5453 for advice about getting tested.
Keep on scanning QR codes whenever you leave your home.
Practice good hygiene - wash hands often.
Services including supermarkets, pharmacies, clinics & petrol stations will stay open at Alert Level 4.
For more information on Alert Level 4 go to [the government website www.covid19.govt.nz]
***
RNZ is the statutory Lifeline Utility responsible for radio broadcasting under the Emergency Management Act 2002 and it has a memorandum of understanding with Government which has been activated to help deal with potential health issues related to the pandemic. RNZ's Lifeline Utility obligations do not affect our editorial independence as a public media organisation or the rigour of our news gathering and reporting operations.
As New Zealand's Lifeline Utility radio broadcaster, RNZ is required to maintain essential public information channels and news during times of national emergency and we are committed to supporting all New Zealanders.
We are also committed to looking after the health and well-being of our staff.
RNZ will continue to provide essential information services - broadcasting and publishing critical public service announcements on air, on our website and via social media channels. Comprehensive news will be available on air and via our website and digital services.
If necessary RNZ Concert and RNZ Pacific will carry news and information from RNZ National. Parliament will continue to be broadcast on the AM network when the House is sitting. As the country's public service media organisation, RNZ is committed to supporting all New Zealanders.
Kia Kaha - Stay Strong


---