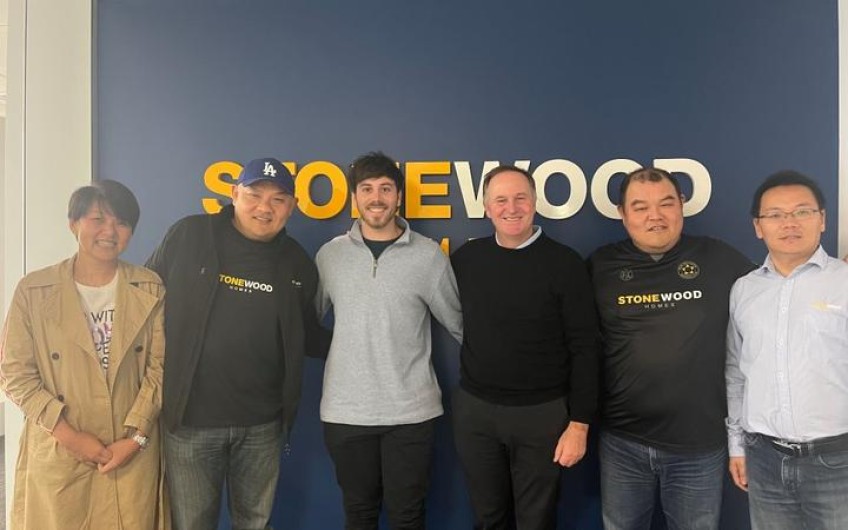 Sir John Key to partner with Chow brothers in Stonewood venture
Feb 15, 2022
---
Main Image: Left to right - Vicki Chow, Michael Chow, Max Key, John Key, John Chow, Stephen Zhu.
Former Prime Minister Sir John Key and his son Max are joining up with property developers and one-time brothel owners, John and Michael Chow.
The Keys, through their property development firm MTK Capital, are partnering the Chow's Stonewood Group to form StonewoodKey Capital.
The company has $20 million already pledged and has a target of $100 million over the next 18 months to buy land for housing developments.
"This business is about helping raise funds to buy more land and keep pace with the demand for new homes across New Zealand, while also providing an investment opportunity for those interested in residential real estate," Stonewood Homes co-director John Chow said.
He said the new company wanted to fund 500 homes a year, with three projects already underway in Auckland.
Chow said partnering with the Keys gave Stonewood a new dimension.
"I'm very impressed by their vision and drive."
Sir John Key said he had a "passion" for real estate development and it was an attractive asset class, while Max Key said the partnership would "turbo-charge" the company's residential development interests.
"Stonewood Homes' proven track record, know-how in the new build space and its procurement strength means Stonewood Key Capital can really hit the ground running," the younger Key said.
The Chow brothers have had a colourful and varied business career, coming to prominence for their ownership of brothels before they moved to buy some assets of the failed Stonewood group in 2016.


---