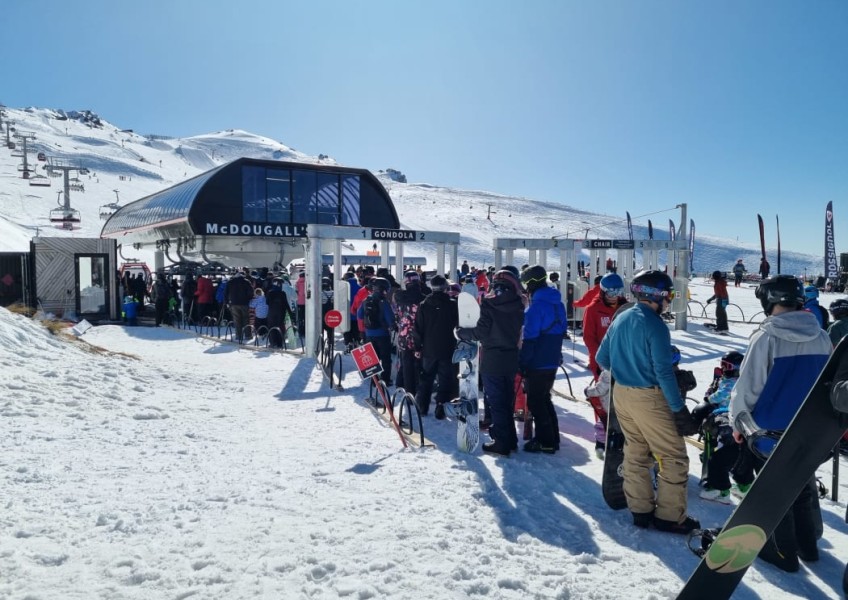 Queenstown skifields prepare for Winter Games rush
Aug 27, 2022
---
Hundreds of international and New Zealand athletes are raring to hit the slopes in the Queenstown Lakes at this year's Winter Games.
It has been a challenging few years for the event, but organisers say it is full steam ahead now the borders are back open.
With the sun shining, Cardrona Alpine Resort was packed with powder-hunters and newbies yesterday.
But up the chairlift, athletes have been honing their craft ahead of the Winter Games.
Current Freeski Slopestyle Junior World Champion Ruby Andrews has been preparing for the Slopestyle and Big Air events.
"It's just the craziest feeling hitting jumps that big. It's like the closest thing to flying ... so it's awesome, so much fun."
She was delighted to be competing on her home turf.
"It's the best feeling. This is the park I'm most comfy. I've ridden this for the last four years and it just feels like home to me."
Queenstown snowboarder Cool Wakushima was pleased to see the return of international athletes to the competition.
"We've had probably one of the best snow seasons that we've had in a couple of years and lots of snow and the park's looking pretty good."
An injury cut her Beijing Winter Olympic plans short, but she had signed up for three events at the Winter Games.
"Definitely feeling way better and I'm super stoked to be back on the slopes, and I'm really looking forward to seeing everyone out here and shredding."
The competition runs across Cardrona Alpine Resort, the Remarkables and Coronet Peak, and spectators are welcome.
Winter Games chief executive Marty Toomey said it was great to be back.
"For us, we've gone from 2020 where we could only run a domestic event so 21 Kiwi athletes - phenomenal event, but small fields to next year (2021) where we got shut down with a lockdown to all of a sudden 450 athletes, 26 countries back on the start line. It's phenomenal."
It was a boon for young local athletes who could enter the world stage while still being able to sleep in their own bed at night, he said.
He was delighted Mother Nature was playing ball so far.
"We started the year not knowing if there was any snow. No white stuff on hills and a week later we had a metre of snow and the ski fields got underway, and we've had multiple top ups since then.
"The resorts are looking awesome which is great for holding an event."
Typically the games put between $6 million to $10 million into the region.
It also put New Zealand firmly back on the map and into people's minds, Toomey said.
"It will get bigger again so this is actually the start of our build towards Milano 2026 so next year we've got ... the Junior World Championships in all the park and pipe disciplines so ... the whole world will be here so all of a sudden we'd be back up to 600 again."
The Winter Games will kick off in Coronet Peak on Saturday morning and will run until 11 September.

---