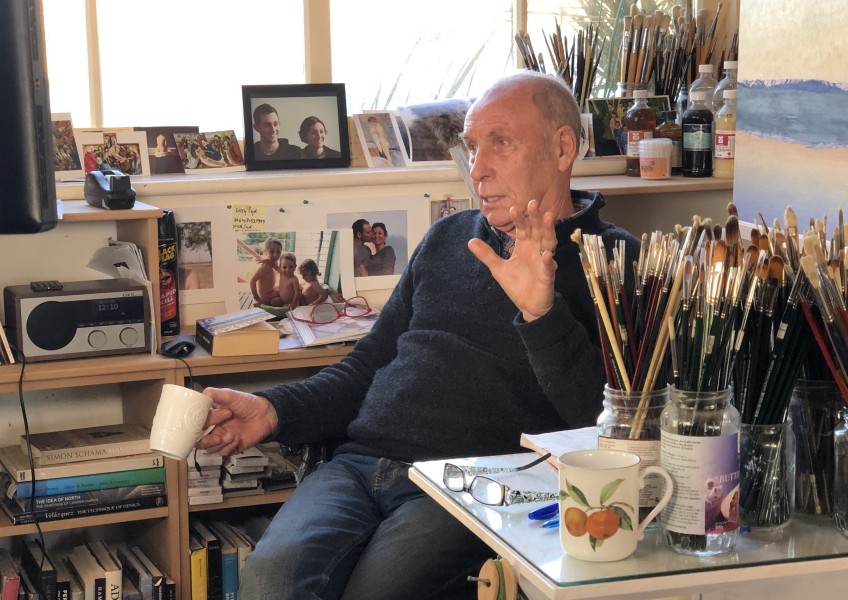 Queen's Birthday honours: Eight new dames, knights announced
Jun 07, 2021
---
A former All Blacks captain, renowned Otago artist Grahame Sydney and the first Māori to compete at Wimbledon have been awarded honours in this year's Queen's Birthday Honours. Here is the full list.
There are 170 recipients, including four new dames and four new knights.
The new dames are: te reo advocate Hinewehi Mohi, who was the first person to sing the national anthem in Māori at an international rugby match; Ruia Morrison, a trailblazer in tennis for Māori and women; nursing educator Judy Kilpatrick and ecologist Professor Carolyn Burns, who is a prominent international authority on the ecology of lakes.
The new knights include: artist Grahame Sydney, best known for his landscapes of Central Otago, and Distinguished Professor Bill Denny, who has led anti-cancer drug research for more than four decades.
Former All Blacks captain Buck Shelford, who promoted the use of the haka and is also an advocate on behalf of men's health, and Michael Daniell, who has held management roles at Fisher & Paykel Healthcare for more than four decades, are the other new knights.
Former Dunedin mayor and president of Local Government New Zealand Dave Cull, who died in April, has been made a Companion of the New Zealand Order of Merit.
He accepted the honour several weeks before his death.
His wife, Joan Wilson, said he was deeply humbled by the honour.
Four well-known sportspeople are among the new Members of the New Zealand Order of Merit: Ryan Archibald for services to hockey, Adam Blair for services to rugby league, Phillis Meti for services to sport, especially golf, and Reverend Janice Stead who has been involved in cricket at all levels, as a player, commentator, selector, and administrator.
Archibald has been involved with hockey at local, regional, national and international levels as a player, coach and administrator.
Blair is the second person to play 50 rugby league tests for New Zealand and is the New Zealander with the most NRL appearances with 331.
Meti has represented New Zealand at the world championships of long drive golf for seven years, winning three world championships.
Every six months the honours are announced, recognising people for years of dedication serving their communities and the difference they have made to other people's lives through their work.
They come from all over the country spanning sectors that include: sport, science, health, education, law and conservation; some are politicians and some are artists.
There are three Orders in the New Zealand honours system; The Order of New Zealand, The New Zealand Order of Merit and The Queen's Service Order.
New dame praises 'extraordinary people' working in health
Dame Judy Kilpatrick said she was most proud of co-founding the University of Auckland School of Nursing in 1999, and leading the department to be ranked 32nd within the top 50 nursing schools globally in 2018.
She recently retired after 47 years in nursing education.
"Well, I'm very humbled and embarrassed and very excited. My job has involved working with a huge number of people, some extraordinary people, both nurses, doctors, pharmacists, clinical nurses, educators. I've had hundreds of very good people that I've worked with and I mean then I just get picked out for such a honour," she said.
"I've always loved my job and it's always been exciting."
Dame Ruia Morrison has won national singles and doubles tennis titles and played at Wimbledon from 1957-1960 and also represented the country in the Federation Cup competition.
She has also been a coach and mentor for the tennis community for many years.
A Wimbledon quarterfinalist in 1957 and trailblazer for Māori and women, Dame Ruia was a three-times New Zealand Open winner and the Aotearoa Māori singles, doubles and mixed doubles champion in 1965 and 1970.
Dame Ruia, who is now 85, returned to Wimbledon in 2013 to be awarded membership to the All England Club's Last Eight Club.
Dame Carolyn Burns believes her honour is recognition of the value New Zealanders put on their fresh water, particularly the lakes.
"For too long they have been undervalued and I'm hoping this award will allow them the prominence and elevation to the status they deserve, and with it the recognition of the needs in terms of other management in the future."
When Dame Hinewehi Mohi sang the national anthem in te reo at the 1999 Rugby World Cup at Twickenham, it began a tradition that now sees the anthem sung in both languages at events of national significance.
She has also contributed to music, television production, charity work and advocacy for te reo and tikanga Māori.
A long haul with trialling cancer drugs for new knight
Sir Bill Denny has led teams to take 15 cancer drugs to clinical trials and in some cases application.
"It is a long road. Over the time, we've developed about 15 new drugs into clinical trials around the world and the timeframes for those vary hugely.
"It's probably on average from concept to first clinical trial 15 years, sometimes you've almost forgotten what you've started when you finally get a drug into the clinic."
He is director of the Auckland Cancer Society Research Centre at the University of Auckland and is a co-inventor on close to 70 US patents.
Sir Grahame Sydney is one of the country's best known artists with his work displayed in all of New Zealand's major galleries and in private collections both nationally and internationally.
For many admirers his landscapes have defined their response to Central Otago.
His art career spans five decades across mediums, including oil painting, watercolour, egg tempera, lithographs, etching, and photography.
Sir Wayne (Buck) Shelford was first selected for the All Blacks in 1985 and led the team from 1987-1990. He is credited with restoring the mana to the All Blacks' haka and leading a record-setting 14 consecutive test wins as captain.
He is also a prominent supporter of charities, encourages men to take care of their health, and is an ambassador of the Prostate Cancer Foundation.
Fisher & Paykel Healthcare has the largest global market share for intensive care respiratory humidifiers and high flow oxygen therapy systems. It has 5000 employees, with staff located in more than 40 countries.
Sir Michael said he was proud of how the company had provided supporting healthcare professionals during the pandemic
"F&P Healthcare respiratory products are right at the frontline of treating Covid and they've put in an exceptional effort."


---