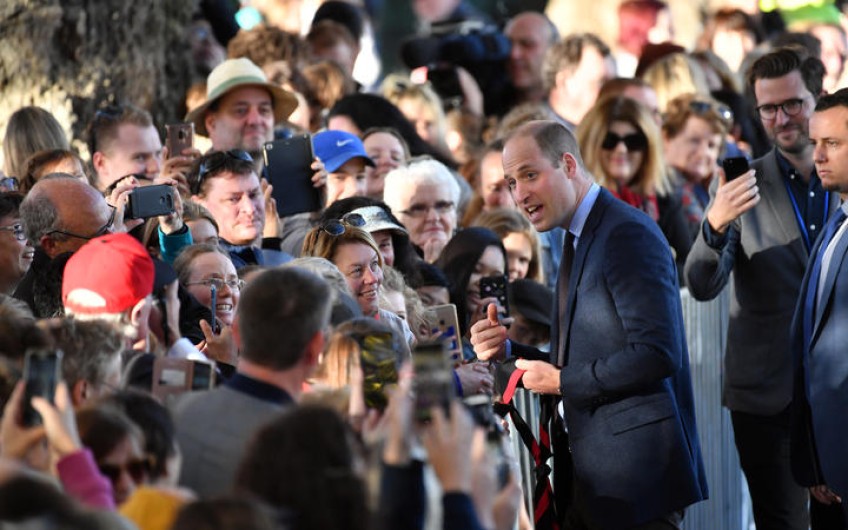 Prince William meets shooting victims at Al Noor Mosque: 'Hate will fail to divide us'
Apr 26, 2019
---
Prince William has wrapped up his two-day visit of New Zealand with a walk-about meeting members of the public in Christchurch.
In a prepared speech which he began in te reo Māori, he said that in the grief that followed, deep wells of empathy, compassion and warmth revealed the true face of New Zealand, teaching the world that the forces of love will prevail over the forces of hate.
"On the 15th of March, tragedy unfolded in this room. A terrorist attempted to sow division and hatred in a place that stands for togetherness and selflessness.
"When I woke up in London on the morning of the 15th of March. I could not believe the news, an act of unspeakable hate had unfolded in New Zealand, a country of peace. And it had unfolded in Christchurch, a city that has endured so much more than its fair share of hardship. When it was confirmed that 50 New Zealand Muslims had been killed, murdered while peacefully worshipping, again I just could not believe the news.
"What I have known of New Zealanders from the earliest moments in my life is that you are a people that look out to the world with optimism. You have a famous strength of character, you have a warm hearted interest, about cultures, religion and people thousands of miles from your shores. You acknowledge, debate and grapple with your own cultural history in a way that has not other parallel in any other nation."
Christchurch and New Zealand's response to the shooting was an example to inspire the world, he said.
"The global idealism of hate will fail to divide us.
"In a moment of acute pain, you stood up, and you stood together. In reaction to tragedy, you showed something remarkable. I have had reasons myself to reflect on grief and sudden pain, and loss in my own life. In my role I have often seen up close the sorrow of others in moments of tragedy, as I have today.
"What I realise is that of course, grief can change your outlook, you don't ever forget the shock, the sadness and the pain. But I do not believe that grief changes who you are. Grief, if you let it, will reveal who you are. It can reveal depths that you did not know you had. The startling weight of grief can burst any bubble of complacency and how you live your life. It can help you to live up to the values you espouse.
"This is exactly what happened here in Christchurch on the 15th of March."
New Zealand had showed how deep its wells of compassion and warm-heartedness ran, he said.
"You started showing what New Zealand really was, almost immediately. On the road outside these walls, people pulled their cars over and started caring for the victims even when they did not know if it was safe to do so.
"Your neighbours opened their doors as they were fleeing the violence. Your first responders apprehended the killer and immediately worked to save lives in the most challenging of circumstances.
"In the days that followed, thousands of bouquets of flowers filled public spaces in the city, brightening the darkest of moments."
He acknowledged Ms Ardern, saying she showed extraordinary leadership of compassion and resolve, and said Imam Al Fouda had displayed almost unthinkable wisdom and grace "given what you witnessed with your own eyes".
"Your words in the days after the attack moved the world. Your reminder that the victims needed to be remembered both as Muslims and as New Zealanders showed that grief revealed you to be a man of great wisdom."
Farid Ahmed, whose wife Husna Ahmed died at the Al Noor Mosque, spoke before Prince William saying "we have to keep up hope and not surrender to hatred".
After the speeches the media were asked to leave and Prince William went around the room to meet families.


---