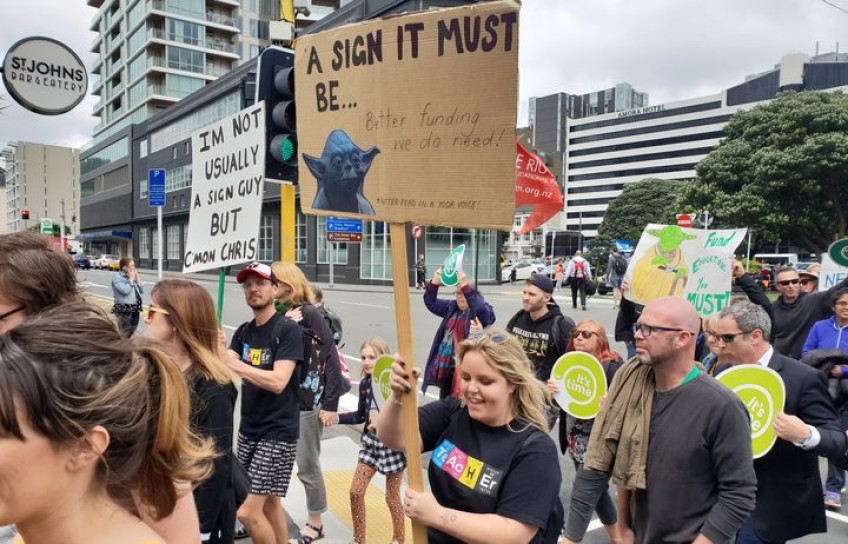 Primary school teachers and principals reject latest pay offer
Apr 08, 2019
---
Primary school teachers and principals have voted to reject the latest offer from the Ministry of Education.
The New Zealand Educational Institute (NZEI) is locked in a year-long pay dispute with the Education Ministry.
It said today the latest offer to settle their collective agreements was "overwhelmingly rejected".
Union president Lynda Stuart said significant disruption could happen next term if the government did not focus on finding a solution quickly.
Paid union meetings will happen early next month and if there's no progress by then the proposal is to vote on strike action on 29 May, the union said.
Between 15 May and the strike date teachers would also work to rule - meaning only working within 8am to 5pm Monday through Friday.
Teachers and principals voted last week on offers the NZEI said differ little from those they have previously rejected. The government has insisted it will not increase the value of its offers any further.
Ms Stuart said the vote, announced late this morning, represented a clear message to the government that they needed to get serious about pay and conditions.
"Our teachers and our principals do not want to go on strike. They want to be in their classrooms and in their schools doing what they do best, which is working with children of this nature. Striking is not within the sorts of things we love to do."
She said money needed to be put on offer to make teaching a viable career choice.
Teachers have walked out of classrooms twice since August in rolling strikes to pursue their demands for a pay rise, smaller class sizes and more resources.
In November they went on strike after turning down an improved pay offer from the Ministry of Education.
That had included an increase to most teachers' pay by 9 percent over three years, a new top of the pay scale from 2020, an a $500 lump sum for union members only. It increased spending by $129 million, taking the offer to almost $700 million over four years.
Read more about the latest pay offer.
The Employment Relations Authority has slammed the teachers union's pay demands as "totally unrealistic" and has urged teachers to take the government's offer.
Last month secondary school teacherscalled off a nation-wide strike due to the Christchurch terror attacks and said it would decide its next steps after the April school holidays.


---