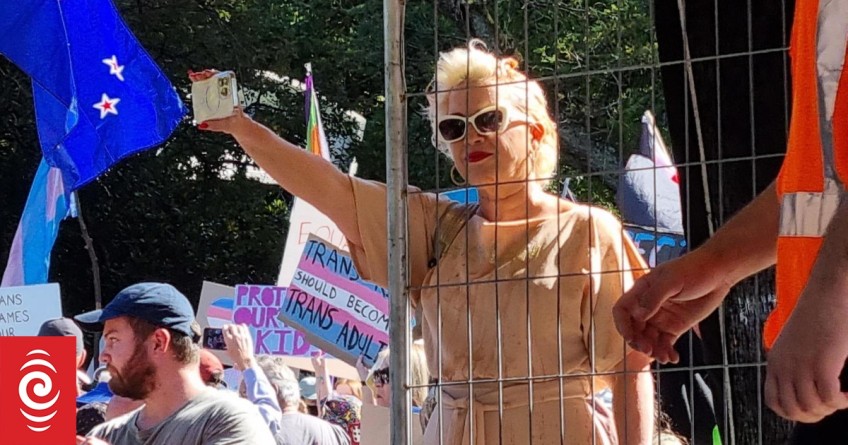 Posie Parker rally: counter protesters force police to remove activist
Mar 25, 2023
---
Police have escorted Posie Parker away from her rally in central Auckland before she could speak, with hundreds of people counter-protesting the British anti-transgender activist.
The crowd gathered near the band rotunda in Albert Park this morning before Parker's speech, and made a cacophany of noise to drown her speech out.
LGBTQIA+ supporters were far more present and visible than Parker's supporters, which appeared to include members of the Action Zealandia group, with the crowd loudly chanting "go home Posie, go home".
When Parker appeared, she reportedly had paint, water and egg flung at her, and was pushed and shoved.
Her private security team took her off the stage before she could speak, and she was forced to leave the area with a police escort, with protesters swamping the rotunda.
The High Court ruled yesterday that the government's decision to allow Parker into New Zealand was the right one.
Parker, also known as Kellie-Jay Keen-Minshull, had her case reviewed by Immigration New Zealand after some supporters at her Melbourne event gave Nazi salutes.
The department ultimately decided she could enter the country, a decision upheld after last-minute court action.
On Thursday, Immigration Minister Michael Wood said he condemned her "inflammatory, vile and incorrect world views" but that the decision sat with Immigration NZ and their advice was there was no reason to believe that she is, or is likely to be, a threat or risk to the public order or public interest.
It meant she would be granted entry to the country, to carry on with her speaking events in Auckland and Wellington this weekend.


---