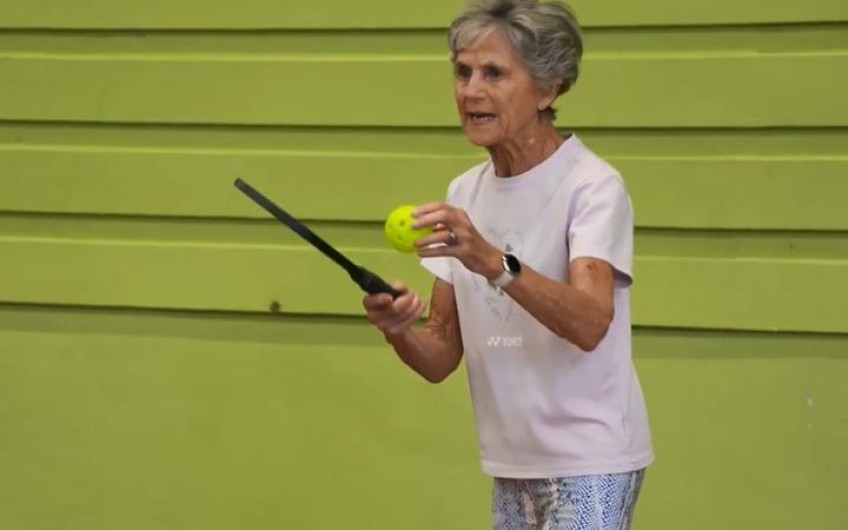 'Ping-pong on steroids': Pickleball gaining popularity in New Zealand
Jul 10, 2019
---
'Ping-pong on steroids': Pickleball gaining popularity in NZ
It's a new sport that's rising fast with clubs popping up all around the country - and it's called Pickleball.
Every Friday at an Auckland YMCA a group of seniors run around the courts with paddles playing the game.
Jeff Parke is Auckland's Pied Piper of Pickleball, a sport only recently introduced to New Zealand.
Pickleball is a game that is played on a badminton court with a tennis-height net, overgrown ping-pong paddles and a plastic ball with holes in it - much like a US Wiffleball - but now a dedicated pickleball, he explains.
"It's like making popcorn. There's wonderful pop when the plastic ball hits the paddle," he told First Up.
"The game is often called ping-pong on steroids and I like that description of it."
Pickleball first became popular in New Zealand in Rotorua but Mr Parke has founded a number of clubs around Auckland and said the number of pickleball players was growing.
He said it was popular among older adults and could also be competitive.
The oldest member in the club is retired tennis player Gary Larson.
"I looked it up on the internet and thought it might be the sport for me. It's improved my fitness and also my mobility," he said.
"It's been a wonderful sport for me and I've been able to go back to tennis. It's a sport you can play to any age."
Mr Parke said pickleball had been "wildly successful" in Mt Albert.
In the last few months, it's been played at the Ellerslie YMCA, Te Pai Park Tennis Club in Henderson, YMCA in the CBD, Howick YMCA, Netball Manurewa, and even in Waiheke.
"I'm now in heaven, there's pickleball everywhere," he said.


---