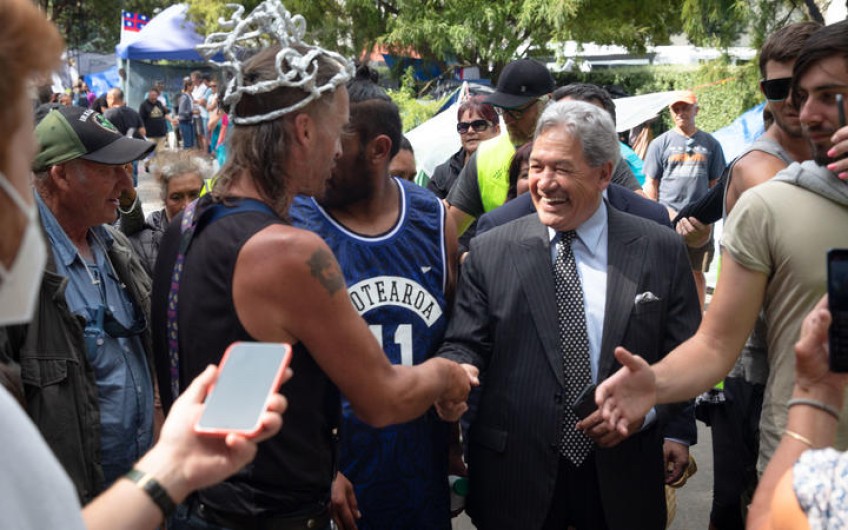 Peters trespassed from Parliament for two years
May 03, 2022
---
Former Deputy Prime Minister and New Zealand First Leader Winston Peters says he has been trespassed from Parliament for two years.
In a statement, Peters said New Zealanders, the Prime Minister and Parliament shouldn't put up with "totalitarian behaviour" from the Speaker Trevor Mallard.
He said he had taken legal advice and would continue to do so.
Peters had faced criticism when he visited anti-mandate protesters in February as they held a protest camp inside Parliamentary grounds. Those protests turned violent when police moved to clear the camp in early March.
Peters said it was dictatorial behaviour by Mallard, which "should be reserved for Third World banana republics".
He said Mallard had gaping holes in his reasoning, that there were differences between the protesters "who were legally, peacefully and rightfully there" and those who were ended up being violent.
There were also differences between those taking an active part in the protest and those who were not, he said.
"What's more astounding is that the Speaker of the House of Representatives in our country could possibly attempt to trespass former Members of Parliament - of whom some are leaders of political parties planning to run against the sitting government in around 18 months' time," the statement said.
"New Zealanders should not put up with this type of totalitarian behaviour from the Speaker - nor should the Prime Minister or Parliament."
Main image (RNZ): Winston Peters speaks with protesters at Parliament in February.


---