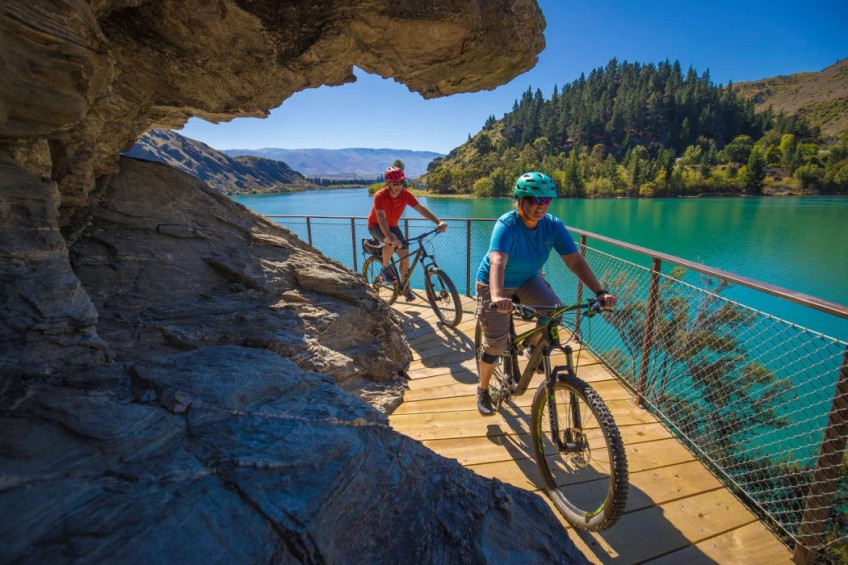 Consent objection to Queenstown-Cromwell cycle section
May 27, 2022
---
It's hoped work on the next connections between Otago's cycle trails will begin this year.
When completed a continuous 600 kilometre network of trails will link Queenstown to Dunedin.
Consents have been lodged for the next steps to connect the area's great rides and expand them further.
Otago already boasts more than a quarter of the country's 23 Great Rides, but what was planned next might be the most ambitious aim so far.
"We always had a view of making this a destination to come and ride," Central Otago Queenstown Trail Network Trust chair Stephen Jeffery said.
"That meant we had to link all the trails together - the Queenstown Trails, out of Wānaka, linking with the Rail Trail, and all the way through to Dunedin Airport was the original goal... and we're well on track to do that."
Planning was well advanced for connecting Queenstown Lakes and Central Otago's Great Rides, he said.
Work had started on the link from Lawrence to Waihola, with plans for it to be finished next year.
Resource consent applications to link Cromwell to Queenstown and Wānaka, and to connect the two sections of the Roxburgh Gorge Trail were also already submitted, Jeffery said.
It had not all been straight forward though with a road block already cropping up with the Bannockburn to Gibbston Valley connection.
An objection had been lodged to the consent, which meant it could head to the Environment Court.
But Jeffery said he was confident they could clear those hurdles, considering the potential benefit to the wider region of tourists being able to hop off a plane at Dunedin Airport and cycle all the way to Queenstown, or vice-versa.
"It's good tourism isn't it? It's sustainable, except for the construction phase, it's sustainable tourism, so it's good for everyone and it's good for everyone's health to get out there and ride bikes."
Eventually the links would bring together the Queenstown, Clutha Gold, Roxburgh Gorge, Lake Dunstan and Otago Central Rail trails.
There were also plans to see the network eventually connect to North Otago's Alps 2 Ocean, he said.
So does cycling represent Otago's next gold rush?
Tourism Central Otago general manager Dylan Rushbrook said he believed so.
"It's absolutely a gold rush for this region. You only need to look around and almost second car over a weekend has bikes on the back."
The combination of Otago's unique landscapes and heritage as well as the unique nature of cycling tourism complimented each other perfectly, he said.
"The beauty of cycling is the type of tourism it is - it's like a slow style. So people come in and they take their time, they might get out and do a trail in the morning and... then in the afternoon it's time to relax, take in a winery, take in a café, read a book or go out and explore some of the heritage around the region or the arts scene around the region.
"So it's a really nice way that we see people coming in and slowing down and just experiencing the region."
Businesses were excited by the boom.
Mt Rosa Wines owner Guy Boanas said the benefits of cycling tourism had been obvious over the pandemic.
"Domestic tourism has been reasonably kind to us," he said.
"I know there's a lot of people in town in hotels and restaurants who haven't had that experience but... we seem to still have people coming through and certainly a lot of those people are on bikes."
His winery sat right at the end of the Gibbston River Wine Trail, about 30 kilometres from downtown Queenstown.
Boanas said at first he was sceptical, but he was surprised by the number of people willing to hop on a bike and hit the wineries.
"I did scratch my head a little bit and wonder how it was going to go, but it's been a revelation. We've got great trails all the way back into Queenstown and Arrowtown from here and people taking advantage of them, and we can't way to see the extension all the way through to Cromwell and Clyde - it's going to be fantastic."


---