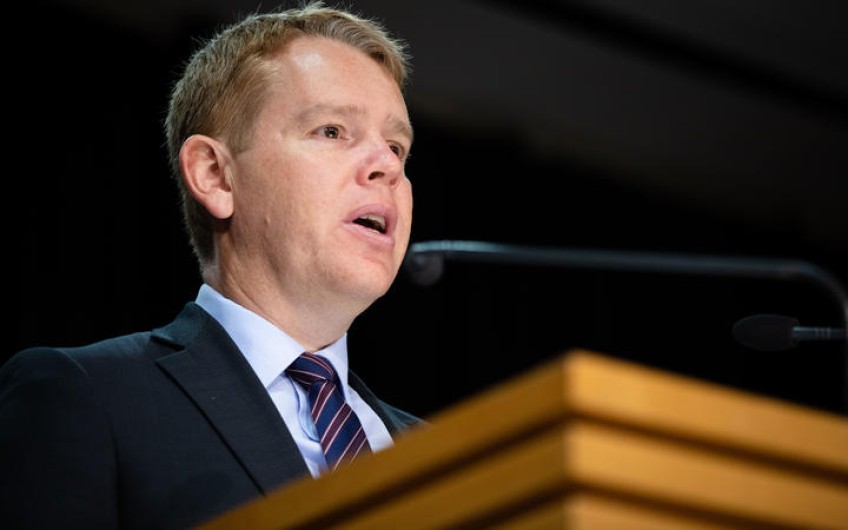 Omicron: Government delays border opening
Dec 21, 2021
---
Cabinet has agreed to reduce the interval between the second Pfizer dose and booster shot from six to four months, and there will be a delay in the start of the self-isolation scheme for Australian arrivals, Covid-19 Response Minister Chris Hipkins has announced.
After Cabinet's meeting about the Omicron variant yesterday and advice overnight, Hipkins says the government has agreed to a "suite of precautionary measures."
Vaccine booster timeframes
The booster dose change means more than 82 percent (or three million) of vaccinated New Zealanders will be eligible for it by the end of February next year.
It means hard-to-reach communities will be able to get boosters before winter, "when the threat of the virus is at its greatest", Hipkins says.
"The shorter timeframe starts in early January, initially people will be able to walk into vaccination clinics and then subsquently once the Book My Vaccine system is fully updated later on in January, they'll be able to book in," Hipkins says.
Hipkins says he is not setting a "hard and fast target" for booster dose rates by the end of February.
The advice to government from the technical advisory group was that this step was appropriate, pragmatic and in line with other countries. It has recommended the booster be given to adults aged 18 years or over.
"Public health advice suggests that soon every case coming into our border, into our managed isolation facilities, will be the Omicron variant," Hipkins says.
"We already know that booster vaccinations significantly lift an individual's immunity, reducing the spread and the severity of Covid-19.
"Data is emerging now that booster doses of Pfizer provide better protection than two doses do when it comes to the Omicron variant."
Paediatrician Dr Danny de Lore says the priority is for those on the front line and those with highest risk from severe outcomes.
Chief Science Adviser Ian Town says with Māori accounting for a high proportion of cases in the Delta outbreak, the addition of a booster dose would be the best way to protect this population.
"So far here in New Zealand, over 216,000 booster doses have already been administered, that's around 60 percent of those who are currently eligible."
Cabinet has agreed in principle that where workers are required to be vaccinated, this mandate will now extend to booster doses. Border and health workers will be required to have their booster dose by the end of January, or not later than six months after their second dose for those recently vaccinated.
It will then be extended to all others covered by vaccination mandates from 1 March.
Vaccine rollout for children confirmed
Cabinet has also confirmed the rollout for paediatric doses for five to 11 year olds - which will begin from 17 January prior to school returning next year, with a focus on more hesitant and remote communities.
Vaccinations for children are a choice for parents, but Hipkins says he "can't speak strongly enough" in support of them.
Dr de Lore said Māori paediatricians were aiming to make sure correct, reliable information from people that whānau trusted was available.
"A successful programme will be delivered in partnership with iwi and Māori health providers, including sharing of data," Dr de Lore says. "Māori and Pacific organisations have already demonstrated that they know how to deliver vaccination programmes effectively in their own communities."
Asked if the government was advised to prioritise tamariki Māori child vaccinations, Dr de Lore said: "I think the indications from the government are that they are listening, they are taking on board those lessons from previous vaccination rollouts".
Dr de Lore did not think there would be a point where they were happy with the vaccination rollout for Māori.
"We're going to keep on pushing, looking for new ways to do things, looking for new ways to achieve equitable outcomes, particularly for tamariki Māori".
Hipkins says he is confident the equity issues faced in the first stages of the vaccine rollout can be avoided this time around, as they aim to take an equity-first approach with the booster and child vaccine rollouts.
He says there will be specific vaccination advertising campaigns for the paediatric rollout that will be targeted at Māori.
He says any parent would be nervous about the health of their children, but the vaccine was safe and the science and evidence from around the world had proven that.
It will not be mandatory for children to be vaccinated and there are no vaccination targets set for this cohort, Hipkins says. They will also not be brought into the vaccine pass framework.
Phased reopening of New Zealand's borders pushed back, testing and MIQ change
As for the border, Cabinet has decided to push back the self-isolation date for travellers from Australia from 17 January to the end of February.
For those who had booked to come home to New Zealand from Australia from 17 January, the government would work with airlines to ensure some MIQ space was available.
Hipkins acknowledges that decision will disappoint people, but says it will allow more time for the rollout of boosters.
"I want to acknowledge on a personal or individual level ... the personal cost of the pandemic has been very high for some people.
"Certainty is hard to provide in an uncertain situation.
"With the march of Omicron and New South Wales now expecting to record 25,000 cases a day by the end of January, opening the border in mid-January as planned simply presents too high a risk at this point.
"For people who want to travel overseas or want to come home, we are aware that today will not be welcome news. But it's important to set out these changes as early as we can so that people do have time to consider their plans.
"Certainty has been a rare commodity for the whole globe for the entirety of this pandemic."
Most of the countries designated as very high risk due to Omicron have been redesignated as high risk because the variant has spread so widely.
Another change will be that the requirement for travellers to New Zealand to return a negative test within 72 hours of departure will be reduced to 48 hours of departure.
The current MIQ stay of seven days in a facility will also be extended to 10 days, with that measure already being in place for flights that have had an Omicron case onboard identified.
Earlier this morning, the Ministry of Business, Innovation and Employment said its latest round of MIQ room releases would be postponed due to the Omicron situation. However in an update later, it said it had been cancelled, with the next release due for 6 January, 2022.
Hipkins says he will work with MIQ to make sure voucher releases are made for times when they are most needed.
Asked if MIQ needed to be expanded, Hipkins says expanding it to get back to the scale of what is needed to get border movements back to normal would be "huge", but indicated there would be further changes to the system.
When Omicron arrives in community, 'we expect that it will spread fast'
Hipkins says all these changes combined will carry the country through the next wave of challenges presented by Covid-19.
Dr Town says it was right to hold back Omicron as long as possible - "the reality is the longer we hold it back ... the more people have the booster vaccine ... and the safer people will be".
Traffic light settings will remain as they are. To slow the spread of Omicron, when it arrives, the government may use the red setting of the traffic light setting early on.
It will be the government's first response to any Omicron outbreak in Aotearoa.
"Any day we don't have it in New Zealand is a day we can be better prepared," Hipkins says.
Hipkins says it is not the intention of the government to use a lockdown unless in extreme situations. Even if one were to be introduced, it would be very targeted.
"Omicron has changed the dynamic again. When it does arrive we expect that it will spread fast, and that's what we're seeing in other places.
"So to slow that spread we may use that red traffic light setting earlier on in order to try and slow that spread. That'll give us the best chance of minimising the chances that we'd need to return to something more restrictive.
"It's not our intention to move to lockdowns unless that is absolutely necessary in the event of a widespread outbreak where our health system becomes under considerable strain and the overall health risk becomes too much to bear. Even then, our strong preference would be for any lockdowns to be highly targeted."
Omicron is now in more than 72 countries around the world.
There are a total of 22 cases with the Omicron variant in the country. All remain in managed isolation with the exception of one case who has recovered.

---