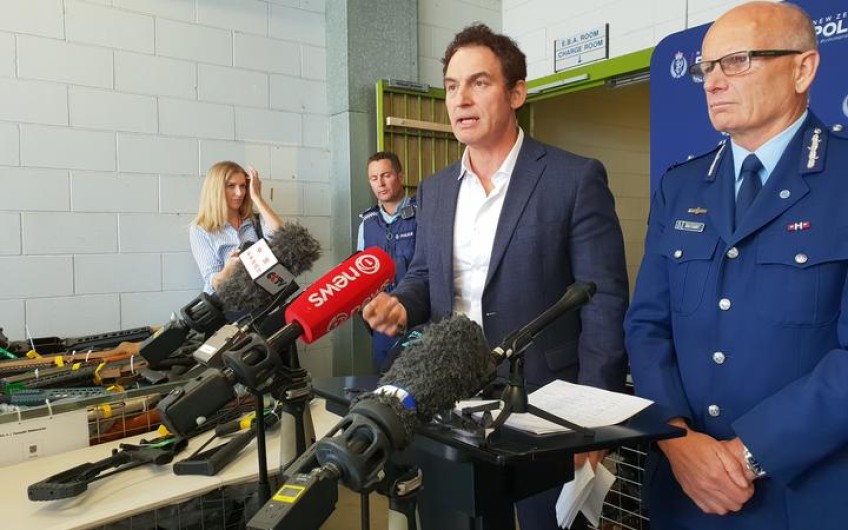 New Zealanders hand over 56,000 illegal guns during amnesty
Dec 22, 2019
---
Police Minister Stuart Nash is warning anyone who has failed to hand in their illegal firearms in the government's gun buy-back scheme that they are now breaking the law and could lose their licence or even end up in jail.
Police say 56,250 firearms and 194,245 parts have been surrendered during the six-month amnesty and buy-back, which ended last night.
Nash said people have been given plenty of opportunity to comply with the law.
"Thirty three thousand Kiwis have come in, they've been paid a fair price for their firearm and I don't think there is any dispute around the price that has been paid, and they have done the right thing."
Police are encouraging people to hand over illegal weapons under amnesty now, even though they will not receive compensation, otherwise illegal gun owners could face prosecution, loss of licence and firearms, and five years jail.
"We will be following up directly with a minority of licensees who we know have purposely chosen to flout the law and have not handed in their firearms," Clement said.
Deputy Police Commissioner Mike Clement said the huge response showed New Zealanders understood why the amnesty was necessary.
"We hope to never again see the kind of attack we saw in Christchurch," Clement said.
The amnesty and buy-back scheme saw 194,245 gun parts surrendered and 2717 firearms were modified to make them legal.
About $102.2 million was paid in compensation to gun owners before the buy-back scheme closed last night.
A rush of people came forward in the last few days of the buy-back, with more than 4154 items handed over in the past week.
Police held 685 collection events from Stewart Island to Kaitaia and visited more than 270 homes to collect bulk lots from people who could not get to collection events.
Every gun licence holder registered with a military-style semi-automatic weapon was contacted by police.
About 5060 people were known to own 15,037 military-style semi-automatics, and 9532 of these guns have been handed in. A further 4277 military-style semi-automatics have been kept by about 1049 people, such as professional pest controllers, collectors, gun dealers, and museums.
About 1228 semi-automatics held by 851 people are still being tracked down or their status clarified.
The Police Minister thanked about 33,000 firearms owners for helping make New Zealand safer by taking part in the gun buy-back.
"When we started the buy-back and amnesty we had one objective, to make our country a safer place," Nash said.
"We focused on the type of assault rifles, high-capacity firearms and military-style semi-automatics used in the terror attack forty weeks ago, on 15 March.
"Firearms owners did not need a lot of convincing to do the right thing. More than 5000 firearms were handed in or declared for surrender before the buy-back and amnesty even officially got underway in June."
The next phase planned was to launch a gun register and tighter licensing system to make sure firearms could not fall into the wrong hands, Nash said.
The number of firearms handed in and still being processed was within the range estimated by KPMG, who provided independent advice to police, he said.
"However, police have consistently warned the problem is we just don't know exactly how many guns are out in the community. This is why we need a register, to enable police to better track firearms."
Police will keep up their focus on gangs and other criminals who illegally hold firearms. About 1800 firearms have been seized from gangs and other offenders since March, during search warrants, vehicle stops, and callouts to family harm incidents.
Main Image: Police Minister Stuart Nash (third left) and Deputy Police Commissioner Mike Clement (right) at a media briefing held at the end of the gun buy-back scheme. Photo: RNZ


---