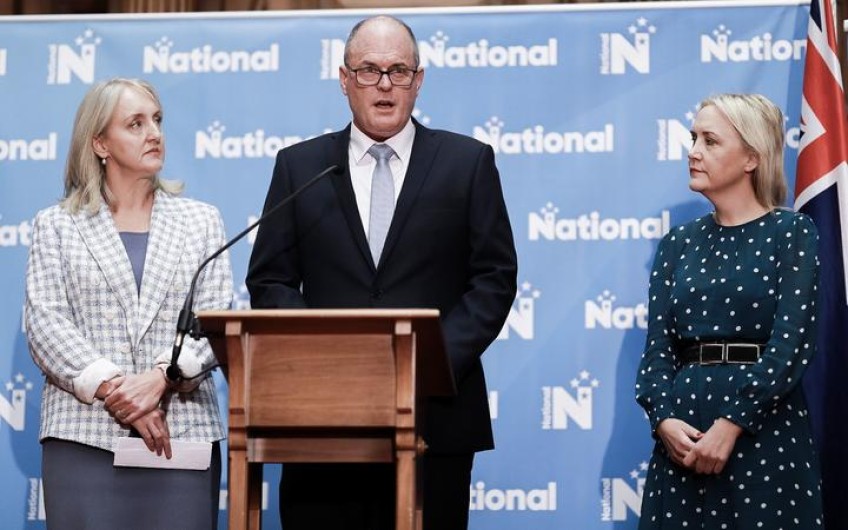 National leader Todd Muller reshuffles caucus: Adams rises, Tolley falls in new lineup
May 25, 2020
---
Senior National MP Amy Adams has backtracked on her retirement plans after a change of leadership last week and is ranked third in caucus following a minor reshuffle.
"We are borrowing tens of billions of dollars to get us through the Covid-19 crisis. There is only one team that can invest those funds competently and well, and that is my National Party team," Muller said when announcing the new lineup.
"Labour has failed against every target it has set itself, from KiwiBuild to light rail. New Zealand simply can't afford for that level of failure, as we all seek to recover from Covid-19."
New National Party leader Todd Muller has given Adams a new portfolio, Covid-19 recovery, but for the most part has left caucus roles largely unchanged.
"Amy's job is to lead National's policy work on Covid-19 recovery, and to coordinate the teams responsible for developing and delivering our plans. Amy is tough and tested and will play a key role in getting you, your family and your community through this," Muller said.
Simon Bridges, who lost the leadership to Muller in a caucus vote on Friday, remains unranked for now, having asked for "time to reflect on his future".
The New Zealand Herald reported that Bridges turned down the role of Justice spokesperson and asked for Foreign Affairs. The request was rejected, the Herald said.
Muller said there would be a place for Bridges in his senior leadership team should he decide to stay in politics.
"If Simon chooses to stand again, and come back into Parliament and we're successful again in September, then he would be a part of my Cabinet."
Bridges confirmed he would be standing as National's candidate for Tauranga at the election.
"Just to be clear ... I am not considering my future," he said, but was taking a "small amount of time out to take stock" after Friday's loss.
Muller said he was particularly pleased Adams had agreed to stay on - she announced in June last year that she was retiring at the election and denied it was because of the leadership of Bridges and deputy Paula Bennett.
Adams suggested it was Covid-19 that had convinced her to return.
"If I can be any help at all in helping New Zealand think about how it works it's way through those challenges, then that's something that I feel duty-bound as a proud Kiwi to do."
"We're going to structure our team into a range of probably seven policy teams that are focused not around Wellington and the public service and the normal bureaucracy but actually around the things that we're going to need to get right, to get our country moving again."
Adams also supported Bridges, saying he "did a remarkable job in a tough period of time".
Muller had already revealed he had given himself the small business portfolio that had belonged to Todd McClay. He is also taking national security.
His deputy Nikki Kaye keeps her education and sport and recreation portfolios.
Kaye this morning refused to say on Morning Report which portfolios she would be handling. She would only say that she was happy with her new responsibilities.
She also supported Adams.
"I think one of the weaknesses of this government is they haven't been able to deliver. They haven't had someone involved in the cabinet that in my view the extent of understanding of the machinery of government to provide that delivery," she said.
"If you look at Amy's past background I think she's better placed than pretty much any politician in the building to be able to ensure that the public service delivers for people on the ground."
Judith Collins' housing and urban development portfolio has gone to rising star Nicola Willis who actively worked on Muller's campaign.
Collins remains in her fourth spot ranking in the caucus but takes on economic and regional development as well as shadow attorney-general and Pike River.
Paul Goldsmith and Gerry Brownlee keep finance and foreign affairs respectively, and Brownlee will continue as shadow leader of the house.
Muller also confirmed Brownlee would be taking over the National Party's election campaign as chair.
"I've pulled together a team of particularly my top six who will be driving the economic and social approach for the National Party," Muller said.
Michael Woodhouse - a Bridges loyalist - has held onto health and Louise Upston keeps social development.
Mark Mitchell, another Bridges' supporter, has not been punished by the new leadership either, keeping justice and defence.
Bridges' numbers man and closest ally Todd McClay holds onto trade and tourism but loses economic development to Collins.
One of Muller's biggest supporters Chris Bishop keeps infrastructure and transport but has not had a significant jump in the caucus rankings so far.
However, Muller hinted the caucus rankings were not set in stone.
"The ranking is a separate process - that comes between now and the election," he said.
"This is me looking at the remarkable team we have in the National Party... and I've sought as I have outlined portfolios, that my focus has been who I think is best to do the job as opposed to where they are on the list."
Bennett holds onto the drug reform and women portfolios.
There has been barely any change to the lower end of the rankings.
The biggest loser looks to be long-time MP and deputy speaker Anne Tolley, who has a very low caucus ranking.
Tolley had given up her electorate seat to run as a list-only candidate at this year's election, so would be unlikely to return on current rankings if the party vote does not considerably improve.
National MPs retiring at the election are David Carter, Nicky Wagner, Nathan Guy, Maggie Barry, Sarah Dowie and Alastair Scott.
It's understood Muller spent last night contacting MPs to tell them their fate, keen to put the matter to rest before tomorrow's regular caucus meeting.

---