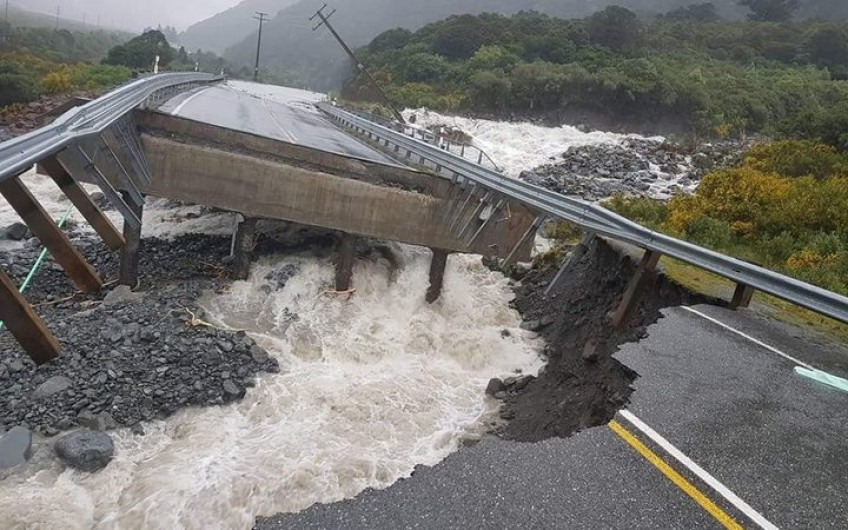 Motorists face delays as main road to West Coast remains shut
Nov 10, 2018
---
The main road between Christchurch and the West Coast will be closed until at least Monday after a chunk of it was washed out last night.
The region was lashed by downpours over a 36-hour period, with parts of Westland getting more than half a metre of rain.
A woman from the Gloriavale Christian community drowned after a stop bank on the swollen Haupiri River gave way.
The last of the severe weather warnings for the coast were lifted at 3pm, meaning the clean up could now begin for about a dozen properties where flood waters had made their way in to garages and across lawns.
State Highway 73 from Arthur's Pass to Sringfield is now open although there is surface water.
However, SH73 from Jackson to Arthur's Pass remains closed with an update on the road expected by midday on Monday.
A 20m section of the road leading onto the Goat Creek Bridge on SH73 had completely collapsed under heavy rainfall last night.
Road workers face a huge job this weekend to repair the washed out section of the road near Otira.
NZTA systems manager Pete Connors said it would not be an easy job.
"The bridge is still there but we've lost the approaches basically so we're going to be spending a couple of days getting that [fixed] up. But while the river and creek levels are up it's almost impossible to carry out the repairs because we've got to get in to the creek bed."
Having the road out of action would add an hour and a half to travel times for people driving from Christchurch to the West Coast, who would now have to use Lewis Pass instead.
Hari Hari Hotel owner Jodie Walkington said half of her customers travelled her way over Arthur's Pass and she was anxious to get the road open as soon as possible.
"November and December are really busy months for us so we've normally got quite a few tourists coming through. We have had a couple of cancellations.
"I've just had another customer ring me about 10 minutes ago and say he's booked in about Wednesday next week and just a bit concerned that he might not be able to make it."
Coasters would get a chance to dry out in the next couple of days with fine weather forecast over most of the region this weekend.
Meanwhile on the North Island, strong southerlies are affecting some arrivals at Wellington airport.
The airport confirms a plane that was coming into land at the time the wind changed had to circle the airport again.
Planes are taking off and landing without incident, but some flights are slightly delayed because of the weather.
Drivers urged to be cautious
Transport Agency is reminding South Island drivers to be prepared for winter driving conditions heading into the weekend.
Temperatures have plummeted and SH73 remains closed through Arthur's Pass due to snow and damage from flooding.
State Highway 1 on the Kaikōura coast remains open and SH6 on the West Coast has reopened.
The agency said there was still debris, surface flooding and temporary speed restrictions to be aware of.
Strong winds are expected for State Highway 6 in Nelson and Malborough.
A general warning has been issued for Central Otago - advising of multiple rock falls and surface flooding.
Drivers are urged to take care on the road and plan their journeys ahead.
Warnings and closures on State Highways:
Nelson / Marlborough
SH6 Renwick to Rai Valley, SH6 Hira to Whangamoa - Strong Winds SH60 Riwaka to Takaka - Rain - Road users are advised to plan ahead for their journeys and to take extra care on this road, due to forecast rain until 9 am Saturday.
Canterbury (Including Alpine / Mountain Passes)
Arthur's Pass to Springfield - ROAD OPEN - Surface Water - Next update by 9am, Saturday 10 November. SH82 Waimate to Kurow, SH8 Timaru to Fairlie, SH79 Fairlie to Rangitata, SH1 Rakaia to Washdyke, SH77 Mount Hutt to Ashburton - Flooding SH7 Hanmer Turnoff to Springs Junction (Lewis Pass) - Strong Winds SH1 Ashburton - Flooding - Near the intersection with Walnut Avenue. Road users are advised to take extra care.
West Coast
SH73 Jacksons to Arthurs Pass - ROAD CLOSED - Slip - Road is closed due to surface flooding, slips and washouts. Detour route: Consider using SH7 Lewis Pass as an alternative route. SH6 Hokitika to Franz Josef - Flooding - Due to adverse weather conditions through this area the road is down to one lane at different locations. SH6 Franz Josef to Fox Glacier - Fallen tree/s across highway - Slip at Omoeroa River Bridge, Traffic lights are in place. Expect Delays.
Otago
SH 83 Otematata to Pukeuri - Flooding SH8, 80 Omarama to Fairlie (including Burkes Pass) - Snow SH90 Tapanui to McNab SH1 Junction (Willowbank) - Flooding - Due to surface flooding near Waikaka Rd intersection, there is a temporary speed restriction of 30 km/h in place. SH 85 Ranfurly to Alexandra - Flooding - Surface water build up north of the intersection with Muddy Creek Rd.


---