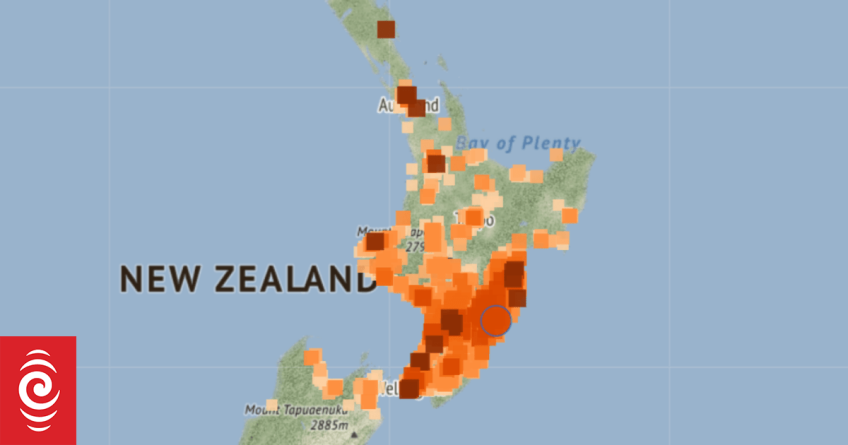 Magnitude 5.9 and 5.3 earthquakes shake lower North Island
Apr 26, 2023
---
Two strong earthquakes at a magnitude of 5.9 and 5.3 have struck near Pōrangahau in the lower North Island.
GeoNet said the first was the magnitude 5.9 which hit about 10.16am at a depth of 22km.
It was followed three minutes later by the magnitude 5.3 one, which was at a depth of 15km.
On GeoNet's website, about 22,000 people reported having felt the first and about 20,000 reported feeling the second.
The National Emergency Management Agency has confirmed there is no tsunami risk from the earthquakes.
Ongoing aftershocks have continued since the initial two, with the largest being a magnitude 4.3 that hit about 10.28am.
Farmer Gretchen King said they got a lot of earthquakes in the rural Hawke's Bay settlement, but this was the strongest one they had ever felt.
"It was fairly big, doors swinging, we've lost some pictures from walls, I think a few other things have fallen and hit the ground."
The earthquakes did not feel nearly as strong as those in Christchurch, but were big enough they felt they should take action, King said.
"It was enough to make us actually go and sit in the car, because we decided that having heard some of the terrible stories from Christchurch we didn't really want to hang around and wait inside with things falling about if we didn't have to."
There is no tsunami threat from the earthquake near Pōrangahau. We hope everyone is feeling okay.Remember, Drop, Cover and Hold is the right action to take in an earthquake. For more info or to lodge a felt report, visit https://t.co/S4g0uzEYHr https://t.co/RRCkD5KITP
— National Emergency Management Agency (@NZcivildefence) April 25, 2023


---