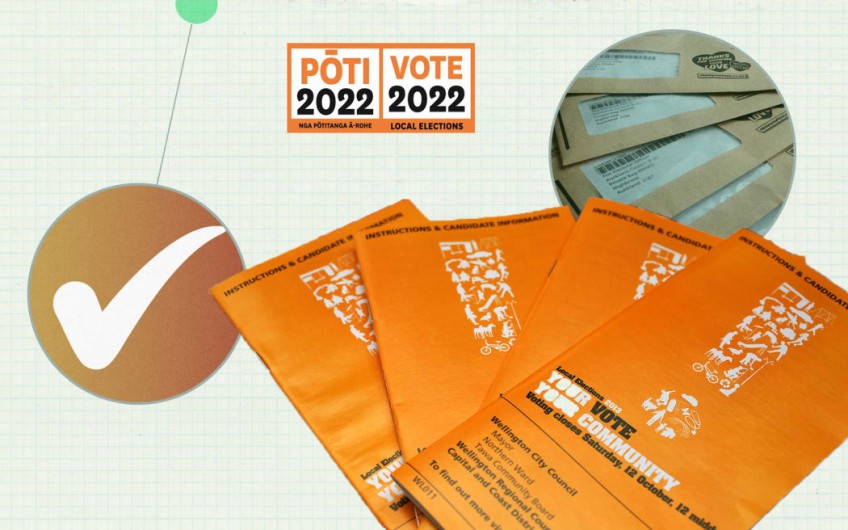 Local body elections are looming - why you should care
Sep 03, 2022
---
Two mayors in cities less than an hour apart sum up the exceptional era that the country's councils are facing right now.
Palmerston North mayor Grant Smith says local body politics is tough.
"In eight years as being the mayor of this city, this has definitely been the toughest term. You've got a number of different factors, all these central government reforms, and whether you agree with them or disagree with them, you've got to deal with them."
Think Three Waters, changes to the Resource Management Act, climate change, the Future for Local Government Review and the ongoing impact of Covid-19.
"We've got an open mind about everything, and I think there's been general agreement something needs to be done. It's just the model, the pace, and the stick approach, has been really hard to take."
However, across in Whanganui mayor Hamish McDouall says the local government sector is ready to face the future that embraces more youthful members, Māori and climate change action and councils have "launched our heads into the future".
"The exciting thing about today is you can tell that local government is wanting change, ready for change," McDouall says.
Whoever is right, over the next few weeks we all have a chance to make sure our local elected representatives get it right because it's election time.
But do enough of us care? In 2019 participation fell to 42 percent - a contrast to the 2020 general election turnout of 81 percent of enrolled people.
One expert reckons we should lower the voting age to 16 to help establish early on a pattern that can last a lifetime - RNZ will expand more on the views of Professor Bronwyn Hayward in part 2 of this explainer.
The nuts and bolts
The local body elections are held by postal vote based mainly on a first past the post system.
People must be enrolled first to take part. You can enrol if you are 18 years or older, a New Zealand citizen or permanent resident, and have lived in New Zealand for more than one year continuously at some time in your life.
By law New Zealanders must enrol once they turn 18 and, while it is a once-in-a-lifetime task, contact details need to be kept up to date or letters sent by Elections NZ checking on your location before voting papers are sent will go astray or be returned to them.
People who have moved, recently turned 18 or who have never enrolled can update their details or enrol online at vote.nz or by phoning 0800 36 76 56 to ask for an enrolment form or get an enrolment form from a library or council service centre.
Key dates
17 August: All the candidates' names for this year's elections were finalised
16 - 21 September: Voting papers delivered
4 October: Last day for posting votes by mail. After this date voting papers should be returned to a council's ballot boxes to ensure they will be counted
8 October: Election Day - voting closes at midday (good to remember if you're delivering papers to council offices in person) and preliminary results begin to be announced
13 - 19 October: All results will be declared by electoral officers in each region of the country.
What's different this time?
There's no voting for district health boards because they have been replaced with the government-appointed Te Whatu Ora - Health New Zealand.
34 councils will have Māori wards, 32 of them for the first time. (More on this later)
The more marked presence of "fringe" candidates especially those with anti-vaccination and conspiracist views. (More on this later too)
More emphasis on the impact of climate change, especially with the run of weather disasters New Zealand has experienced lately.
What do local authorities do?
The mayors, councillors and community or local board members develop plans and make decisions that can have a huge impact on the areas we live in.
They rule on everything from subdivisions to cycleways to managing rubbish and civil defence planning. They set and collect the rates property owners must pay each year. They also make bylaws around issues such as dog control, liquor licensing and noise control. As well, they are grappling with the demands of central government and also facing the fact that a government ordered review may bring in some major changes when it reports next April.
In Aotearoa there are 78 local authorities made up of:
11 regional councils
12 city councils
54 district councils
1 Auckland Council (which combined eight former councils on 1 November 2010)
Scratching around for candidates
This year there has once again been publicity around the lack of interest in serving.
The deadline for nominations has passed and some mayors, councillors and community / local board members have now been reappointed because they have no rivals.
Where there are no candidates which has happened in several areas, byelections will need to be held within three months.
Reasons given for the low interest in being a candidate include: racism, the toxic nature of the criticism endured by successful candidates, the huge amount of change the government is foisting on councils, and low pay for a job that requires a lot of homework and time, especially when combined with another job and / or family life.
Fringe candidates
News organisations, including RNZ, are turning the spotlight on the background of some local body candidates, especially since a Stuff report revealed that anti-vaccination group Voices For Freedom (VFF) has been urging supporters to stand but not to declare their affiliation as well as the launch of Stuff Circuit's Fire and Fury documentary.
VFF which played a key role in the occupation of Parliament grounds earlier this year has previously declared it wants to make the country "ungovernable".
Media are being supported by FACT Aotearoa (Fight Against Conspiracy Theories Aotearoa) - a volunteer activist group fighting misinformation. It is compiling a list of candidates with anti-vax and conspiricist views.
Local Government New Zealand (an umbrella group which advocates for the country's councils) is also concerned and is advising voters to do their homework before making their choices. It has launched a first of its kind campaign to help voters identify conspiracy theorists and extremists.
Māori wards
Last year the government introduced legislation removing the capacity for people to call for a referendum to prevent councils from establishing Māori wards.
Previously, Māori wards were the only wards on councils in which just 5 percent of voters could call for a binding poll to overturn a council decision to implement them.
Māori and LGNZ have welcomed the new law as a way to honour Te Titiri o Waitangi but Act, New Zealand First and some councils are opposed. National's leader Christopher Luxon says Māori wards should be a decision for local communities.
The law has led to 32 councils across the motu bringing in Māori wards this year - meaning more than 60 new Māori councillors.
LGNZ is already concerned that current Māori councillors face abuse and racism. Its recent survey showed 49.5 percent of councillors had experienced racism or gender discrimination.
So it has introduced a new programme, Te Āhuru Mōwai, which aims to support first time Māori councillors.
Meanwhile, Whakatāne District Council's first Māori ward councillor Toni Boynton, who has been elected unopposed in the Kāpū Te Rangi Māori ward, has this advice for those fearful of Māori having a greater say at the council table.
"We have a different view on power I guess, that the more you share, the more you have," she told Local Democracy Reporting.
"It's not about taking away from anyone; it's actually enhancing everyone when you share."
Part 2 of this report will look at a call to lower the voting age to 16 to help lift the country's abysmal participation in local body elections and will look at one woman's experience since becoming a councillor a year ago.


---