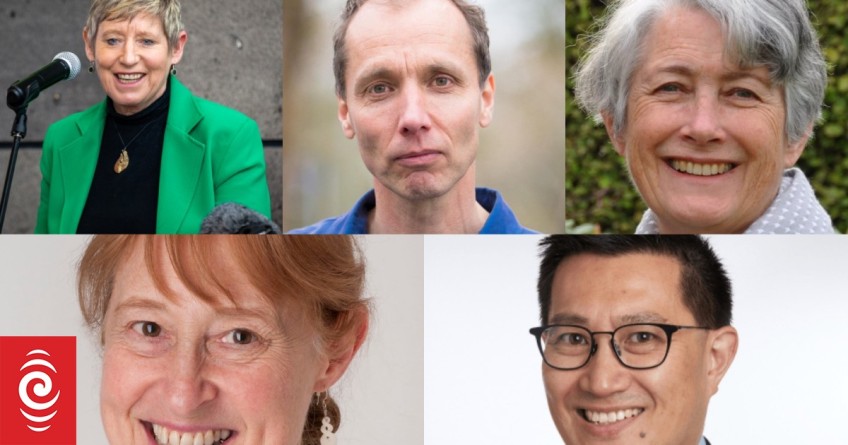 Honours: Doctors, journalist and former mayor among Kiwis recognised
Jun 05, 2023
---
A burns surgeon who helped victims of the Whaakari/White Island tragedy is one of many New Zealanders recognised for their dedication to helping the community in this year's King's Birthday Honours.
In total, 182 people were named for their contribution to an array of fields including arts and media, business and the economy, community, voluntary and local services, education, health, science and technology, services to the state, and sport and recreation.
Dr Richard Wong She was a plastic and burns surgeon working at the National Burns Centre at Auckland's Middlemore Hospital.
He has been made a Companion of the New Zealand Order of Merit for his services to burn care and said he was shocked, honoured and humbled.
"I never expected anything like this. I never expected my work to actually ever be acknowledged in this way and it's truly humbling to have that done so."
His work helping victims of the Whakaari/White Island tragedy was a focal point for the honour - but said a lot of work had come before that, including helping set up the National Burns Centre and making sure world-class care could be given.
"I have also been involved in the training of the next generation of plastic surgeons, so, if you put all of that together, suddenly we were in the best possible position to care for the patients that came from the Whakaari incident."
Wong She said people with burns to 30 percent of their body were automatically referred to his team.
With burns of that size, he said they were life-threatening so he and his team were fighting to keep a person alive.
"But more than that, we are fighting to give them a life worth living by preserving as much function and form as we can.
"A lot of my colleagues, and indeed the world, is fixated on monetary compensation but there are some things which money can't buy and the gratitude and the joy you get from keeping someone not only alive, but getting back to life, is priceless and it's wonderful to be able to have that goal recognised in this way and I am truly humbled.
"I am part of a team. Any failure is totally mine and every success is the entire teams so in accepting this reward I am accepting on behalf of the team."
Well-known investigative journalist Nicky Hager has been made an Officer of the New Zealand Order of Merit for his service to the sector.
Hager said he was pleased by the honour - and pleased that someone went to the trouble of nominating him.
"I'm especially pleased that the award says for services to investigative journalism, which I think is the first time it's happened and it's really great it acknowledges the importance of investigative journalism."
Hager said he was accepting the award on behalf of the whistleblowers who had helped him over the years.
"I've got decades of good people who took a risk and helped expose wrongdoing or dishonesty or abuses of power, and who by doing that make a better society so I'm thinking of them when I get this."
Professor of Zoology at the University of Otago, Alison Cree, said she first thought the award was a scam and chose to ignore it.
When she realised she was indeed being made a Companion of the New Zealand Order of Merit for her services to herpetology, particularly tuatara, she felt a sense of trepidation.
Being singled out was a bit uncomfortable, she said, but soon realised it was an opportunity to celebrate the "fascinating creatures" she worked with.
Having "companion" in the title meant a lot to Cree.
"I believe we all have a role to play about being good companions to creatures like tuatara and our distinctive lizards, frogs, and other relatively voiceless small creatures, and to be good companions to each other also as we think about our lifestyles and how to leave a safe place for ourselves and other living creatures."
Haematologist Dr Ruth Spearing said being made a Companion of the New Zealand Order of Merit for her services to haemotology was a "huge" honour and surprise.
"I'd like to think that I'm actually accepting this on behalf of all the haematologists in the country," she said.
Spearing has led internationally recognised research into blood cancers for more than 30 years, and the Ruth Spearing Cancer Research Trust was established in 2008, which supported South Island haematology research.
Spearing said a career highlight had been persuading Pharmac to fund a drug which enabled New Zealand to be part of a recent trial.
"We managed to persuade them that they needed to bend their rules and as a result of them bending their rules and enabling us to purchase a drug at a greatly reduced cost outside of their usual rules, it resulted in us getting the best ever results.
"Persuading Pharmac to do that is probably my career highlight."
Former Labour minister and Christchurch mayor Lianne Dalziel has also been made a Companion of the New Zealand Order of Merit for her services to local government and as a member of Parliament for more than 30 years.
Dalziel played a key leadership role in Christchurch's recovery following the 2010-2011 earthquakes and led the council's response to the 15 March, 2019 terror attacks, forging strong relationships with the city's Muslim communities.
"I think for me it means there's a recognition of public service and I think that's what means the most to me, but it's also an acknowledgement of all the people who've played a part in supporting me in the roles that I've held.
"Constituents, colleagues, family, friends, and there are a number of mentors."
Dalziel said the terrorism attack was something that would remain etched in her memory forever.
"Not only for the precious lives that were lost, but I think it was the response of the community and I think that's what we all lent into, was the way that everyone came together to support the Muslim community.
"It was such a state of shock that everyone felt like reaching out to do something to help ... That sense of coming together, supporting each other and the way that was represented really resonated across the world."
Receiving the award was a "huge honour". I was almost in a state of shock when I got the letter."
A full list of King's Birthday Honours recipients can be found here.
Main image: Lianne Dalziel, Nicky Hager, Alison Cree, Ruth Spearing and Richard Wong She.


---