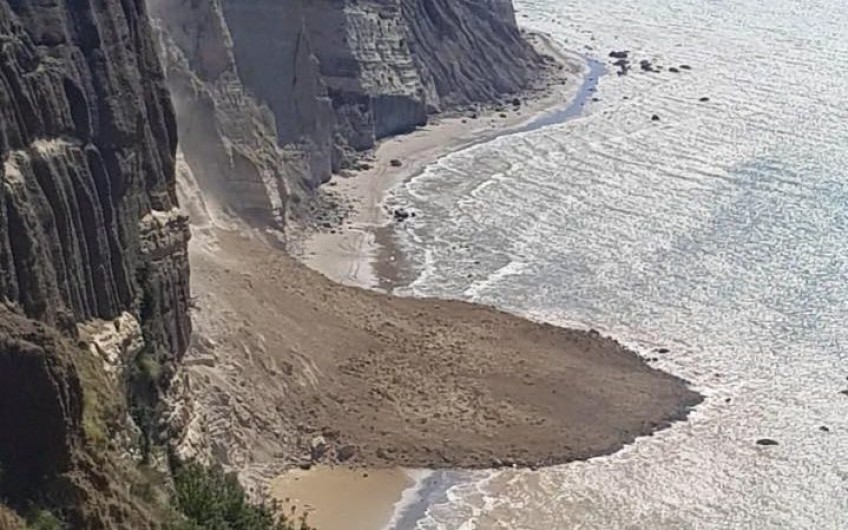 Kidnappers rockfall 'something we've feared will happen' - tourist operator
Jan 24, 2019
---
The owner of Gannet Beach Adventures says he first warned the Department of Conservation about the dangers of walking along Cape Kidnappers in 2017.
A female tourist in her 20s is in a critical condition at Hawke's Bay Hospital while a man in his 20s suffered a broken leg when they were swept into the ocean by rockfall yesterday afternoon.
The walkers were on the beach, which is the access to Cape Kidnappers and is walkable at low tide.
A video taken by tourist Denis Birnie showed the collapse:
Gannet Beach Adventures owner Colin Lindsay told Morning Report that while his company was aware of the dangers at Cape Kidnappers, those who walked in the area were not.
"Unfortunately the walkers that go out there are poorly informed and everyone would probably tell you the same anyway, it doesn't matter how much signage [there is] it doesn't always work.
"The current signage ... there's very little mention of those hazards.
"The newest signs to go up only mention the importance of considering the tide times for walking," he said.
Mr Lindsay said the rescue left him and his tour group shaken.
"[It's] something we've feared will happen and unfortunately it has come about before any action has been done to do more to prevent it happening."
Mr Lindsay said DOC began actively promoting Cape Kidnappers as a walking track in 2017.
"We were really surprised at that decision. We expressed our concerns about walker safety. We couldn't understand why they didn't sit down and talk with [us].
"I'm definitely looking forward to some conversations with DOC. Hopefully they will be making contact with me because we have expressed our concerns and we didn't get the response we would have liked, that doesn't mean we're correct, but those discussions will cover that."
DOC has closed the track where rockfall occurred.
A warning sign says the Cape Kidnappers Walking Track track is closed due to the risk to the public.
DOC and other authorities will today discuss any steps that may need to be taken to ensure public safety.
Main Image: An aerial shot of the slip at Cape Kidnappers. Photo: Twitter / Levi Heaps


---