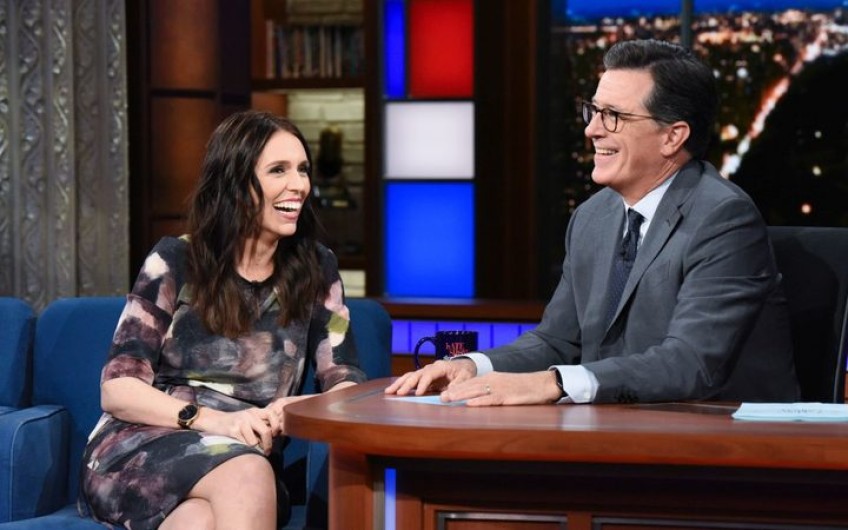 Jacinda Ardern discusses Trump handshake strategy on The Late Show with Stephen Colbert
Sep 27, 2018
---
Prime Minister Jacinda Ardern has won the applause of The Late Show with Stephen Colbert's studio audience in New York.
The taping of the show wrapped up at about 12pm New Zealand time, with the show due to air about four hours later in the United States.
Ms Ardern got big applause and cheers from the studio audience as Mr Colbert told the crowd she was the youngest elected female world leader, and the second leader to have had a baby while in office.
She was asked about the laughter in the UN general assembly yesterday as US President Donald Trump was speaking, and what she experienced as she was there when it happened.
She asked if Mr Colbert was trying to create a diplomatic incident to much laughter from the audience.
"So there was a little laugh, and then he said I didn't expect that response and then there was a bigger laugh - then people laughed with him."
Mr Colbert then said "and the first laugh?" to which Ms Ardern said "the first laugh was a spontaneous murmur ... amongst themselves."
He asked if she joined in to which she replied that she observed - again to applause and whooping from the audience.
Ms Ardern also discussed her handshake strategy with Mr Trump, told the story about how her partner Clarke Gayford knocked over a flag when they met the US president this week and they discussed the steel and aluminium tariffs imposed by the United States.
Ms Ardern told Mr Colbert, who is a huge Lord of the Rings fan, that the people of Hobbiton had called her today to say that they wanted to make Mr Colbert a citizen of Hobbiton - which would get him a certificate and a mug.
She invited him to come to New Zealand for the citizenship ceremony, and he said he would love to come.
As they wrapped up the segment - Mr Colbert wished Ms Ardern luck with the tariffs and her general debate speech at the United Nations tomorrow.
"I hope everyone laughs."
The other guest on the show was five time Emmy award winner Candice Bergen.
And yesterday New Zealand comedy folk band Flight of the Conchords also appeared on the late night talk show.
The pair, Jemaine Clement and Bret McKenzie used the appearance to promote an upcoming HBO special.
They also asked Mr Colbert if he could ask the prime minister if they could come round for dinner.
"You're bringing people together," McKenzie said.
Main Image: PM Jacinda Ardern on The Late Show with Stephen Colbert Photo: Scott Kowalchyk/CBS


---