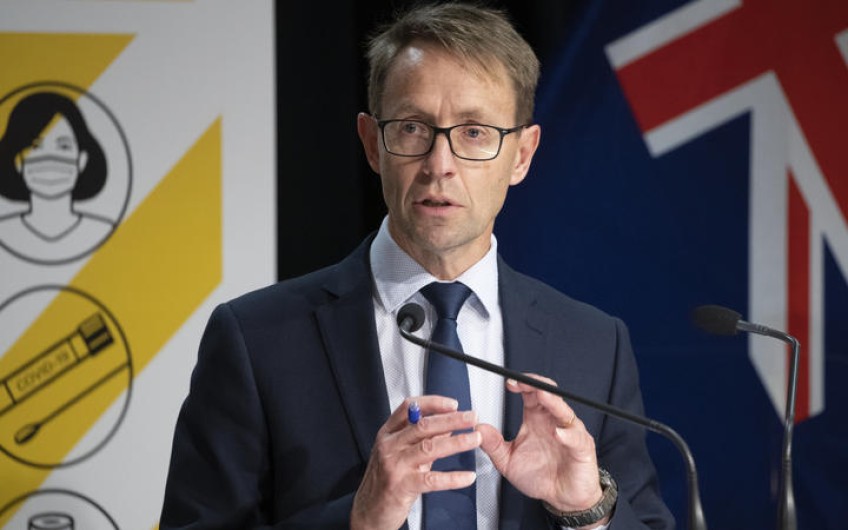 'It's going to be a great day' - Dr Bloomfield set for Super Saturday
Oct 16, 2021
---
Director-General of Health Dr Ashley Bloomfield is throwing his weight behind today's Super Saturday national vaccination push, saying that there's an "element of generosity" in protecting everyone from Covid-19.
The Super Saturday Vaxathon is aiming to vaccinate up to 100,000 people today across Aotearoa.
Current figures show that about 83 percent of New Zealand's eligible population have had their first dose, and 61 percent their second dose.
Speaking to Saturday Morning today, Dr Bloomfield said it's urgent for everyone to get the rate as high as possible.
"Here we have in Covid-19 a very real and present danger."
There have been 136 community cases in Auckland in the last two days, he noted.
"People don't need to look too far afield even to Australia and elsewhere around the world to see that once the virus is in the community it doesn't just pass through and everyone's OK. It carries with it a huge health toll - both physical and mental health toll."
"The prevalence of long Covid is substantial. It's not a trivial disease."
When it comes to the vaccine hesitant, Dr Bloomfield noted that many of them already had been vaccinated against other illnesses.
"Most of those people would have been vaccinated a number of times during their lives and the reason they were vaccinated against a whole range of diseases - measles, rubella, mumps, diphtheria, hepatitis B - the reason for that is because vaccination actually prevents them getting those conditions in the first place and none of those conditions, or very few of those conditions, are things that most people will be exposed to in their lifetimes."
Dr Bloomfield said there are actually few people who are completely against all vaccines.
"The proportion of the population who have never had a vaccination, who absolutely have a fundamental anti-vaccination belief, is very small.
"There is a bigger proportion who have specific concerns about the Covid vaccination and some in particular around the Pfizer vaccine.
"What I would say to those people is that the vaccine has been shown (to work) and there are hundreds of millions of doses of the Pfizer vaccine have now been given globally, and the evidence is really clear that it protects not just you as an individual but those around you."
As has been outlined by Prime Minister Jacinda Ardern and others, vaccination isn't just about the individual, he said.
"One of the things that struck me really early in the pandemic was the number of health professions who in caring for people with Covid were infected themselves. And some of those health professionals died. And they were perfectly healthy people.
"The thing about vaccination is it doesn't just protect the individual but it's hugely important in terms of our overall response and providing that population immunity.
"There's an element of generosity, of kindness, of collectivism in vaccination that I think many people have absolutely got behind."
Children under 12 are not eligible for vaccines yet, and there are a small amount of others who can't be vaccinated for medical reasons.
People who are immunosuppressed or have cancer are among the most likely to get seriously ill, Dr Bloomfield said.
"Very few people, estimates of less than 100 to 200 people in New Zealand, genuinely couldn't receive this vaccine, and that would be mostly because they've had a very serious reaction to the first dose of vaccine or they have a history of very serious anaphylaxis."
As for booster doses for those already vaccinated, which are being rolled out in other countries, Dr Bloomfield said New Zealand will eventually be doing that as well.
"Rest assured we are already planning for rolling out a booster program."
There was controversy this week over the Thames-Coromandel Mayor Sandra Goudie announcing that she wouldn't take the Pfizer vaccine and attacking vaccine mandates. Goudie said she was waiting for the unapproved Novavax vaccine instead.
The Novavax vaccine doesn't use the mRNA technology that the Pfizer and Moderna jabs do. The mRNA vaccines teach cells how to make a protein that triggers the immune response.
However, Novavax has not been approved for use yet.
"The Pfizer vaccine is very safe. There is now that real world experience right around the globe with hundreds of millions of doses.
"That's not the same for Novavax. Novavax is still in trial. It's not actually approved in any country because they haven't yet submitted the data. Some people are holding out for Novavax because of the nature of the vaccine being one that doesn't use the mRNA technology.
"But what I would say is it actually hasn't got the same level of real-world experience because it's still in trial."
Dr Bloomfield said the enthusiasm for an unapproved vaccine in some circles may be based on people seeing unverified information online.
"It might be the same reason that people bang on about ivermectin and various other things. They've seen some information and sometimes these things get picked up and they get amplified through a whole range of channels."
He said that he understands some may be hesitant about the Pfizer vaccine but that soon New Zealand will be able to use approved alternatives.
"I do know of some people who do have concerns about the mRNA vaccines but they would be prepared to have one of the other vaccines we've already approved like the AstraZeneca or the Janssen.
"We are close to finalising a backup for those people, particularly those that are required to be vaccinated for their work."
When he took on the job of Director-General of Health in 2018, few would have imagined the global pandemic erupting. Dr Bloomfield said it was rough going at first as Covid-19 took over the world.
"There were certainly moments early on in the pandemic when I had that sense, I would wake up in a cold sweat in the middle of the night thinking, 'Oh my goodness. This is really challenging.'
"If I reflect on the last 20 months and what we set out to do really which was to protect our population, to try and protect our economy, to protect our health system and to stop the virus getting into the Pacific. Those were our overall goals and I feel we've done pretty well as a country to date and we're still really focused on maintaining that good outcome."
While the strain of Auckland's two months in Level 3 or 4 lockdown has been obvious, Dr Bloomfield said he isn't worried that the country is about to give up.
"I'm hugely encouraged by the level of support New Zealanders have provided and given willingly to our efforts.
"We use the word compliance, it's not the right word, cooperation really. People looked out for each other. I think as we have seen over the last few weeks, particularly when the reality of Covid in our community has hit home for many people, they have realised that vaccination is something that they can do not just for themselves but again as part of our overall response."
Dr Bloomfield has a busy Saturday ahead - he has a Facebook Live event scheduled, and then will be visiting locations around Wellington later today.
"I've got an eye-watering but what looks like a really enjoyable day ahead of me."
He said the idea of Super Saturday is meant to raise rates but also provide people with a bit of light relief from the stress of the pandemic.
"The vaxathon will be a huge blast from the past. I'm looking forward into joining in the fun out there… There is some amazing events happening around the motu."
"It's going to be a great day."


---