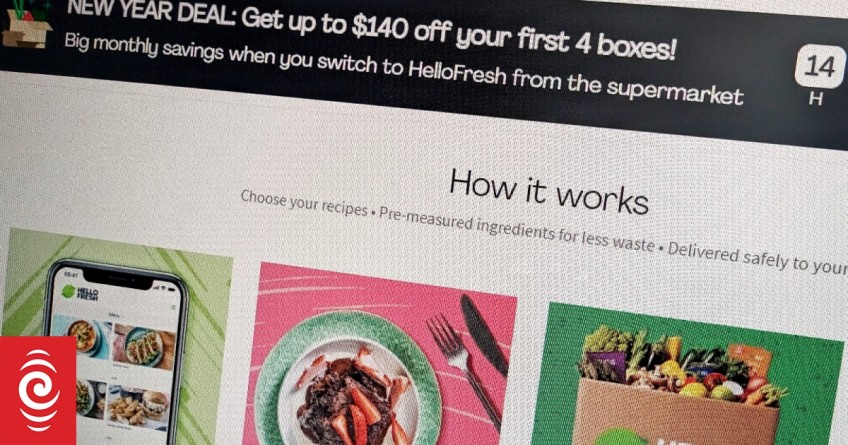 HelloFresh customers fed up with being charged for unwanted orders
Jan 18, 2023
---
HelloFresh customers getting charged for meal kits they did not ask for are being urged to report the company to the Commerce Commission.
The weekly food delivery service runs on a subscription model, but customers can opt out of some packs if they don't like what's on offer - and as long as the request was actioned by a certain date, they do not have to pay for it.
But sometimes they get delivered anyway, and in such cases HelloFresh deducts the cost of returning the product from its refund, leaving customers out of pocket.
"It's been well documented in the past, but HelloFresh insists it's not in the wrong," said Caitlin Cherry, Consumer NZ head of content.
"Some HelloFresh customers are being short-changed, and it needs to stop."
She said Consumer has received "numerous complaints" over the past few years from customers charged for boxes they opted out of and subscriptions they've cancelled. RNZ first reported on the problem back in January 2020.
Some said they had even contacted HelloFresh to tell them their app often fails to record when they want to skip a delivery.
"Their argument is you should have contacted them to say the app wasn't working in time," one customer told Consumer NZ, "but (a) you don't know it hasn't worked and (b) they know full well it doesn't."
Consumer said HelloFresh denied any problems with its software, with "no identified issues with the website or the app functionality in the back end".
"It is a process that customers are always refunded if any inconsistencies are discovered," a spokesperson for the company said.
Cherry said HelloFresh customers should take a screenshot when they opt out of a delivery to prove they did it by the cutoff date.
"If you skipped your order within the specified timeframe, but HelloFresh refuses to provide a full refund, you can contact your bank to request a chargeback, provided you have paid on a credit card or debit card. Alternatively, you can escalate the matter to the Disputes Tribunal."
"Finally, report any issues to the Commerce Commission - that way the Commission knows about matters affecting New Zealanders."
Main image (Photo: RNZ/Dan Satherley): The HelloFresh website in January 2023.

---